| | | |
| --- | --- | --- |
| | ROADRUNNERS INTERNATIONALE | |
CIA PILOT JACK W. WEEKS
Dutch 29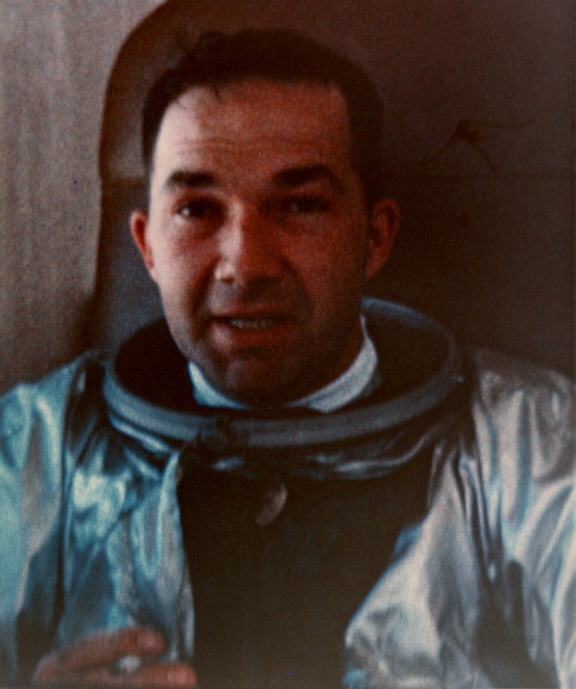 Jack returning from an A-12 flight
Jack W. Weeks
Dutch 29
OPERATION BLACKSHIELD AND THE USS PUEBLO INCIDENT
In January 1968 the North Korean navy captured the U.S. spy ship, USS Pueblo and its crew. The task of determining the location of the ship and any related military activities in North Korea was dealt to the CIA's A-12 Operation Blackshield operating out of Kadena, Okinawa. On January 26, February 19, and May 6, 1968, Missions BX6847, BX6853, and BX6858 respectively were flown over North Korea in regards to the seizure of the US ship and its crew. These flights and even the existence of the A-12 and Operation Blackshield remained a highly guarded secret until partially declassified by the CIA in April 1982, November 1989, February 1991, January 2003, and recently in early 2007.
In 2007, additional examination of Operation Blackshield activities exposed an historical error regarding the pilots of the first two flights. Several factors existed to make this error possible and prevent its discovery for nearly 40 years.
During the first two flights, the CIA A-12 pilots on TDY rotation to Kadena were Frank Murray and Jack Weeks. Shortly after his flight to locate the Pueblo, Jack Weeks was killed on 5 June 1968 during a FCF (Functional Checkout Flight) as Operation Oxcart was being discontinued and the unit disbanded.
At the time of the first two flights, Slip Slater, Commander of the Project OXCART 1129th SAS detachment was at Area 51 while Colonel Amundson pulled his scheduled Okinawa rotation duty. Colonel Amundson died prior to declassification of Blackshield activities.
Rigid security protocol demanded a policy of Need to Know. Only the pilot, the CIA Flight Planner and those at higher levels with a need to know ever knew the details and results of any of the 3 Blackshield missions over North Korea.
It was known that Jack Weeks was scheduled to fly the first mission to locate the Pueblo and its crew. It was also known that he returned from his flight in an abort condition because of overheating of the A-12 engines. No one but he and the CIA Flight Planner knew details of his flights. Because of Week's death a few weeks later, he never had the opportunity to share details of his flight with anyone. History recorded his flight as being an abort.
Known only at CIA and NRO level, the Chinese had tracked the first flight and so informed North Korea. Also known at that level was the failure of the first flight to cover certain areas of interest to Washington concerning possible hostile moves by China. Department of State was reluctant to endorse a second mission over hostile territory for fear of diplomatic repercussions. NRO insisted it needed a second flight, thus Brigadier General Paul Bacalis briefed Secretary Rusk who made the decision to alter the flight plan to obtain the data needed by NRO. Frank Murray made this flight, following much of the same flight pattern as Jack Weeks 2 weeks earlier. As with Jack Weeks, only Murray and the CIA Flight Planner knew the pattern, mission, and results at operational level. To this day the mission flown by Frank Murray remains highly classified. No details have ever been released, even to Frank Murray.
Shortly after these events the unit was disbanded and the participants dispersed worldwide to continue their careers, which for most involved combat in Vietnam.
On January 24, 2003 North Korea Mission BX 6847 was approved for release by the CIA, 37 years having passed before the OXCART story to be told for the first time by the Blackshield participants. Certain contents, including the identity of the pilot were however redacted in the release.
During these 37 years it has always been accepted that Jack Weeks had to abort his mission, making the Murray mission the flight that located the USS Pueblo in Wonson Harbor. When the Highlights of mission BX6847 were released in January 2003 it was accepted by historians, authors, and even the participants of Blackshield that the released report pertained to Murray's mission. Murray had re-flown the flight pattern of that flown by Weeks, thus released details described much of Murray's flight. About the only thing that didn't fit was the mention of the engine problems incurred during Week's flight. These anomalies were easy to shrug off as being errors by some staff writer at CIA. Had Murray's actual mission been declassified and released, both Weeks and Murray would have been credited with filming Wonson Harbor and select targets within North Korea. Unfortunately release of both missions did not occur.
It wasn't until 2007 that the flight log of Jack Week's flight surfaced in a declassified publication of the Week's accident report. The flight log indicates that he did in fact complete a full mission with the abort conditions occurring on his last leg as he headed home to Kadena.
This revelation naturally sent shock waves through the few having knowledge that Murray had been credited for a flight by Weeks that until now everyone has written off as an abort. Working with the CIA, enough light has been shown on the events in January 1968 where Weeks can now be credited with the first flight over North Korea and Murray with a repeat flight that will forever remain classified. Unknown until the 2007 release of information about Frank's BX6853 mission, the Pueblo had been moved. This information and numerous order of battle items captured by the cameras while over denied territory were invaluable to the U.S. intelligence and military leaders.
The Agency has strongly emphasized that no error can be attributed to Frank Murray in this regard. National Security dictated that the identity remain in error until such time the Agency felt it prudent to declassify the identity of Weeks having flown the first mission. In all fairness to Murray, he retraced the flight of Jack Weeks over a hostile country now alert to Week's earlier flight. He saw the same thing as did Weeks, plus some details that keeps his flight classified. His account of his flight has not changed, merely the mission identity being BX6853, instead of BX6847 and the date being two weeks later.
The Weeks family, Frank Murray, the historians, and authors must now share the effects of the Need to Know security necessities to preserve our national security. The family of Jack Weeks can now complete the legacy of Jack Weeks, who paid the ultimate price to serve his country. Frank Murray can lay claim that his mission uncovered some elements so vital to U.S. intelligence that they can never be declassified.
BLACKSHIELD MISSION ATTACHMENTS DEPICTING THE THREE BLACKSHIELD MISSIONS
Missions flown by Jack Weeks
The USS PUEBLO was a U. S. Navy vessel sent on an intelligence mission off the coast of North Korea. On January 23, 1968, the USS PUEBLO was attacked by North Korean naval vessels and MiG jets. One man was killed and several were wounded. The Eighty-two surviving crew members were captured and held prisoner for 11 months.

A-12 (60-6932/129) was lost on June 5, 1968 during an FCF (Functional Checkout Flight) flown out of Kadena AFB Okinawa. The pilot, Jack W. Weeks became the second and last CIA pilot killed in the OXCART Program in the line of duty and is so honored in the "Book of Honor", CIA Headquarters in McLean, Virginia.
Jack, an employee of the CIA, but ostensibly a civilian pilot for Lockheed, was in the midst of what has been termed "a routine FCF" (Functional Checkout Flight) of the Top Secret Lockheed A-12 that was flying out of its TDY station at Kadena AFB, Okinawa. The particular aircraft Jack was flying was known as "932", a shortening of its official tail number of 60-6932. To its owner, the CIA, with the usual "spook-speak" it was "Article 129" (Lockheed's production number). As far as the A-12 fleet went, it was relatively middle-aged, with 409.9 hours spread over 268 flights. As for Jack, he was a very experienced pilot, already having a long military background when he joined the OXCART Project on February 14, 1963.
The A-12 had a high frequency radio telemetry system called "Birdwatcher". "Birdwatcher" monitored the most critical aircraft system functions and equipment functions. Some of the items monitored by "Birdwatcher" were; generator failure, transformer failure, hydraulic pressure systems "A and B" low, exhaust gas temperature high (EGT), compressor inlet temperature high (CIT), fuel quantity low, fuel flow low, oil pressure low, fire warning, De-rich on, altitude low, Mach number, angle of attack high, pitch and yaw acceleration, throttle position, oxygen pressure low, cockpit pressure low, destruct activated, canopy opening, seat ejection. These signals were transmitted to ground monitoring facilities so that they would know the status of the pilot and "Article".
The FCF was scheduled for a 1300 hours launch but it was pushed back to a 1400 hours launch. Jack took off from Kadena at 1400 that day. It was to be a routine FCF to check the starboard engine that had been installed in the aircraft. There was another minor problem involving pitch A and yaw M status lights that came on once, but reset perfectly. There was also some brake chatter at low-speed taxi, but nothing that could have caused the loss of the aircraft. Those problems could not be duplicated and were not entered on the AFTO 781A form used to document maintenance issues.
It was to be routine FCF towards the Philippines and then a long shallow 190-degree turn back towards Kadena. Jacks was using the call sign "Dutch 29". The aerial refueling took place about 20 minutes after takeoff, with "Article 129" taking on 34,000 pounds of fuel. When "Article 129" disconnected from the tanker it had been airborne about 29 minutes.
The only communications with the "Article" after refueling were the "A" Code at end of refueling and the "A" Code at start the southern turn of the test route. The unusual Birdwatcher codes occurred about the time the Article was at the apex of the test route turn around. The FCF was normal for the first 42 minutes and then the "Birdwatcher" system started to "chirp". The ground monitoring facility received a signal from "Birdwatcher" that the starboard engine EGT (exhaust gas temperature) was in excess of 860 degrees Celsius. Then 22 seconds later "Birdwatcher" signaled the fuel flow on the starboard engine was less than 7,500 pounds per hour with a repeat of the engine EGT in excess of 860 degrees Celsius. Eight seconds later "Birdwatcher" signaled that the aircraft was below 68,500 feet, with a repeat of the two previous warnings. Those were the final transmissions from Jack and the "Article".
Several attempts were made to contact Jack and "Birdwatcher" without success. Operation of the monitoring facilities continued until the time that the aircraft's fuel would have been depleted. There was no further contact with Jack or "Article 129". The aircraft was declared missing 520 miles East of the Philippines and 625 miles south of Okinawa in the South China Sea. The loss was due to an in flight emergency. To maintain security the official news release identified the loss as an SR-71.
An intense air and sea search lasting weeks was conducted but no wreckage of "Article 129" was ever recovered. It was presumed totally destroyed at sea. The "Birdwatcher" system provided the only clues to what happened on this fight so the accident report was based on limited information. From "Birdwatchers" limited information, it was ascertained that some kind of malfunction involving an engine over temperature and low fuel flow on the starboard engine had contributed to a catastrophic failure and subsequent aircraft break-up. The loss of such a highly skilled and professional pilot in the OXCART program was a sad moment and misfortune.
Jack and his fellow A-12 pilots, operating within the voids of secrecy, were our nation's Cold War icons of aviation. They were the 'Best of the Best'. They flew across the sky at unbelievable speeds and higher than most can even imagine. They did this to protect us during the "Cold War". Every time they climbed into the cockpit it might have been their final flight. These men that accepted this risk were rewarded with experiences that very few can even imagine. To these "Cold War Warriors" the "Unknown Heroes" we owe more than one can say with "thanks". For those brave and talented men that paid the highest price for their courageous service we are forever in their debt. To the families of these men who gave their all, we are also forever grateful.


BIOGRAPHY

By Sharlene Weeks and Family

Jack Warren Weeks was born to Nathan M. Weeks and Abbie K. Weeks in Birmingham,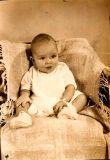 Alabama on February 23, 1933. He was their second born son but their first living child. Jack's name was his father's nickname. His mother dressed him in solid white until he was four years old and he wore his hair in long brown curls.

As a child, 1933-1948 , Jack spent time in Winfield, Alabama with male cousins and paternal grandmother, aunts and uncles. When not in Winfield he could be found in Carrollton, Alabama with a maternal aunt and uncle with another male cousin. No more white clothes or long brown curls for him.

During these years he developed a love for fishing, hunting and watching stock-car racing. His uncles provided the instruction and a love for outdoor life. High School was a time of increasing his love for fishing, hunting and stock-car races. But that was not all his life consisted of. He was popular with the girls and listed as "The Most Desirable Date". His high school yearbook Senior Data includes:

Nickname: Ickie, Lightning, JasperAmbition: To be a bang of a success on my first H-Bomb experiment.Activities: Track, Football Manager, School
Newspaper Representative,
Council Member,
Glee Club,
Student Teacher
Baseball Manager,
Numerous Session Room Offices,
Campaign Manager,
Senior Staff, Various ROTC Activities,
First Lieutenant, ROTC

Quotation: "All I am and all I ever hope to be, I owe to my mother."

Honors were National Honor Society and Hi-Y Club.

Jack was called Jackie until he graduated from High School. Thereafter, he was called Jack. He attended church with his parents during his growing up years. It was at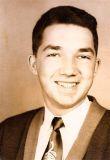 church during his junior year in High School that he met and began dating the girl who would later become his wife.

During his high school years he loved to tinker. He was forever taking apart his motor scooter and repairing appliances for his mom. Besides tinkering he had a life-long love for building airplanes. His other love was animals. His dog, Lucky, was a constant companion.

Jack's frugal parents taught him early the value of hard work and saving his money.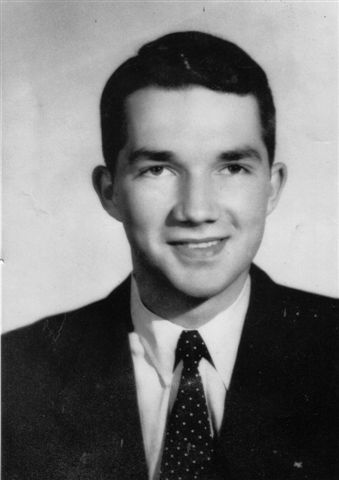 From an early age he threw newspapers daily and worked summer jobs. His money went to buy US Savings Bonds.
Jack's college years, January 1951 to May 1955, were equally busy. He attended the University of Alabama at Tuscaloosa, Alabama. He majored in Physics and was active in ROTC. As a member of the Delta Chi Fraternity he lived in the Frat House on campus. His pet during these days was a flying squirrel that lived in his pocket. He continued to commute home in Birmingham for his haircuts and to date his high school sweetheart. A short break from school found him driving trucks hauling Uranium down dirt mountain roads in Colorado with a fraternity brother.
After returning to school his thoughts turned to marriage. In 1953 he married his high school sweetheart, Sharlene Fenn at the West End Baptist Church in Birmingham, Alabama. In the fall of 1953 they moved into a small off campus apartment.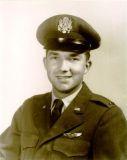 On June 1, 1954 Jack became a father to a tiny baby boy, Steven. The family moved into old World War II army barracks on campus. Jack worked as a janitor on campus, taking Steve with him in his stroller. Free time would find him fishing for brim in the campus pond with Steve beside him.
May, 1955 was graduation time for Jack. He received his BS from the University of Alabama where he was a member of Sigma Pi Sigma, a Physics Honor Society. At another ceremony on campus, Jack was commissioned as a Second Lieutenant in the United States Air Force Reserve. He was a member of the Arnold Air Society and the Air Force Association while at the University.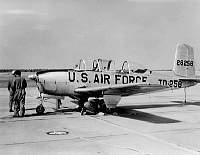 From June - August 1955, Jack started his career in the Air Force at Lackland AFB. From Lackland, he served at Spence AFB, Moultrie, GA (Class 56-V) from September 1955 to March 1956.From April 1956 to- September 1956 , he served at Greenville AFB, Greenville, MS (Class 56-V). After Greenville, he served from September 1956 to March 1957 at Williams AFB, Chandler, AZ where second child, a daughter, named Tana, was born, and Nellis AFB, Las Vegas, NV. in November 1956.

From April 1957 to- April 1960, Jack served in the 22nd Fighter Day Squadron at Bitburg AFB, Germany where, when not flying or on TDY, Jack fly-fished in a stream belonging to the local burgermeister.

Milestones during this era of Jack's military career were:

"The New Head" - A movie about a new arrival in the Squadron.His 36th Fighter Wing Awarded the Air Force Outstanding Unit Award

His being sworn into the Regular Air Force as First Lieutenant Jack W. Weeks on 3 August 1958 while assigned to the 22nd Tactical Fighter Squadron

Birth of third child, a son, Kyle

Death of Kyle - September 1958

Birth of fourth child, a son, Daniel Timothy - November 1959

From April 1960 to February 14, 1963, Jack served at Nellis AFB, Las Vegas, NV - 4520th Combat Crew Training Wing (Tactical Fighter) where he participated in the 3529th TFTG Nellis Weapons Meet. Again, Jack had a motor scooter to take him to the flight line and home.

While assigned to Nellis AFB, Captain Weeks was awarded Air Force Commendation Medal for meritorious service as an Instructor Pilot

and his outstanding service and devotion to duty from 18 May 1960 to 5 January 1962. He served as personal Instructor Pilot and Aide to General John N. Ewbank, Jr., and as Aide to General Boyd Hubbard, Jr.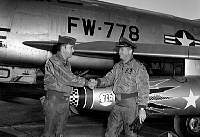 Award to Jack for 1,000 hours in the F-100
Among his many achievements during this phase of his career, Jack received his Diploma from Extension Course Institute Air University. He was a member of Daedalians at Kelly AFB, Texas. To assist pilots, Jack developed a quick and accurate reference computer form for take-off and landing data of the F-100 D and F-100F. Additionally, he authored an instruction paper on Labs, Systems and Components for F-100.
Jack was active in community and church activities. Lots of fishing in Lake Mead resulting in deep-fat fried bass for family and friends.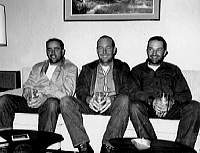 Mel, Jack & Jack Returning from a hunting trip
Demonstrating the degree of his extraordinary abilities, Jack built the family television set from a kit. He once worked with the base Veterinary to cure a stray cat that became a family pet.
From February 14, 1963 to June 4, 1968, home for Jack and family was Canoga Park, California while he worked for the Central Intelligence Agency as an Experimental Test Pilot for the A-12. Jack and his wife adopted Susan, their fourth child, a nearly four year old Korean - American girl from Korea.
While working for the CIA, Jack remained an active church member, working with teen-agers and singing in the choir. He still loved fishing with tuna as a prime catch. Besides fishing, his hobbies were building airplanes,



| | |
| --- | --- |
| | |
| Kadena | Kadena |
fish tanks of both fresh and salt water fish, designing and building light boxes. Since Jack loved camping, the family vacations were spent camping where the fishing would be good. And most certainly where the weather would be cool.
Cooking meals from recipes from other countries and the cook for the Roadrunners, Jack told a story about making fudge in a spoon over a stove burner as a kid. He loved chocolate -- and cars. Parts from the automobile often rested on the kitchen table for cleaning and repair. One habit his wife disliked.
CIA work meant four days work and three days off. Overseas trips meant five weeks home and seven in Okinawa. The weeks at home were the usual 4/3 schedule. Jack's caring concern and commitment for his fellow pilots is reflected in the fact that he went to Okinawa to fly missions over North Vietnam. His best friend was a MIA and another former instructor pilot had been shot down and killed over North Vietnam. He felt it was his duty to support the men there.
| | |
| --- | --- |
| | |
| Jack - 1968 | Jack 1968 |
Jack's final day in the States was spent visiting a pilot friend at Nellis AFB who was ejected from a F-111 at a very low attitude. That was Mother's Day May 1968.
Jack is known as the designer of the patch, Cygnus. The handmade design was among his belonging. He had enough patches made for each pilot in the program.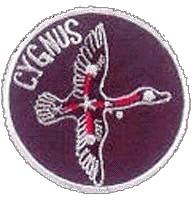 He also designed and made key rings for each pilot as a memento. On May 10, 1968 , Robert J. Gilliland nominated Jack for The Society of Experimental Test Pilots. He received that honor in July 1968 after his death.
On May 17, 1968, Jack was awarded the CIA Intelligence Star for courageous action.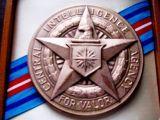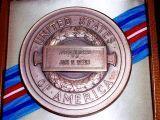 The award was presented to his wife, Sharlene, posthumously, in June 1968.
On June 1, 1968 , Jack telephoned his family from Okinawa to wish his son, Steve and his daughter, Susan a 'Happy Birthday'. That was the last communication they received from him. His letters continued to arrived after his death, a salute to his love and concern for his family. Through the years of courtship and marriage Jack and Sharlene had corresponded more than most couples do in a lifetime. Those letters are saved for their family to read in the future.
Jack's children are now adults with families of their own. He would be proud of each of them. Three live in California and one in Massachusetts. His legacy is nine grandchildren and one great-grandchild. The girls out number the boys, eight to two.
Jack's other legacies include his love for animals, aquariums of fish, tinkering, building airplanes, and grand children who excel in Math. One granddaughter named after him, Jacklyn called Jackie. One grandson who bears his middle name, Warren.
When Jack agreed to fly for the CIA, he planned to re-enter the Air Force and achieve his one goal of attending MIT to study Optics.
But more than any one thing he wanted to be able to spend more time with his family.
Jack's name is recorded in the "The Book of Honor" in the lobby of the CIA Headquarters in Virginia. On the huge marble wall behind the book are stars carved there. Each star represents an agent who has died in the line of duty. One of those stars is Jack's.
Jack's name appears on the back cover of a book written by Ted Gup entitled,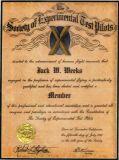 The Book of Honor, Covert Lives and Classified Deaths at the CIA, 2000. The book is dedicated to the sons and daughters of the CIA's stars.
Jack always carried a Bible with him when he traveled. He was a man of integrity who had the following creed hanging on the family room wall of his home.

I DO NOT CHOOSE TO BE A COMMON MAN
By Dean Aleange
It is my right to be uncommon if I can. I seek opportunity... Not security. I do not wish to be a kept citizen, humbled and dulled by having the state look after me. I want to take the calculated risk, to dream and to build, to fail and to succeed. I refuse to barter incentive for a dole, I prefer the challenges of life to the guaranteed existence: the thrill of fulfillment to the sale calm of utopia. I will not trade freedom for beneficence nor my dignity for a handout. I will never cower before any master nor bend to any threat. It is my heritage to stand erect, proud and unafraid; to think and act for myself; enjoy the benefits of my creations and to face the world boldly and say, this I have done. All this is what it means to be an American.

In remembrance of Jack:

HIGH FLIGHT
By John Gillespie Magee, Jr.



Oh, I have slipped the surly bonds of earth
And danced the skies on laughter-silvered wings;
Sunward I've climbed, and joined the tumbling mirth
Of sun-split clouds-and done a hundred things
You have not dreamed of-wheeled and soared and swung
High in the sunlit silence, Hov'ring there,
I've chased the shouting wind along, and flung
My eager craft through footless halls of air.
Up, up the long, delirious, burning blue
I've topped the windswept heights with easy grace
Where never lark, or even eagle flew.
And while with silent lifting mind I've trod
The high untrespassed sanctity of space,
Put out my hand, and touched the face of God.
Click on images to enlarge



The Book of Honor" located in front of the Memorial Wall at CIA Headquarters


2008 - Alabama honors Jack Weeks on 40th anniversary of his death

CIA 60TH ANNIVERSARY - 19 September 2007
Sharlene Weeks, widow of Jack Weeks honoree at A-12 Article 128 Dedication
---
See a broken link or error, have a story or photo to add - please email the webmaster - - Page last modified 04/14/2015