TRIBUTE TO CIA PILOT JACK WEEKS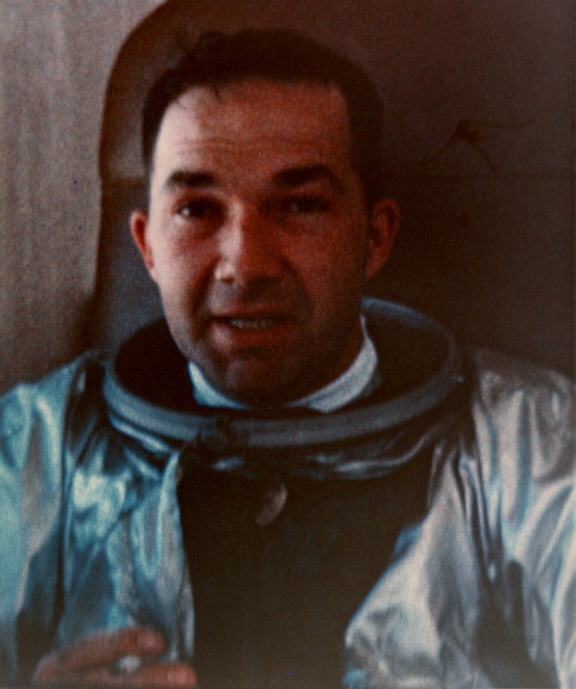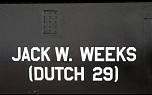 Jack Warren Weeks was born to Nathan M. Weeks and Abbie K. Weeks in Birmingham, Alabama on February 23, 1933. As a child, Jack spent time in Winfield, Alabama with male cousins and paternal grandmother, aunts and uncles. When not in Winfield he could be found in Carrollton, Alabama with a maternal aunt and uncle with another male cousin.
Forty years ago, on 5 June 1968, as Operation Black Shield was being terminated and the planes returned to Area 51 for retirement, A-12 (60-6932/129) was lost during an FCF (Functional Checkout Flight) flown out of Kadena AFB Okinawa. The pilot, Jack W. Weeks became the second and last CIA pilot killed in the OXCART Program in the line of duty and is so honored in the "Book of Honor", CIA Headquarters in Langley, Virginia.
Jack and his fellow A-12 pilots, operating within the voids of secrecy, were our nation's Cold War icons of aviation. They were the 'Best of the Best'. They flew across the sky at unbelievable speeds and higher than most can even imagine. They did this to protect us during the "Cold War". Every time they climbed into the cockpit it might have been their final flight. These men that accepted this risk were rewarded with experiences that very few can even imagine. To these "Cold War Warriors" the "Unknown Heroes" we owe more than one can say with "thanks". For those brave and talented men that paid the highest price for their courageous service we are forever in their debt. To the families of these men who gave their all, we are also forever grateful.
On June 1, 1968, Jack telephoned his family from Okinawa to wish his son, Steve and his daughter, Susan a 'Happy Birthday'. That was the last communication they received from him. Three days later Jack and his A-12 disappeared without a trace. His letters continued to arrive after his death, a salute to his love and concern for his family. The last flight of an A-12 (937) was flown by Frank Murray on June 21, 1968 from Groom Lake to Air Force Plant 42, Site 2 where all 9 remaining OXCART Blackbirds at the Palmdale facility were arranged into a tightly-regimented parking array in the corner of one of the large hangers, where they remained for more than 20 years awaiting recall or dispersal to museums. On June 26, 1968 Deputy Director of the CIA, Vice-Adm Rufus Taylor presided over a ceremony at Groom Lake where he presented the CIA Intelligence Star of Valor to the A-12 pilots, Kenneth S. Collins, Ronald (Jack) L. Layton, Francis J. Murray, Dennis B. Sullivan and Mele Vojvodich for their participation in BLACK SHIELD. A posthumous award was given to Jack W. Weeks and accepted by his widow Sharlene. This was when Sharlene learned that her husband was in the CIA. Ironically, Jack's job was so secret, the agency kept the medal for another six years before giving it to her.
It was with utmost appreciation that the Roadrunners accepted the opportunity tendered by the USS Alabama Battleship Commission to pay tribute to Jack in his home state on 4-5 June 2008 at the pristine USS Alabama Battleship Memorial Park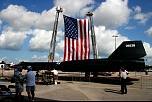 in Mobile, Alabama. Hosted by the USS ALABAMA Battleship Commission, on Wednesday, June 4, 2008 a ceremony was held at the USS ALABAMA Battleship Memorial Park beside A-12 Article 132 that included speeches, proclamations, a KC-135 flyover, etc. Famous artist Dru Blair unveiled another of his exceptional paintings, this one depicting Jack Weeks' A-12 mission over North Korea during the USS Pueblo seizure by North Korean naval forces. The EAA store introduced a newly designed Roadrunner coin and the EAA CIA store unveiled its new line of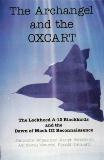 Roadrunner memorabilia in support of the 2-day event that included the first public ceremony honoring the Roadrunners of Project Oxcart and Operation Black Shield and welcoming them home from the Cold War. Renown A-12 author, Jeannette Remak unveiled her latest book, The Archangel and the Oxcart coauthored by Joseph Ventolo Jr. with special material by Ronald Girouard. Complimentary copies were distributed to the Weeks family, the CIA participants, and various museum dignitaries organizing and supporting the event. That evening the museum hosted a dinner for the Roadrunners and invited VIPs among the planes in the the hanger.
During Project Oxcart one A-12 pilot and two chase plane pilots had died in plane crashes before Jack. In each instance the Roadrunner family was there to support the widow and family. With Weeks it was different. Three weeks after his death Project Oxcart was disbanded and the families scattered as the men resumed their military careers, many shipping out to the Vietnam War. Unlike the other widows, Sharlene was thus denied the support of the Roadrunner family. Consequently, it was particularly rewarding to family, friends, the CIA, the museum staff and the attending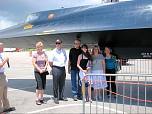 Roadrunners to at last see a degree of closure for themselves and for the Weeks family attending the event in Mobile 40 years later: Sharlene, her and Jack's sons, Steve and Tim, daughter Tana, Tim's wife Amyna and youngest daughter Kyla. Family members unable to attend due to school, work and other obligations were daughter Susan Weeks Barry, Steve's wife Linda, Tana's husband Don Prodan, and Susan's husband, Mark Barry. Besides Kyla, who attended, there were eight other grandchildren and two great-grandchildren who could not: Steve and Linda: 3, Tana and Don: 1, Tim and Amyna: 4 grand kids and 2 great-grands, and Susan and Mark: 1.
For Roadrunner president, TD Barnes, and former presidents Roger Andersen and Frank Murray as well as the other Roadrunners attending the ceremony, the tribute climaxed years of effort to establish, record, and maintain the legacy of one of the Cold War icons of Area 51. Only a week prior to the event in Mobile the Roadrunners learned that Jack Weeks was being considered for induction into the National Aviation Hall of Fame, meeting another milestone of the Roadrunner association. The appreciation of the Weeks family, the Roadrunners, and the USS ALABAMA Battleship Commission for the support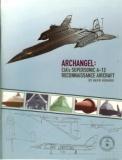 provided by the Central Intelligence Agency was immeasurable. A-12 Article 132 on display at Battleship Park in Mobile was dedicated to Jack Weeks by the USS ALABAMA Battleship Commission. The mention of Jack's University of Alabama ties drew a "Roll Tide" from many Alabamians in the audience. Battleship Commission Executive director Bill Tunnel read a commendation from Gov. Bob Riley that called Weeks 'an Alabamian of distinction and an American of heroic proportions.' Chief CIA historian David Robarge credited Weeks with obtaining the first photographs of the USS Pueblo after the intelligence gathering ship was captured by the North Koreans in 1968. Doctor Robarge further credited the Weeks mission with the alleviation of conflict with North Korea.
Members of Roadrunners Internationale attending were, President T.D. Barnes, former president Roger Andersen, historian and former president Frank Murray, Sam Pizzo, Sharlene Weeks, Jim Janowski, Charlie O'Quin, Sal Lucio, Jack Dupuis, Mike Schmitz, Connie Pardew, Dick Wilson, Ron Girouard, Torrey Larsen, and Mike Thompson.
Representing the Central Intelligence Agency at the Weeks tribute were Dr. David Robarge, Mark Wiggins, Cheryl Moore, and Jennifer Martin. Affiliated with the CIA EAA store was C. who designed the Roadrunner coin unveiled at the event. More of the CIA community would have attended but for a scheduling conflict with an Air America association event occurring that same week in Oregon.
Tunnell closed the ceremony by reading Governor Riley's commendation followed with the words, "Long live the spirit of Jack Weeks.'
Thanks are extended to Owen Miller, Mike Schmitz, > , and Connie Pardew for the photos below depicting this historical tribute and some of those who made it happen.

Click on the images below to enlarge them.

| | | | | |
| --- | --- | --- | --- | --- |
| | | | | |
| Article 132 during Jack Weeks tribute | Presentation and posting of colors | L-R: Dr. David Robarge (CIA), Sharlene Weeks, T.D. Barnes (RI Pres) | Call to Order by Bill Tunnell, Director, USS Alabama Battleship Commission | Welcome by Col. Barney Gass, Chairman, USS Alabama Battleship Commission |
| | | | | |
| CIA Tribute by Dr. David Robarge, CIA Chief Historian | The A-12 Blackbird by Torrey Larsen, Senior Flight Engineer Lockheed Skunk Works | Roadrunner Tribute by T.D. Barnes, President Roadrunners Internationale | Tribute by fellow CIA A-12 Project Pilot Frank Murray | Unveiling of painting symbolizing Week's NK mission by Artist Dru Blair |
| | | | | |
| Sharlene Weeks introduced by Frank Murray | Flyover by KC-135, the plane upon which Weeks depended for fuel to conduct his missions. | L-R: Tim's wife Amyna, son Steve, son Tim, grand daughter Kyla, daughter Tana, Sharlene | Steve Weeks, Sharlene Weeks, Aircraft Curator Mike Thompson | Mike Thompson and Sharlene Weeks after dedication of plane to memory of Jack Weeks |
| | | | | |
| Sharlene Weeks, Owen Miller, Purchasing Agent/Property Manager, Tana Weeks | Roadrunner member Ron Girouard displaying his contribution to the Roadrunner A-12 display | Jennifer Martin unveiling new Roadrunner merchandise in EAA CIA store | Owen Miller, Cheryl Moore, Mark Wiggins, and Jennifer Martin | The Weeks Family and Owen Miller posing with the A-12 and the Roadrunner display |
| | | | | |
| The Weeks family, CIA, Roadrunners and Museum VIPs enjoying a dinner in the museum hangar | Commission member Bill Callender welcoming guests to the dinner | CBS interview of Roadrunners T.D. Barnes, Frank Murray, and Museum Director Bill Tunnell | Bill Tunnell, T.D. Barnes, & Frank Murray after Channel 5 TV interview | The Dru Blair painting unveiled to honor CIA A-12 pilot Jack Weeks |
The following day, Thursday, June 5th Bill Tunnell, Executive Director of the USS ALABAMA Battleship Commission headed the first ever public welcome home ceremony for the Roadrunners of Project Oxcart and Operation Blackshield. A symposium panel composed of a broad spectrum of Roadrunners addressed the public in the hanger beside the A-12 The vets, telling their stories, taking questions, interacting with the public, signing memorabilia, etc. More about this event.

Museum information is as follows:
Bill Tunnell- Museum Director
Mike Thompson-Aircraft Curator
Owen Miller, Purchasing Agent/Property Manager
Battleship Memorial Park
2703 Battleship Parkway
P. O. Box 65,
Mobile, Alabama. 36601
251-433-2703

---
See a broken link or error, have a story or photo to add - please email the webmaster - - Page last modified 08/10/2015