Click to mute music

KENNETH W. WOOD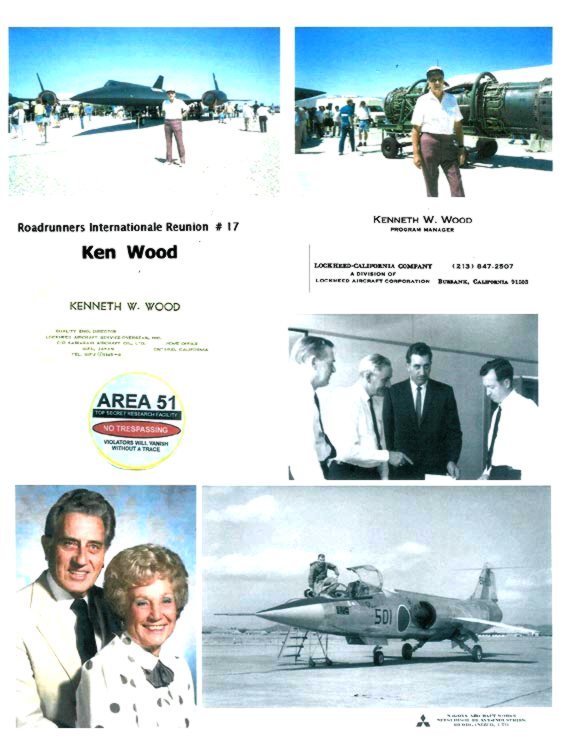 KENNETH W. WOOD
LOCKHEED AIRCRAFT SERVICE
AS KEN WOOD STANDS IN FRONT OF HIS COMFORTABLE HOME LOOKING OUT OVER THE BLUE PACIFIC IN LAGUNA BEACH , HE IS AS WE SAY "ON TOP OF THE PYRAMID."
A QUICK LOOK BACK ON HIS LONG CAREER AT LOCKHEED AIRCRAFT HAS MANY HIGHLIGHTS AND THE FONDEST MEMORIES ARE OF THE TIMES SPENT ON THE BLACKBIRD PROGRAMS.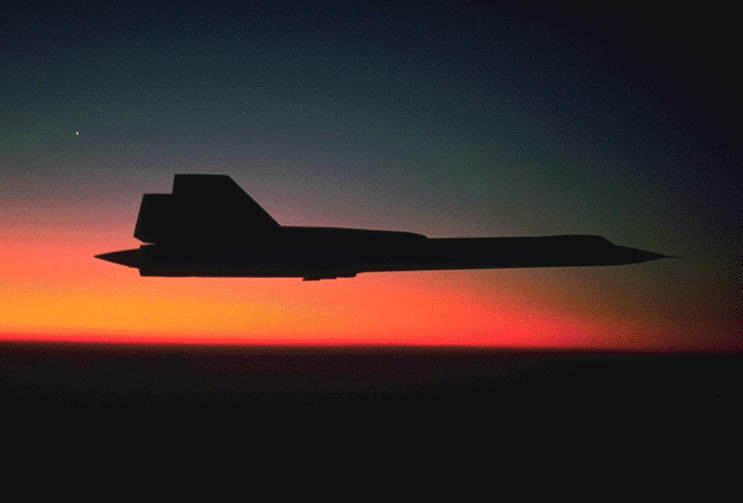 BORN IN SPOKANE WA. ON JULY 18, 1917. HE ATTENDED NORTH CENTRAL HIGH SCHOOL
KEN STARTED AT LOCKHEED IN BURBANK CA. DURING 1937 WORKING ON THE FIRST ORDERS OF HUDSON BOMBERS FOR ENGLAND. MOVING UP TO LEAD MAN THE PLANT ACTIVITIES SOON TURNED TO FULL ALL OUT PRODUCTION OF THE P-38 LIGHTNINGS. 1941-1945 ALL THIS EFFORT WAS FOR OUR MILITARY OVER IN EUROPE AND JAPAN. HE RECALLS A STORY OF HOW THEY MANAGED TO MAKE 22 AIRCRAFT A RECORD IN ONE DAY.
HIS TEAM EFFORT WITH HIS DEDICATED MEN AND "ROSE THE RIVETER" LAUNCHED HIM TO LINE PRODUCTION SUPERVISOR. THE YOUNG ONES WANTED TO DATE ME THE MARRIED ONES JUST DID THEIR WORK AND THE OLDER WOMEN WANTED TO ADOPT ME AS A GRANDSON! HE LAUGHS ABOUT ALWAYS BEING UP FOR PROMOTION JUST WHEN IT WAS TIME FOR HIM TO GET OFF SWING SHIFT NIGHT WORK.
WHILE IN PHOENIX AS A FIELD SERVICE REP AT LUKE FIELD HE WENT TO A DANCE AND FOUND THE LOVE OF HIS LIFE DEE. A YEAR LATER 1947 THEY WERE MARRIED.
YEARS WENT BY FAST AFTER THE WAR WHEN HE SUPERVISED THE MAINTENANCE LINE FOR ALL TYPES OF AIRCRAFT SUCH AS THE CONNIE.
A BIG YEAR FOR OUR FAMILY WAS 1954 WHEN KEN WAS ASKED TO MOVE US ALL TO JAPAN. NEAR THE CITY OF KOBE JAPAN LOCKHEED WAS WORKING WITH MITSUBSHI CO. ON AN JET ENGINE PLANT FOR THE T-33 . THIS TRAINER PROGRAM WAS FOR THE JAPANESE AIR DEFENSE FORCE. KEN WAS PRODUCTION QUALITY ENGINEER DIRECTOR FROM 1956-1959. IN ALL ONE HUNDRED AIRCRAFT WERE BUILT WITH KAWASAKI CO. AT GIFU AIR BASE NEAR NAGOYA .
IN 1960-1964 THE GROUP WAS GIVEN ANOTHER CONTRACT TO PROVIDE SIXTY F-104 STARFIGHTERS. THIS FIGHTER WAS THE BACK BONE OF AIR DEFENSE FOR ALL OF THE FREE WORLD. IT HELD ALL OF THE WORLD RECORDS OF ITS DAY.
KEN AND DEE SPENT A TOTAL OF NINE YEARS IN JAPAN. WEEKENDS WERE SPENT WITH SONS BILL, ROGER AND DAUGHTER SANDRA. TRAVELING AND SIGHT-SEEING THROUGH OUT THE LAND. WHAT A GREAT ADVENTURE. ASK TO SEE OUR HOME MOVIES SOME DAY.
KEN HAD A VERY SPECIAL ASSIGNMENT GIVEN TO HIM DURING THIS TIME IN 1961. HE WAS SENT TO TOKYO HEAD OFFICE FOR A FEW WEEKS TO RUN THE SHOW. AH YES, ALL THE PERKS AND LIMO TOO. LIFE WAS GOOD FOR HIM. A FEW MONTHS LATER HE WAS OFF TO INDIA. A MEETING WITH THE MINISTER OF TRANSPORTATION WAS SET. THEIR OBJECTIVE WAS TO SHOW THE ELECTRA AIR LINER AND TO BE THEIR PRIME SOURCE FOR INDIA'S NEW AIR LINES. AS THE HIGH LIGHT OF HIS CAREER KEN HAD A ONE-ON-ONE MEETING WITH NEHRU THE PRIME MINISTER OF INDIA. HE WAS EXCITED ABOUT THE PLANE.
BACK TO CALIFORNIA IN 1964 FOUND US IN BURBANK AS PRODUCTION ENG. DIR OF THE NEW JET AIR LINER L-1011 WIDE BODY . KEN HAD DIRECT RESPONSIBILITY FOR THE FLIGHT DECK CABIN SECTION. THIS AIR LINER IS STILL IN SERVICE AND IS HIGHLY REGARDED AS EASY TO HANDLE BY THE PILOTS AND HAS A GREAT SAFETY RECORD.
IN 1966 OUR NATO ALLIES WERE HAVING TROUBLE KEEPING THEIR F-104 FIGHTERS IN THE AIR. SO KEN WAS ASSIGNED TO DIRECT A FLIGHT SAFETY PROGRAM TO INSURE WORLD WIDE IMPROVED PILOT TRAINING.
WITH KEN'S EXPERIENCE AND GET IT DONE REPUTATION HE WAS CALLED TO WORK ON THE TOP SECRET PROJECT OF OXCART. 1967-1968 HE WAS EXCITED ABOUT HIS NEW ASSIGNMENT AND JOINED THE MEN AT AREA 51. THROUGH HIS LEADERSHIP AND ABILITY THE FLIGHT MISSIONS OF THE SR-71 WERE FLOWN IN AIRCRAFT THAT HAD COMPLETE MAINTENANCE. DURING FLIGHTS THE BLACKBIRD PLANE HAD THE ABILITY TO PERFORM TO ITS HIGHEST LEVEL WHEN ASKED UPON BY ITS U.S. AIR FORCE PILOTS.
DURING THIS ASSIGNMENT TO AREA 51 HE HAD ORDERS TO KADENA, OKINAWA AND OPERATION DETACHMENT ONE. WHILE OVERSEAS HE WAS PROUD TO BE A PART OF AMERICA'S WAR EFFORT, AS THE LOCKHEED FLIGHT OPS MANAGER. HE RECALLS A MISSION OF SURVEILLANCE OVER VIET NAM THAT THE SR-71 HAD TO TAXI PAST ROW AFTER ROW OF B-52 BOMBERS LAUNCHING THEIR RAID. THIS MADE IT REAL TO HIM AND VITAL TO BE SUCCESSFUL IN EVERY DETAIL OF THE READINESS OF THE AIRCRAFT. THIS WAS THE MOST SECRET MISSION OF THE WAR. VERY HIGH STAKES. HE WORKED WITH MEN WHO HAD "THE RIGHT STUFF" AND WERE OFFICERS DEDICATED TO THEIR POSITIONS. WHAT A GREAT GROUP OF MEN BOTH THE LOCKHEED CREW AND U.S. AIR FORCE MEN.
YOU SHOULD SEE KEN TELL THE STORY OF THE "LOW AND SLOW" FLIGHT HOME FROM OKINAWA. THE AIRCRAFT A SR-71 HAD TO STOP-OVER AT HONOLULU INTERNATIONAL AIR PORT FOR REPAIRS. THE CREW COMPLETED THE WORK AND THE PILOT, FRANK MURRAY, GAVE THE AIRPORT TOURIST A REAL SHOW WHEN HE BLASTED OUT OF THE REMOTE HANGER TAXIED AND LIT IT UP ON TAKE OFF AND SCREAMED FULL POWER GOING STRAIGHT UP AND OUT OF SIGHT IN A MATTER OF SECONDS. ALL THE PEOPLE COULD SAY WAS "WHOW, WHAT WAS THAT."
AFTER 33 YEARS WITH LOCKHEED AIRCRAFT SERVICE KEN PUT AWAY HIS BADGE FOR THE LAST TIME IN 1972. WHAT A GREAT CAREER.
THEN CAME THE FUN AND EXCITEMENT OF HIS LOVE OF DEEP SEA FISHING. HIS BOAT THE DEE DEE II, WAS THE RADIO CENTER OF THE FISHING FLEET OFF OF CATALINA. THE BALBOA ANGLING CLUB AWARDED HIM WITH MANY BUTTONS FOR MARLIN AND BIG EYED TUNA CAUGHT ON RECORD LIGHT TACKLE. KEN'S BEST DAY WAS FIVE MARLIN CAUGHT IN THE GULF OF MEXICO. WITH LAGUNA BEACH HIS BASE, GOLF WAS HIS PASSION WITH RANCHO SAN JOAQUIN MEN'S CLUB. AFTER A TOURNAMENT HE MADE HIS WAY TO THE UNIVERSITY ATHLETIC CLUB FOR A SWIM AND A HOT TUB SOAK. THERE WERE MANY OCCASIONS FOR A FISH FRY AND A BRIDGE PARTY THEN. LIFE WAS FULL WITH RUNNING TWO FIVE UNIT APARTMENTS AND A CONDO IN KONA HAWAII. WHILE IN KONA SKIN DIVING WAS A MUST AND PLACING IN THE INTERNATIONAL BROADBILL FISHING TOURNAMENT WAS A HIGH LIGHT.
KEN PARTICIPATES IN MOST OF THE ROADRUNNERS LAS VEGAS REUNIONS. HE ENJOYS HIS TIME WITH THE GUYS RETELLING THEIR PART OF THE STORY AND CATCHING UP ON NEWS OF EACH OTHER.
TODAY AS WE GET READY FOR THE NEXT ROADRUNNER REUNION KEN IS EAGER TO SEE HIS FRIENDS AND VISIT WITH THEM ALL. LIFE HAS SLOWED JUST A BIT SINCE HIS BELOVED WIFE DEE OF 56 WONDERFUL YEARS HAS PASSED ON. BUT WITH TRAVEL PLANS AND A LOVING FAMILY WE ALL HAVE FAITH IN THE PROMISE OF TOMORROW.
SEE YOU THERE!!!
YOU ARE WELCOME TO ADD TO MY STORY BY WAY OF MY SON
ROGER WOOD
E MAIL rogerdodger 10 @ AOL.COM
KEN WOOD
136 LA BREA ST
LAGUNA BEACH, CA 92651
TEL 949-586 2313 #277
FAX 949-588 9923
---
See a broken link or error, have a story or photo to add - please email the webmaster - - Page last modified 08/08/2008