| | | |
| --- | --- | --- |
| | ROADRUNNERS INTERNATIONALE | |
| | | |
| --- | --- | --- |
| | LT. COL. DICK E. WILSON | |
USAF/Ret









BIO
Lt Col DICK E. WILSON
June 5, 1930 to February 1, 2004
Click on thumbnail images to enlarge
Lt. Col. Dick E. Wilson, USAF (Ret) was born June 5, 1930, son of Charles and Geraldine Wilson, in Wabash, Indiana. He had two sisters, Juanita, 3 1/2 years older and Sharon, 2 1/2 years younger. His father was manager of A&P Store until 1938, prior to moving to Huntington, Indiana where he started his own business in home improvement. His father sold business and retired in 1970. Both parents are now deceased.

Dick graduated from Huntington High School in top 10% of his class of nearly 400 seniors. He lettered in four major sports junior and senior years, and received a partial athletic scholarship to Indiana University. He played freshman football and wrestled in the last two years. He was a member of the Kappa Sigma Fraternity. He attended AFROTC summer camp at Selfridge AFB, Michigan in 1952. He graduated with a bachelor of science degree as an honor student and was commissioned a 2d lieutenant on June 12, 1953 through the AFROTC program.
Upon graduation, Dick married the former Jacqueline L. Smith, from Muncie, Indiana, a member of the Pi Beta Phi sorority and a
graduate with a bachelors degree from Ball State Teachers College. No pilot training slots were available at that time, even though a request for immediate active duty was requested. Dick received orders delaying entry in to the Air Force until June 1955, to report for pilot training class 56-S. As a result, he and Jacky signed teaching contracts and taught elementary and high school until June 1955. Dick attended pre-flight training at Lackland AFB, San Antonio, Texas prior to be assigned to Bartow AB, Florida, for primary flight training in the PA-18 Super Cub and the T-33 jet trainer. He then attended basic flight school at Bartow AFB, Big Spring, Texas in one of the first all jet flight training classes, flying the T-6 jet trainer the entire time. During primary training at Webb, their first born, Stephen Wilson was born on December 1, 1955 and in June 1956, he was promoted to first lieutenant. Dick graduated ninth in a class of 72 pilot graduates and along with the top 15 in his class, was assigned to pilot instructor school at Creig AFB in Selma, Alabama. Upon completion, returned to Webb AFB in January 1957 as an instructor pilot in the T-33.
In September 1957, daughter Kimberly K. Wilson was born. Dick was selected for regular commission in February 1958 and by the end of the year has accumulated over 1,000 hours of accident free single engine jet time. In April of 1958 he was selected as an exchange pilot to Strategic Air Command from the Air Training Command for approximately a three month TDY tour nicknamed
"SAC Project 1054." He was one of four young pilots in the training command selected to train and be assigned to a B-47 crew prior to deploying to England and experience two "reflex" tours at Greenham Common Royal AFB. Command briefings were given to the four ATC pilots prior to and upon return from the TDY by the ATC commander, General Spicer and SAC commander General Powers. While deployed and working with the B-47 crews, Dick and fellow ATC officers wrote letters back to their respective base newspapers giving a hands-on account of the SAC crew duties and responsibilities while on a "reflex" tour. Then, upon return to their respective bases, gave career briefings to the students training there. While in England, off-duty visits were also arranged to Paris, France; Wiesbaden, Germany; Bruxelles, Belgium; London, and various others points of interest throughout Great Britain.
While crossing the North Atlantic enroute back to the states, the B-47 Dick was in experienced an external fuel tank failure which resulted in an emergency air refueling prior to diverting to Goose Bay, Labrador for repairs. Upon landing, the crew found that repairs could not be made there, so the following day, they flew on to Malcolm AFB, Lincoln, Nebraska, for repairs and customs. Final destination was at SAC Headquarters in Omaha, Nebraska where the four ATC pilots were debriefed by General Powers and his staff. This was followed by a tour of the "war room" where "emergency war plans" are updated on a daily basis and then off to ATC Headquarters at Randolph AFB for a debrief with General Spicer prior to returning to their respective bases.
Upon returning to Webb AFB, Texas, Dick received new orders for TDY to Class 59-C, Squadron Officers School at Maxwell AFB, Alabama. Dick ranked 2d in his flight and upon graduation, received orders PCS to Randolph AFB, Texas, assigned to

the 3510th Flying Training Wing as an instructor in the "Jet Qualification Course" (JQC). He was assigned as an element leader in "A" Flight of the 3510 FTG. In March of 1959, Kristina A. Wilson was born in San Antonio, Texas. In early 1960, Dick was given an additional duty to teach oral and written communication twice a week in the new ATC Classroom Instructors Course, also at Randolph.
In early 1961, Dick was selected to attend a classified experimental program conducted at Brooks AFB, San Antonio, Texas in a somewhat similar curriculum at that of the pre-astronaut selection program. After several weeks of pressure suit training, 24 hour isolation chamber emergency training, high altitude chamber pressure suit training, advanced aerospace physiological aspects of high altitude flight, daily physical and mental exams, it was discovered that Dick had internal scars on the liver and stomach resulting from a sports injury while playing ball in college. As a result, a panel of four flight surgeons met and he was disqualified from the program due to the nature of the test program and the food sources they were experimenting with.
Due to the interest created during this training, Dick volunteered for further training in aerospace physiology and air crew preparedness training, hoping for an assignment with NASA or a high altitude flight program. He was immediately accepted and upon graduation from the aviation physiological training course, also at Brooks AFB, he received PCS orders to Webb AFB as the OIC of the base physiological training unit in July 1962. In September 1962, twin boys, Mike and Marty Wilson were born. Flying consisted of flying as an IP with one student in the T-33, flying maintenance test flights and flying as an IP with base pilots maintaining 60-1 time. In early 1963, 18 new T-38 supersonic trainers arrived at Webb, AFB in preparation for the new class. Dick enrolled in Air Command and Staff College via correspondence prior to be approved to attend the T-38 IP upgrade course back at Randolph AFB. Upon return to Webb AFB, Dick was assigned one student in the new class and flew orientation flights with various flight surgeons and other rated pilots. He continued to fly maintenance test flights in the T-33 at every opportunity. In late 1963, he received the ATC Flying Safety Award. In early 1964, he received TDY orders to "Langley," Virginia, and was interviewed for a
"highly classified" program and within six months, following another short interview, received PCS orders to Las Vegas, Nevada. Upon arrival in Las Vegas in June 1965, Dick was assigned to the 1129th Special Activities Squadron, located North of Las Vegas at the Atomic Energy Test Site, now known as "Area 51."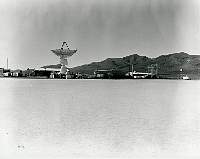 Dick was assigned Assistant OIC of the aircrew preparedness and pressure suit training and maintenance unit for a highly classified, high altitude test vehicle. He also served as IP in the T-33 support program, giving instrument checks and 60-1 time to various support pilots in the organization as well as logging time in the F-101 flying chase and in the Titanium Goose at every chance. Later, Dick served as the OIC of the unit from 1967 until PCS assignment to Kadena AB, Okinawa in September 1968. There, he was assigned to the 14th TAC Fighter Wing under the command of Col "Saber" Sams. Upon learning about the 2-year travel restriction into a combat area, orders were cut assigning him to base flight as the operations officer. Here, he was responsible for providing instrument flight checks, 60-1 time and other assigned flying duties as directed by the wing. In addition, the base flight operations was responsible for R&R flights to Hong Kong, Taipei, Seoul, and Tokyo, as well as providing maintenance support for the entire wing using a C-47 and C-54. Jet operations, consisting of ten T-33 aircraft, was also tasked with conducting daily air defense exercises working with Taiwan air force and air defense officials. Annual exercises required a two week TDY at Taiwan flying daily air defense missions in the local area.
During the summer of 1969, Dick was ordered TDY to Osan, Korea to head up an Air Force part of a classified defense operation codenamed "Focus Lens." He worked with all branches of the U.S. services as well as with Korean officers in a coordinated exercise in preparation to prevent a surprise attack from North Korea. Dick participated in many of the island youth sports programs and served as Island Commissioner for the military and civil service youth football program. While stationed at Kadena, he completed the Air War College Seminar program with the exception of the thesis. In late 1970, Dick received orders to Takhli AB, Thailand following F-105 check out at Nellis AFB, Nevada. Prior to departure for TDY to Nellis AFB, he received orders to report direct to Korat AB, Thailand. Because Dick was not currently qualified in the F-105 "Weasel" aircraft, upon his arrival to Korat AB his wing commander determined that Dick could either move his family from Kadena back to the states and enter "Thud" training at Nellis AFB and then rotate back to Karot or he could accept another assignment and stay in country with his family remaining at Kadena until Dick's tour in Nam was completed. During his tour at Kadena, Dick's wife, Jacky, was employed as a DOD school teacher which allowed her to stay on the island even while he was PCS to SEA.
Within the week, Dick received orders to Nakhom Phanom Air Base, Thailand, assigned to the 51st Special Operations Wing to fly A-1 Skyraiders with an additional duty as assistant flying safety
officer or wing personal equipment supervisor. As a result of his past experience with air crew preparedness and personal equipment, he was tasked with the latter, flying with the A-1 Sandy/Hobo Squadron. During the last six weeks of the tour, dick requested and was granted a local area checkout in the QU-22 from 13th Air Force as they were short of pilots at the time. He flew an additional 15 combat missions called "White Igloo" prior to receiving PCS orders to Kessler AFB, Biloxi, Mississippi. in September 1972 with a delay in route through Okinawa to pick up his family.
Upon arrival in Keesler AFB, once again his orders were revised from personnel officer and flying the T-28 for 60-1 time to TDY, Randolph AFB to attend the moral, welfare, and recreation course. He returned to Keesler as the OIC of the wing moral, welfare, and recreation division, under the 313th Air Training Wing with no flying involved. He was promoted to lieutenant colonel in June 1973 , and since there was little to no chance of getting back into the cockpit, he rendered notification in 1974 requesting retirement in 1975. Retirement, however, was not approved until 1976. Dick's military awards include: DFC, Bronze Star, Meritorious Service Award, Air Medal, Air Force Unit Citation, AF Commendation Award, and Vietnam Service Award.
Upon retirement from the Air Force, Dick served as as Director of Public Relations with the Sheraton Hotel until March 1978 when he became a licensed insurance associate general agent. In July 1978, Dick purchased a retail bait and tackle shop and fishing camp
that he named "Wilson's Fishing Camp." Located on the mouth of the Biloxi Back Bay. While still working in the insurance business, Dick also was a staff writer for two local fishing magazines. Leaving the insurance life, Dick maintained and operated the camp including shrimping for bait 2 or 3 times a day, usually 7 days a week, until spring of 1988.
In May 1988, Dick was hired as the superintendent of cultural affairs for the city of Biloxi, Mississippi. He sold the fishing camp business in June of 1990 and devoted full time to his city job. Later, he was promoted to head up the new human

resources department. Dick retired from the city in July 1995 and opened a new business in Gulfport, Mississippi with his wife and son, Marty, called Art-FX Studio/gallery. Marty is the featured artist and the business represents over 50 other local artists from the Mississippi gulf coast.
Since retirement from the City, Dick has been extremely active in the coast community. He served 8 years as the president of the board for the 3.1 million dollar Mississippi Vietnam Veterans Memorial. The board and committee was established in 1988 and the memorial completed in 1997 in Ocean springs, Mississippi. For the past four years Dick has served as vice-president of the board of directors for Mississippi's annual veterans parade held each November on the gulf coast. He has served as the gulf coast area chairman for the Mississippi employer support of the guard and reserve (ESGR) since 1996. For the past two years he has personally worked with over a hundred guard and reservists coming back from deployment overseas only to find they were no longer employed. He is still active in countless community and civic events. During the past 30 years Dick has served as president of the following organizations:
| | |
| --- | --- |
| Biloxi Area Council - 1987-88 | John C. Stennis Chapter of Air Force Assoc. - 1989-90-91 |
| Biloxi Chamber of Commerce - 1995-96 | Mississippi Deep Sea Fishing Rodeo - 1994 |
| Biloxi Lions Club - 1997-98 | Gulf Coast Chapter of the Military Order - 1993-94 |
| Hug Inc. - 1979-1988 | The Military Order - State & Department - 1994 |
| | |
| --- | --- |
| Boys and Girls Clubs of the Gulf Coast - 1988-89-90 | Gulf Coast Chapter of the Retired Officers Assoc - 2001 |
| Boys and Girls Clubs of Mississippi Area Council - 1991 | Gulf Coast Chapter of Military Officers Assoc. - 2002-present |
Other Offices and Boards
| | |
| --- | --- |
| Greater Biloxi Economic Development Foundation - 1994 - 03 | Gulf Coast Vietnam Veterans Assoc. - 1990-present |
| Friends of the Gulf Coast National Seashore Board - 1998-03 | Joppa Shrine Temple - 1977-present |
| Gulf Coast Chairman of the Mississippi "ESGR" - 1995-present | Order of Daedalions - 1967-present |
| Harrison County Jail Board - 1998-2000 | Flight Capt Hurricane Flt. Daedalions - 1997-98 |
| | |
| --- | --- |
| Mississippi Museum of Art Board - 1993-94 | Flight Provost Marshal Daedalions -1977-97 & 1999-present |
| George Ohr Arts and Cultural Center Board - 1993-94 | Order of the "Quite Birds" - 2000-present |
| Mississippi Gulf Coast Conservation Assoc. - 1986-90 | American Legion Post 33 - Director - 1997-present |
| Biloxi Seafood and Industrial Museum Board - 1986-90 | VFW Post 2434 - Chaplain - member - 2000-present |
| Gulf Coast boys and Girls Clubs Board - 1984-present | Biloxi Elks Lodge #606 - 1983-present |
| Point Cadet Civic Action Board - Vice. Pres. - 1988-89 | Biloxi Moose Lodge #332 - 1982-present |
| Mississippi Visitor Industries Council - VP - 1987-88 | Mississippi Sheriffs Assoc. - 1979-1999 |
| Gulf Coast Arts Council Board - 1990-96 | Black Bay Mission Board - Advisory Board - 2004-present |
| Biloxi VA National Cemetery Board - 1994-99 | |
Civilian Awards
| | |
| --- | --- |
| 2004 - Seven Seals Award as Area Chairman Esgr | 1994 - Boys and Girls Adult/Youth Award |
| 2003 - South Mississippi Sport Fisherman of the Year | 1993 - National Meritorious Service Medallion - Boys and Girls |
| 1987 - 2002 - Biloxi Volunteer of Year - Honorable Mention | 1991 - Air Force Associations Outstanding Service Award |
| 1999 - Boys and Girls Club 15 Year Meritorious Service Award | 1991 - Mississippi Outstanding Board Member - Boys and Girls |
| 1998 - Seven Seals Award for Leadership Esgr Committee | 1990 - Biloxi's Outstanding City Employee Award |
| 1997 - WLOX-TV Outstanding Person of the Week Award | 1988 - Biloxi's Outstanding Citizen Award |
| 1997 - Sun Herald News - Outstanding Senior Citizen Award | 1987 - Biloxi Mayor/City Council Volunteer of Year Award |
| 1994 Boys and Girls Club 10-Year Meritorious Service Award | 1983, 84, 85, 86 - Hug, Inc. Outstanding Board Member Award |
| 1993 Honorary President - MS Deep Sea Fishing Rodeo Board | |
Epilogue
Dick and Jacky have 5 children and 10 grandchildren. Dick is fully retired and a full time recreational fisherman and holds 5 state plus 3 world records currently pending with the International Big Game Association - however, boating and fishing the Gulf of Mexico will never take the place of flying the big, blue sky.
A LIFETIME OF MEMORIES
Click on images to enlarge
This must be heaven!!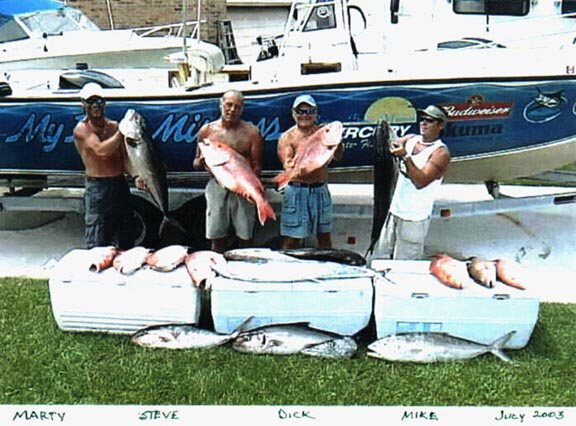 ---
See a broken link or error, have a story or photo to add - please email the webmaster - - Page last modified 08/08/2008