RALPH WILLIAM "BILL" THOMAS


USAF
Lt Col Ralph William (Bill) Thomas was born in Council Bluffs , Iowa on September 4, 1923, the son of a Union Pacific Engineer and spend his youth working on trains throughout the Midwest. In 1942 he enlisted in the Army and became a Radioman stationed at Ft Dix. He broke his back just prior to shipping out or he would have been in D-Day as as part of the 27th Division.
After the war he returned to collage, went into the Air Force where he served for over 30 years as Meteorologist . Thomas' duty Assignments included Harmon AFB, Newfoundland Canada - Langley AFB, Va. - Ramstien AB, Germany - Offutt AFB (SAC HQ) Neb. - Nellis AFB, Nevada (1129th Det 1 3rd Wx /CC Kadena AB, Okinawa Commander Det 6, 20th Wx - and Peterson Field, Co.-¬G€ Norad IG Team. He retired in 1974 and moved to Las Vegas where he remained until 2008 when his darling wife Ruth died and he was moved to Santa Clarita , Ca to be near his only child, Ronald. Bill died on March 8th at 2221, peacefully. His most remembered times were spent at the Ranch and though he only spoke of it briefly in later years with his son Ron, who was working at the Ranch for Lockheed, it was always will warmth and pride for the job and the people.
Thomas, while a USAF Major was assigned to the Air Force 1129th SAS contingent at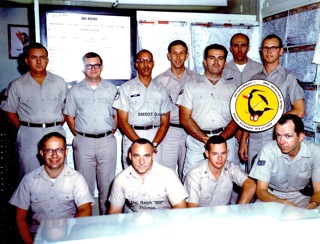 Groom Lake, Nevada during the CIA Project Oxcart. Project OXCART was the building of a Mach 3+ plane capable of flying above 80,000 feet to replace the U-2 surveillance plane. Major Thomas was a member of the meteorology team at Groom Lake for the flights of the A-12 and the F-101 VooDoo support planes. Major Thomas deployed to Kadena, Okinawa during Operation Black Shield, the operational phase of Project OXCART where the A-12 flew sorties over North Vietnam to locate the SAM and surface to surface missiles of the enemy, and the missions over North Korea to locate the USS Pueblo seized by the North Korean navy. Major Powell resided in the Morgan Manor with the CIA project pilots and the Air Force support team, including meteorologist Weldon "Walt" King who was killed in the crash of one of the Blackshield F-101 planes.
Major Thomas served with the 1129th SAS from 1965 to 1968 and shared with all Roadrunners the consideration of his time at the "Ranch" being the best years of his 30-year Air Force career.
Colonel Thomas is survived by a son, Ron, who followed his footsteps 20 plus years later to work at the Ranch for Lockheed on another leading edge platform.