| | | |
| --- | --- | --- |
| | ROADRUNNERS INTERNATIONALE | |
DENNIS SULLIVAN - CALL SIGN: DUTCH 23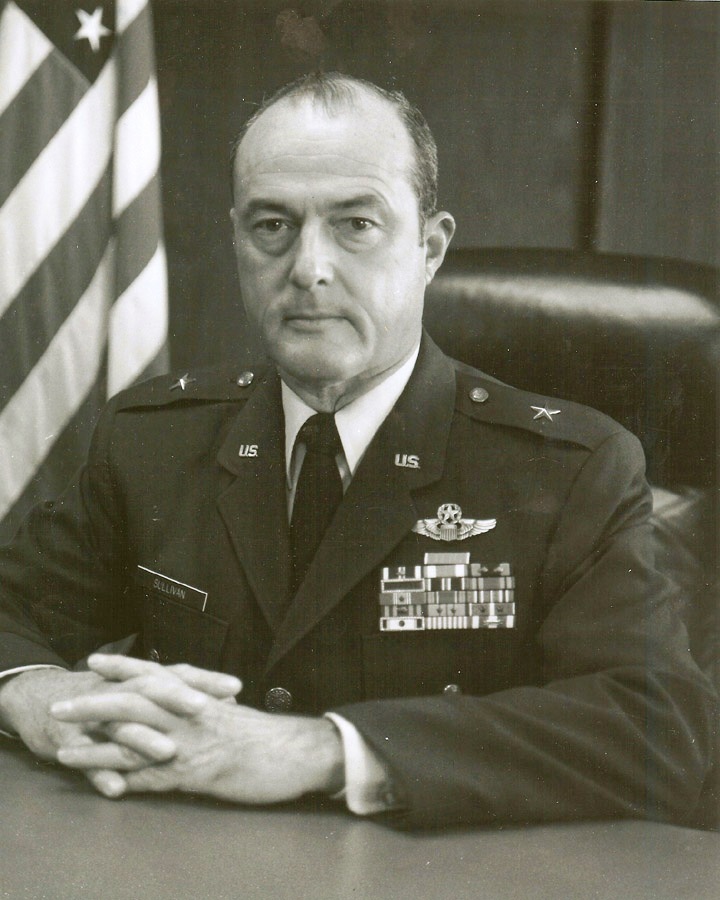 Awarded CIA Intelligence Star for Valor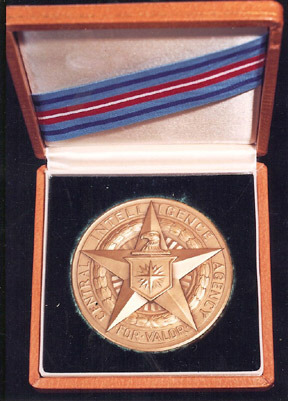 Click on image to enlarge
Missions flown by Dennis Sullivan
BX6709 131 19 July 1967 Mission was flown at Mach 3.17 and 82,000 feet for a duration of 4:58 hours. Imagery quality was excellent. BX6709

BX6732 131 28 October 1967 Mission was flown at Mach 3.15 and 83,500 feet for a duration of 3:49 hours. Imagery quality was good. Mission BX5732

BX6734 129 30 October 1967 Mission was flown at Mach 3.20 and 85,000 feet for a duration of 3:44 hours. Imagery quality was good.
During a flight on 30 October 1967, pilot Dennis Sullivan detected radar tracking on his first pass over North Vietnam. Two sites prepared to launch missiles but neither did. During the second pass at least six missiles were fired at the OXCART, each confirmed by missile vapor trails on mission photography. Sullivan saw these vapor trails and witnessed three missile detonations. Post-flight inspection of the aircraft revealed that a piece of metal had penetrated the lower right wing fillet area and lodged against the support structure of the wing tank. The fragment was not a warhead pellet but may have been a part of the debris from one of the missile detonations observed by the pilot.
Click to enlarge image

Brigadier General Dennis B. Sullivan was a command director in the Cheyenne Mountain Complex for the North American Aerospace Defense Command, headquartered at Peterson Air Force Base, Colo.

General Sullivan was born in 1927, in Chippewa Falls, Wis., where he graduated from McDonell High School in 1944. In 1946 he entered the U.S. Naval Academy at Annapolis, Md., graduating in 1950 with a Bachelor of Science degree and a commission as a second lieutenant in the U.S. Air Force. He received a master's degree in international affairs from The George Washington University, Washington, D.C., and is a graduate of the Advanced Management Program for Executives, Carnegie-Mellon University in Pittsburgh; the Air Command and Staff College at Maxwell Air Force Base, Ala., and the National War College, Fort Lesley J. McNair, Washington, D.C.

His initial pilot training began in June 1950 in T-6s at Randolph Air Force Base, Texas, and continued in F-80s at Williams Air Force Base, Ariz., and Nellis Air Force Base, Nev.

In January 1952 General Sullivan was assigned to the 80th Fighter-Bomber Squadron, 8th Fighter-Bomber Wing in South Korea, where he flew 100 combat missions in F-80s. After completing his tour of duty in South Korea, he transferred to Truax Field, Wis., and flew F-86 Sabrejets and F-102 Delta Daggers with the 126th, 432nd and 323rd Fighter-Interceptor squadrons. In October 1957 he moved with the 323rd Fighter-Interceptor Squadron to Harmon Air Force Base, Newfoundland, where he continued flying F-102s until September 1960. Following graduation from the Air Command and Staff College in July 1961, General Sullivan served with the 318th Fighter-Interceptor Squadron at McChord Air Force Base, Wash., flying F-106s.

From June 1963 to August 1968, General Sullivan was a special projects officer at Headquarters U.S. Air Force, Washington, D.C. He was then assigned to Headquarters Aerospace Defense Command, Ent Air Force Base, Colo., as chief, Test Branch, Weapons Division. He attended the National War College and concurrently earned his master's degree in international affairs from The George Washington University from August 1969 to August 1970.

General Sullivan served from August 1970 to August 1972 as director of operations and later vice commander of the 9th Strategic Reconnaissance Wing at Beale Air Force Base, Calif., the only Air Force unit flying the SR-71 "Blackbird" strategic reconnaissance aircraft. He then moved to Air Training Command as vice commander of Chanute Technical Training Center, Chanute Air Force Base, Ill., where he served for three years.

In July 1975 General Sullivan took command of the only navigator training wing in the Air Force, the 323rd Flying Training Wing at Mather Air Force Base, Calif. From September 1976 to July 1978, he was assigned as deputy chief of staff for operations at Air Training Command headquarters, Randolph Air Force Base. In this position he was responsible for monitoring and providing staff support to pilot, navigator and survival training programs at 11 bases and several detachments. He then took command of 12th Air Division at Dyess Air Force Base, Texas, and assumed his present duties in September 1981.

General Sullivan is a member of the Society of Experimental Test Pilots and a command pilot with 7,000 hours flying experience. His military decorations and awards include the Legion of Merit with one oak leaf cluster, Distinguished Flying Cross with oak leaf cluster, Meritorious Service Medal and Air Medal with two oak leaf clusters.

He was promoted to brigadier general Feb. 1, 1977, with date of rank Jan. 24, 1977.
2011 induction ceremony - Wisconsin Aviation Hall of Fame - EAA AirVenture Museum in Oshkosh, Wisconsin

Click on images to enlarge


Video taken of General Sullivan during the 20th reunion of Roadrunners Internationale in October 2007
Click on images to enlarge - Stall mouse over image for caption

Warming up for my military career

Start of military career - Seaman 1st Class - 1945

Naval Academy

Marriage at Randolph AFB, 1950

Korea 1951 - 1952

Sitting in cockpit of #778 in Korea - 1952

Korea - I am #4 in #778

A Senior Golf Tournament at La Quinta, CA/td>

Dennis showing his stuff

Oh! Oh! Dennis is coming

Ontario, Canada - 1964

Rose Marie

Dennis in his A-12

Dennis standing beside A-12

Hard to spear with a F-101

Retirement - 1983

Dennis & Rose Marie

Dennis remembering earlier times

Son Dan & Wife Willa - Salem, MA

Daughter Kathy

Daughter Maureen & family - Phoenix

Son Tim & Family - Hong Kong




10-7-2007 - At Roadrunners Internationale reunion Brig. Gen. Dennis Sullivan
gives account of A-12 pilot lowering landing gear at Mach 3.2 Video

CIA 60TH ANNIVERSARY - 19 September 2007
A-12 Project Pilot Dennis Sullivan attending A-12 Article 128 Dedication
Dennis Sullivan during his time with the 8th Fighter Wing in Korea...

... and on a Naval Cruise while he was in Annapolis (back row, 4th from the left in the white uniform)
>> CLICK HERE << for a pdf brochure regarding Dennis Sullivan's career from his humble beginnings winning a model airplane contest, put together by his nephew Scott Sullivan

>> CLICK HERE << for a Veterans Day Tribute video for Dennis Sullivan
---
06/01/2016: According to today's obituary posting in the Colorado Springs Gazette, Rose Marie Sullivan, spouse of CIA A-12 pilot BGen Dennis Sullivan passed away on 17 May 2016. According to her obituary, she is survived by her husband, Dennis, her 4 children, Dan, Kathy, Tim and Maureen and their families, her sisters-in-law Sharon and Diane and many nieces, nephews and friends.
A funeral mass will be held at the Cadet Catholic Chapel on the US Air Force Academy on June 8, 2016 at 10 a.m. Donations can be sent in lieu of flowers to St. Jude Children's Research Hospital. - See more at: http://www.legacy.com/obituaries/gazette/obituary.aspx?pid=180180042

---
See a broken link or error, have a story or photo to add - please email the webmaster - - Page last modified 11/10/2017