Click to mute music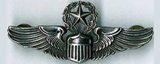 JAMES SAMUEL SIMON, JR. BIOGRAPHICAL SKETCH
By: son, James Simon III
James S. Simon, Jr. was born March 1, 1924 in Chanute, KS to James Samuel Simon and Audree Mae (Ellis) Simon. He had an older sister named June, and a younger sister named Betty Lee.

His father worked for the Missouri-Pacific (or Mo-Pac) Railroad. About 1937, the Mo-Pac moved his father and family to Osawatomie, KS. It was while living in Osawatomie that he met Laura May Biggerstaffthe girl he would marry in 1944.

Mom and Dad had three or four mutual friends in Osawatomie named "Jim or "Jimmy. To avoid confusion as to which "Jim she was talking about, Mom always referred to my dad as "Simon. Even after they were married, she continued to call him "Simon for the rest of his life. Though he never lived to see it, he has a great grandson named Simon Cooper in his honor.

Dad had a reputation for causing mischief at Osawatomie High School. Though most details are murky, I know that he and a friend once placed a fully grown cow in an upstairs classroom of Osawatomie High School.

He and his future wife both graduated from Osawatomie High School in the Class of 1942.

Following graduation from high school, Dad briefly worked for the Missouri-Pacific Railroad as an apprentice machinist until deciding to enter the Army Air Corps.

He joined the Army Air Corps in early 1943 as an Aviation Cadet and was sent to Little Rock, Arkansas (I think he was in Class 44-D). I believe the training included flying the PT-19 and perhaps a few other early basic training aircraft. He received his wings and commission as a second lieutenant in Little Rock on April 15, 1944.

Following his graduation from the Aviation Cadets, Mom took a train from Osawatomie, KS to Little Rock, AR. They were married on April 21, 1944 in the First Presbyterian Church of North Little Rock, Arkansas. I have a copy of their wedding photo. In that photo, Mom is wearing the pair of wings Dad received when he graduated from the Aviation Cadets. He was quite poor in those days and couldn't afford an engagement ring. The wings were his engagement gift to my mother.

He then attended advanced single engine training at Aloe Army Air Force Base near Victoria, TX. I'm not certain of all the aspects of the training, but I believe a lot of the flying time was spent in the AT-6. He may have also logged a few hours in the P-40.

Dad's next assignment was to the Instructor Pilot School at Bryan, TX. After graduating from the school he was assigned as an Instructor Pilot (I think to Kelly Field near San Antonio, TX or Shreveport, LA).

Following the end of World War II, he was sent to Chitose AFB on the northern island of Hokkaido in Japan as a member of the US Occupation Forces. He was assigned to the 49th Fighter Group and flew the P-51. About 18 months later, the 49th Fighter Wing moved south and relocated to Misawa AFB on the main Japanese island of Honshu. While with the 49th Fighter Group, he was assigned to both the 7th and 8th Fighter Squadrons.

His first child, James S. Simon III, was born while he and Laura May were living at Misawa AFB in Japan.

Upon his return to the United States in the summer of 1949, he was assigned to the jet aircraft transition school at Williams AFB, near Phoenix, AZ.

Following jet transition, from about 1950 to 1953, he was based in Wichita, KS at what would later be called McConnell AFB. I believe he flew the P-80 during this assignment. His second child, Gregory H. Simon was born while the family lived in Wichita.

From about 1953 to 1955 he was assigned to the 62nd FIS at O'Hare AFB, IL followed by an assignment to the 456th FIS (flying F-86's) at Truax AFB near Madison, WI. Wisconsin was a hunter's paradise, and I remember Dad hunting both deer and pheasant with other squadron members while we lived there.

During the years 1955 to 1958 he was assigned to the 25th FIS at Naha AFB, Okinawa flying the F-86D. It was while we lived on Okinawa that I first remember meeting the Slater family. I'm not sure if Dad knew Slater before Okinawa, but I know that he maintained a close association with Col. Slater after Okinawa for the rest of his life.

If I may be permitted, I'd like to share a personal experience that gives a glimpse into his personal character. As a young boy on Okinawa, I can remember Dad teaching me to play baseball. We would play catch in the front yard after he came home from work. He came to nearly all of my Little League games and was always supportive. It didn't matter if I struck out or got a base hit, Dad was always encouraging. Most of the other kid's parents seldom (if ever) came to a game. If he was on the island, he was there. He was never loud or coarse, never second-guessed the coach or demeaned the umpire, and never criticized the way I played. More than 50 years later, and with the insight that comes from having raised my own children, I realize how blessed I was to have him as my dad.

The family returned to the United States in 1958 when Dad was assigned to the 75th FIS at Presque Isle AFB, ME flying the F-89. The following year, the 75th moved from Presque Isle AFB to Dow AFB near Bangor, ME and transitioned from F-89's to the F-101 Voodoo. Dad had the honor of flying the first F-101 to the squadron from the McDonnell Douglas factory in St. Louis.

The summer of 1960 found the family in Montgomery, AL while Dad attended Air Command and Staff College at Maxwell AFB.

In 1961, following his graduation from Command and Staff, he was transferred to the Interceptor Weapons School at Tyndall AFB, FL as the Director of Tactical Programs and Development and flew the F-102. This was one of the more enjoyable assignments for Dad. We lived in base housing right next to the Gulf of Mexico. Nearly everyone in his squadron owned a boat, so fishing and camping expeditions in the environs of Tyndall were frequent and enjoyable.

Dad worked for Col. (then Lt. Col.) Slater at IWS and I believe each held the other in high personal, as well as professional, regard. I can remember several fishing and camping expeditions the family made with the Slaters. Dad and Col. Slater had a healthy ongoing rivalry as to who would catch the most fish, biggest fish, etc.

It was also during this time that the Cuban Missile Crisis occurred. During the crisis, Dad commanded an F-102 unit that was deployed from Tyndall AFB to MacDill AFB in southern Florida. The unit called themselves "Simon's Marauders and everyone wore a baseball cap with that logo on it. They lived in tents next to the planes and operated out of temporary shelters. I remember the day the unit leftDad told Mom to watch President Kennedy's speech on TV that night. He said the speech would explain why he had to leave, and that he wouldn't be able to come home for a while. We didn't find out he was deployed to MacDill until about six weeks later when the crisis ended. I have since heard the unit flew a lot of sorties out of MacDill during the crisis, but Dad never spoke much about it.

In the summer of 1963 Dad was transferred to Pacific Air Force (PacAF) Headquarters at Hickam AFB in Honolulu, HI. I don't think he especially enjoyed the headquarters assignment to PacAF. I can remember him only half-jokingly describing a PacAF haircut as one in which "every hair was going in a different direction. While working at PacAF, however, he did manage to get himself attached to the Hawaiian Air National Guard as both an Instructor Pilot and Check Pilot in the F-102. I remember Mom saying that the Hawaiian ANG hadn't done too well in some of their recent evaluations and that after Dad started training and flying with them things improved quite a bit. She also told me that just before Dad left Hawaii, the Guard unit tried to recruit him as a full time member. Dad politely declined as by then he had been assigned to work on Project Oxcart.

In the summer of 1966, he moved the family to Las Vegas, NV and began working in Area 51 as a member of the 1129th Special Activities Squadron on Project Oxcart. His youngest son, Scott C. Simon was born in Las Vegas in June of 1967.

On September 26, 1967 he died when the F-101 he was piloting as a chase aircraft for an A-12 impacted the ground during a night sortie in Area 51. He lies at rest in Arlington National Cemetery. Laura May Simon, his widow, never remarried and remained in the house they shared in Las Vegas until her death on July 3, 2006.

Editor's note: This brief biographical sketch of Lt. Col. Simon was provided by his eldest son in September of 2007 - some 40 years following his death. Many of the dates have been recalled from memory more than 50 years after the fact and some of the above events took place before my birth. Please forgive me if I've missed a date by a year or so.
THE ACCIDENT
By: Harold Burgeson
On 27 September 1967 Jack Layton and I were flying # 124 on a night navigational mission. Jack was in the front cockpit and I was in the rear. I was the instructor pilot and we used my call sign (Dutch 12). Jim Simon was the chase pilot in F-101B (56-0286). After we were safely airborne and all systems checked normal he flew in the local area to await our return, as was customary.

After we completed our mission we returned to base and Jack started an instrument letdown for a full stop landing. During the letdown I called the chase and told him that we were back in the area, had no problems and would be landing shortly. Jim asked for our position and I gave it to him again stating that all systems were normal and that we did not need assistance. He responded that he would at least like to find us.

We turned on final approach and received clearance for a full stop landing. You can't see the wings or engines from the cockpit of an A-12. On short final there was a sudden explosion off our right wing. We saw the flash and felt the concussion. Jack instinctively stop cocked the right engine, lit the left AB, and said "Burgie be ready to bail out. I replied "that wasn't us Jack, it had to be the chase, if you will keep this thing flying straight (there was quite a yaw with the left AB going) I will restart the right engine. I got the engine started and we circled for landing. We avoided looking at the fire as we approached the runway and Jack made a nice smooth landing. Up until we called for landing clearance the tower operators thought it was our aircraft that crashed.

What caused the crash is something we will never know for sure. What we do know is that joining up with a dark, unlit airplane on a dark night at final approach airspeed is not a "piece of cake The aircraft contacted the ground in a flat attitude near the South Trim Pad of the Groom Lake landing strip, which could indicate that Jim got a little low and flew into the ground. We can speculate that he might have overshot a little and dropped down for clearance or that he was distracted by something in the cockpit such as a warning light but speculation really serves no useful purpose. In any case that night we lost a fine officer, an excellent pilot and a good friend.

Harold Burgeson

Simon left a wife and 3 sons.

Lt. Col. Jim Simon flying chase for one of the A-12s at Area 51
Area 51 Groom Lake facilities - 1960"s
The accident was assigned the unclassified code name "Scope Crib."
Click on images below to enlarge the investigation report for viewing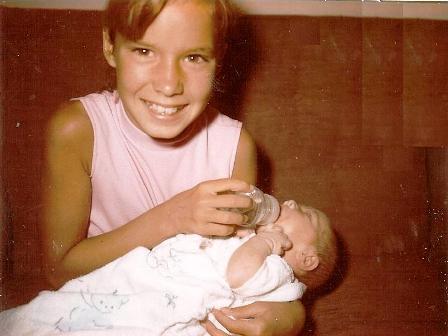 Son Scott Christopher Simon being fed by Debbie Roussell,
daughter of Dick Roussell who flew the F-101 at Area 51 with Scott's father, Jim Simon.
---
See a broken link or error, have a story or photo to add - please email the webmaster - - Page last modified 11/05/2008