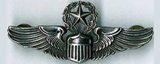 Click on photos below to enlarge
Birthplace and family: Ray was born in Sebring, Ohio in March 1926 and spent his childhood years through sixth grade in Alliance, Ohio. In 1937, the family moved to Kittanning, PA. He married Patricia Scanlon of Kittanning in December 1951. They have three daughters, two born in South Carolina and one born in England. Ray and Pat presently reside in Sun Lakes, AZ.

Education: Graduated from Kittanning High School in 1944; Air Force Flying Training 1948; Command and Staff College 1961; University of Maryland (81SH) 1971; Phoenix Institute of Technology Graduate (with Honors) in Electronic Technology 1981.

Military Background: Ray enlisted in the Enlisted Reserve Corps of the US Army Air Corps for Aviation Cadet Training in September 1943 and was called to active duty in April 1944. After Basic training at Keesler Field, Mississippi he was stationed at Bainbridge Field, Georgia and Hendricks Field, Florida as an "On the line Trainee" awaiting flying school entry. After World War II ended he was released from active duty as a Corporal in November 1945.

He re-enlisted and started Aviation Cadet training in October 1947. He completed Primary and Basic training at Randolph AFB, Texas flying T-6 aircraft followed by Advanced flying training at Williams AFB, Arizona flying T-6, P-5l, and P-80 aircraft. Graduating with class 48-C as a 2nd Lieutenant on 8 October 1948, he was sent to Langley AFB, Virginia as a Tactical Reconnaissance Pilot flying RF-80's (RF=Reconnaissance Fighter). The squadron moved to Shaw AFB, South Carolina in September 1949. His duties were as pilot and Maintenance Officer when he made 1st Lieutenant in March 1950. In July 1950 he was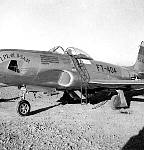 transferred to the Far East and flew 104 combat missions with 214 combat hours in the RF-80 during the Korean War. Again as pilot and Maintenance Officer he flew from Teagu, Korea; Itazuke, Komaki, and Tsuiki, Japan. In July 1951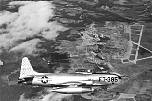 he was reassigned back to Shaw AFB, South Carolina as an instructor pilot in the Tactical Reconnaissance Combat Crew Training School. Ray married Patricia that December and was promoted to Captain the following June 1952. December of that year their first daughter Cindy was born.

In July 1953 Ray volunteered to join a new squadron as Flight Commander and was sent to Lockborne, Ohio to checkout as aircraft commander with SAC in their RB-45C (RB=Reconnaissance Bomber) "Tornado" aircraft. This was the first jet bomber the Air Force had. It was equipped with four J-47 engines and the SAC troops didn't like it one bit that some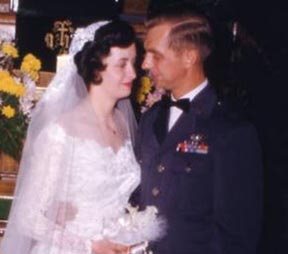 single engine jocks were horning in on their territory.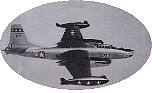 In May 1954 the unit moved to Sculthorpe, England with the RB-45's on an accompanied tour. In November of that year their second daughter was born. In February 1957 Ray taught the pilot's maintenance ground school and checked out in the RB-66B aircraft. Then in May it was back to Shaw AFB, SC. As the story goes, "Once in recce, always in recce." This time he was back in the single place

RF-84F and by July he had checked out in the RF-101A. In November of 1957 he was selected as lead pilot to fly an RF-101C in "Exercise Sun Run". Ray established three new transcontinental speed records from Los Angeles to New York (beating John Glenn's record), from New York to Los Angeles, and round trip. That's the good news; the bad news is that his record fell shortly thereafter as his time was bettered by one of the other pilots. Ray was working as Instructor Pilot, Maintenance Officer and Standardization Officer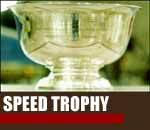 when he was selected in July 1958 as flight leader and Detachment Commander for the RF-101 element on "Exercise Double Trouble". This was the first Tactical Air command (TAC) Composite Air Strike force deployment for an actual contingency: The Lebanon Crisis of 1958. This two-week deployment lasted four months based at Incirlik, Turkey where "training missions" were flown in combat over Lebanon. After returning he served as Air Operations Officer and RF-101 Standardization Officer at both Wing and Air Division levels. In August of 1959 their third daughter was born and Ray's name appeared on the Major's list.

In June 1960 he was selected to attend Air University's Command and Staff College at Maxwell, Alabama where he flew as an instructor pilot in the T-Bird, and instructor in the Navion with the Aero Club. After graduating and going through Stead Survival School he was sent to Loan AB, France on an accompanied tour with the 66th Tactical Reconnaissance Wing. He was still flying the RF-101 and assigned as Chief of Tactical
Operations when he was selected as Team Captain for the USAFE Tactical Reconnaissance Team to compete in the USAF Fighter/Reconnaissance "William Tell" meet held at Nellis AFB, Nevada. Ray's team won the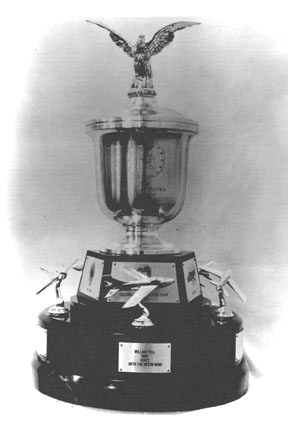 USAF Karl Polifka trophy for reconnaissance, beating TAC and PACAF. In July 1963 he was transferred to Hq. USAFE at Wiesbaden, Germany as an Operations Staff Officer. There he was checked out in the T-39 and soon upgraded to instructor pilot flying VIP personnel all over Europe, including trips in and out of Berlin through the corridors. In July 1965 it was back to the states. This time as Chief of Operations and Training of the 1129th Special Activities Squadron. While Ray, Pat, and the girls lived in Las Vegas, Nevada, Ray actually worked 120 miles Northwest at a place called Groom Lake (Area 51). This was a special unit equipped with the Lockheed A-12 Blackbird (the predecessor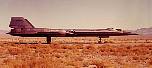 to the SR-71 only single place). While performing duties as Chief of Training, Ray was promoted to Lt. Col. in February 1966, and shortly thereafter was moved into the Deputy Commander for Operations job. At the time they were spending half the time at Area 51 and the other half flying out of Kadena AB, Okinawa. By September 1968 the unit was deactivated as the SR-71 became operational and Ray was transferred to the Pentagon Hq. USAF (AFXOTR). His job was as an Action Officer in the Strategic Branch of the Reconnaissance Division under the Director of Operations. He was promoted to Colonel in November 1968 and transferred into Joint Matters as the Deputy Assistant. The Pentagon assignment was his first non-flying job, which didn't go over too well, so, when he was able to get out from under his security clearances he volunteered for a SE Asia tour.

In early 1972 he went to Myrtle Beach AFB, South Carolina for AT-33 lead in training. This was really great, firing the guns and dropping practice bombs from the old T-Bird. Then to George AFB, California for Category IV training in the F-4 and Clark AFB, Philippines for Jungle Survival school enroute to Udorn, Thailand as the Vice Wing Commander of the 432nd Tac Recon Wing working for Charlie Gabriel (who subsequently became Chief of Staff of the Air Force). This was a great assignment as the wing had five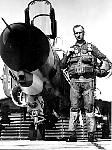 F-4 squadrons and one big RF-4 squadron. Ray flew 120 combat missions with 267 combat hours flying all types of strike and reconnaissance missions over North Vietnam during the Linebacker Operations. But all good things have to end and by June 1973 it was back to the Pentagon, non-flying, again in the basement as Assistant Director of Operations for Joint Matters. In February 1975 he was assigned as Deputy Director for Operational Support supervising five Divisions with 160 Action Officers and their supporting civilians and NCOs. On June 30th 1976 Ray retired with 27 years commissioned time and 31+ years total.

Highlights: Aviation Cadet Class 48-C with student officers of the West Point Class of 47 (such as Doc Blanchard and Brent Scowcroft). Korean War combat with 104 missions. Exercise "SUNRUN" setting new official transcontinental speed records. Winning the USAF "Karl Polifka" Reconnaissance Trophy during William Tell. Detachment commander of the RF-101 unit during the 1958 Lebanon Crisis. Assistant Deputy Commander for Operations of an A-12 unit pioneering Mach 3 flight. Vice Commander of a combat wing in SEA flying 120 combat missions during the Linebackers. One and a half years as Hq. USAF Deputy Director for Operations Support supervising five active Divisions. Over 5000 hours of jet flying time including 500 hours of Combat Time without an accident.

Awards and Decorations: Legion of Merit w/1 Oak Leaf Cluster; Distinguished Flying Cross w/2 OLCs; Bronze Star Medal; Air Medal w/17 OLCs; Air Force Commendation Medal w/2 OLCs; Presidential Unit Citation; AF Outstanding Unit Award w/1 BSS and a Bronze V; Good Conduct Medal; American Campaign Medal; World War II Victory Medal; National Defense Service Medal w/1 BSS; Korean Service Medal w/5 BSS; Armed Forces Expeditionary Medal w/2 BSS; Vietnam Service Medal w/2 BSS; AF Longevity Service Award w/6 OLC; Armed Forces Reserve Medal; Small Arms Expert Marksmanship Medal; Republic of Korea Presidential Unit Citation; United Nations Service Medal; Republic of Vietnam Gallentry Cross w/Palm Unit Citation; the Republic of Vietnam Campaign Medal, and The Korean War Service Medal.


Present Activities: Traveling, mostly to military associated reunions and visits with their two older daughters and grandchildren in Virginia as well as family in Pennsylvania. Ray plays golf and tries to keep his 12 Handicap, while maintaining the home and cars and motor home.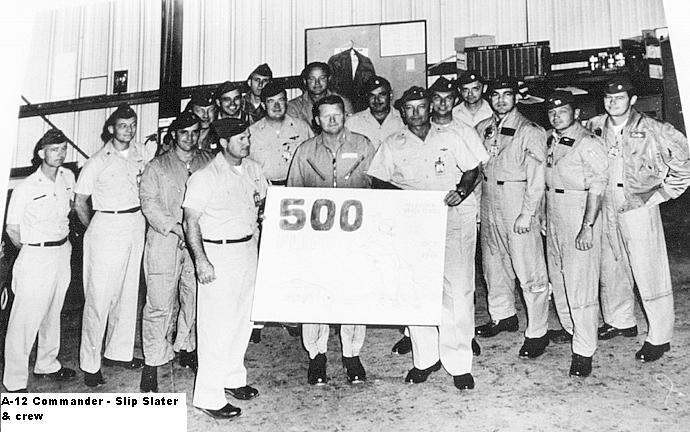 1129TH SPECIAL ACTIVITIES SQUADRON CELEBRATING 500TH TRAINING FLIGHT OF TITANIUM GOOSE AT GROOM LAKE

Front Row - Left to Right
Burton S. Barrett, Hugh (Slip) Slater, Maynard Amundson

Back Rows - Left to Right
Corzine, John Klunk, Walter Smith, Frank Moon, Phil Crawford, Ted Angle, Jim Goodman, Charlie Trapp, Ed Osman, Ray Schrecengost, Don Borgos, Joe Planamento, Dick Wilson, and Ken Culp.
CIA 60TH ANNIVERSARY - 19 September 2007
Schrecengost family honored at CIA A-12 Article 128 Dedication

19 August 2006






Place mouse pointer over photo to stop slide show






Col. Ray Schrecengost 1926-2006


Arlington National Cemetery

---
See a broken link or error, have a story or photo to add - please email the webmaster - - Page last modified 06/07/2011