| | | |
| --- | --- | --- |
| | ROADRUNNERS INTERNATIONALE | |
RON GIROUARD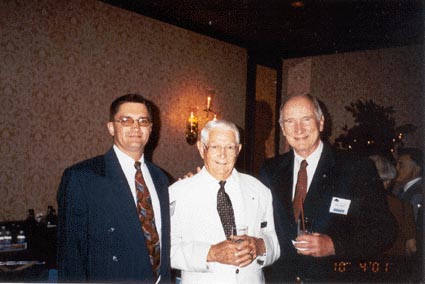 Ron Girouard Jim Eastham Bob Gilliland

The photo above depicts me posing with fellow Roadrunners, Jim Eastham ,
and Bob Gilliland at the last Roadrunner reunion.
Jim Eastman was the first to fly the YF-12 and Bob Gilliland was the first to fly the SR-71. Both were Lockheed test pilots.

This is me and my wife, Donna, at the 2001 Road Runners Reunion.

I finally managed to drag her along to one of these events!

ABOUT ME

I am letter carrier in Lafayette, Louisiana. I've been a huge aviation buff all my life, the A-12, YF-12, and SR-71 Blackbird fascinating me like no other aircraft. During the last 15 years, I have collected over 200 patches, some being the rarest patches ever made during the Oxcart and Blackbird programs. Although many of my fellow Roadrunners deserve credit for supplying me with patches, special thanks go to Bob Williams, a navigator with the 903rd AREFS during OXCART and Operation Black Shield, the only unit to refuel the A-12; Jerry Hogan, a HRB-Singer Co. tech rep for the IR systems used on 665A hardware of the SR-71; Don Byrnes, a member of the 665A; Denny Sullivan, one of the first agency pilots of the A-12; Slip Slater, former commander at Groom Lake and pilot of the 500th flight of the A-12; and Frank Murray, one of the agency pilots of the A-12.

At 90,000 feet, the curvature of the earth is visible. Above the cockpit, it's pitch black. Cruising speed is 2,200 mph, yet there's absolutely no sensation of speed. A counter in the cockpit clicks off a mile every two seconds. "Can you imagine that?" asked Ronald Girouard. "A mile every two seconds. That's Mach III-plus."

Girouard, a U.S. Postal Service mail carrier from Carencro, is a self-proclaimed aviation nut. For the past 20 years, he has focused his attention primarily on what he considers the best aircraft ever created - the SR-71 Blackbird spy plane. For two decades, he has collected patches, models, crash fragments, mugs, flight scarves - anything to do with one of the most technologically advanced aircrafts in aviation history. "This one particular aircraft has just fascinated me like no other," Girouard said. "What (creator) Kelly Johnson was able to do .... in the '60s was just phenomenal. Even today, nobody's come close. Nobody."

Girouard laid out pieces of his collection on his dining room table. His favorite patches sat next to three models, each one representing an incarnation of the spy plane's development. To the left, Girouard explained, was a model of the A-12, a single-seater flown exclusively by the CIA from 1962-1968. The CIA would deny the plane's existence until 1982.

To the right was a model of the YF-12A, a two-seater equipped with air-to-air missiles. Finally, Girouard pointed to the SR-71 model. The pure reconnaissance aircraft flew from 1964 until 1998, after President Bill Clinton vetoed funding for the SR program.

At one time, one of Girouard's fellow postal employees, a collector of Vietnam memorabilia, kept pushing Girouard to expand his Blackbird collection to include patches. "For Christmas one year, he bought me four reproductions of patches," Girouard said. "He told me 'This starts your collection, now go.' I naively thought, Blackbird; they only made 50 of them total. It was only operated out of a couple of bases. There can't be many patches for it. That's been going on for 20 years now."

Girouard has hundreds of Blackbird patches in his collection, many of them personally mailed or handed to him by pilots who actually flew the aircraft. He's missing 75 that he is aware of, and his current collection is valued somewhere between $5,000 and $7,000.

"This is the holy grail of patches," Girouard said, pointing to a circular patch stitched with the outline of a swan labeled "Cygnus." Back then, Blackbird wasn't around. One of the pilots asked what they called (the plane). The government called the A-12 'the Article' or the 'Oxcart,' which were codenames. One pilot came up with the nickname Cygnus, which means swan."

Girouard turned to a binder neatly organized with hundreds of photographs. He turned to the photo he had in mind in a matter of seconds. "See, it used to be painted like a swan," he said tracing the distinct, swan-like color scheme with his finger.

The photos are mostly from one of Girouard's friends who is a NASA photographer at California's Edwards Air Force Base - a Blackbird base. He called me up one day and goes, 'you know every time they change (the Blackbird) tires they just throw them away...do you want one?" Girouard explained. "I asked how much it'd cost me and he told me, "whatever it costs to ship it to you."

The main landing gear tire that Girouard now owns is silver. Girouard explained that on the plane, the tire is impregnated with an aluminum powder and filled with nitrogen. At high altitudes, regular oxygen is highly combustible. The silver coloration dissipates heat, which is important for maintaining the tire's structural integrity. "When this aircraft would fly at 85,000 feet and 2,200 miles per hour, the outside air temperature may be 100 degrees below zero,"Girouard said. "But because of the friction created from this thing just moving through the atmosphere, some parts of the aircraft would actually heat up to 1,500 degrees - regular rubber would just melt."

Girouard said he dreamed of becoming a pilot in his youth, but his eyesight wasn't up to the Air Force Academy's standards. "For a couple years before I got hired by the post office, I worked for an oil company in their aviation department," he said. "I got to go flying three four five times a week. If somebody ever asked if I wanted to go flying, I was there."

At one point, one of Girouard's fellow employees bought a two-seat, highly aerobatic biplane called a Pit Special. Girouard's friend took him up one day and performed a full aerobatic routine. "To this day I think that's the most fun I've ever had," Girouard said. "It was just awesome."

Ronald Girouard said his SR-71 collection, which now includes models, toys and videos, began solely with reference books. He stays in contact with former SR-71 pilots through groups dedicated to the spy plane.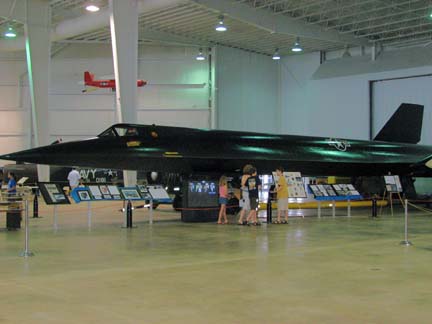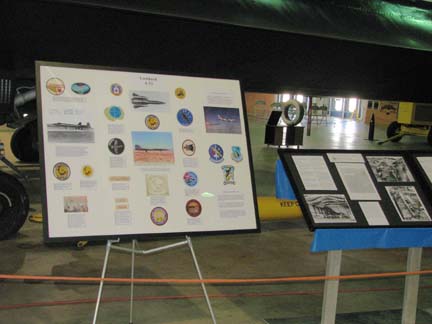 On June 4, 2008 Ron Girouard donated the large display during the Roadrunner's and CIA's 40th anniversary tribute to CIA A-12 pilot Jack Weeks.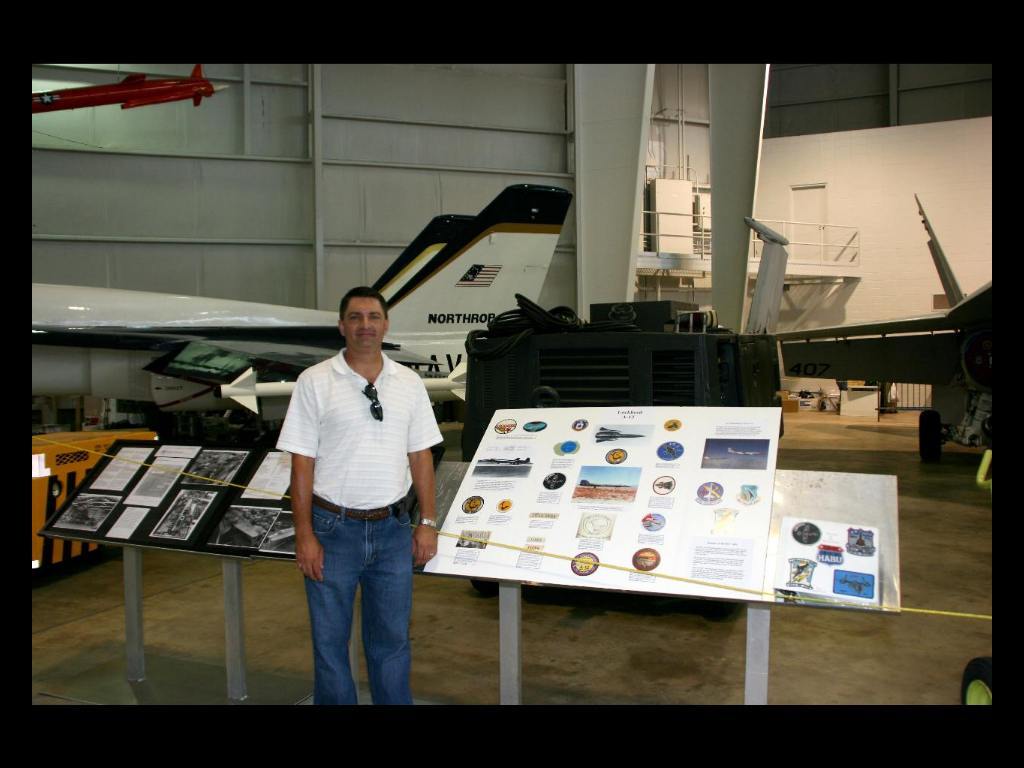 Groom Lake

1129th Special

Operations Sq.

RS-70 & RS-71

Camera @ Sensor

Support WPAFB

903rd Air Refueling

Squadron, Beale AFB

Groom Lake - 500th

Training Flight of A-12
Okinawa Pilots exceeding

Mach 3 in A-12 during

Operation Black Shield

Flight Suit Patches of

Agency A-12 Pilot

Dennis Sullivan & Frank Murry

903rd Air Refueling

Squadron for A-12s

in Okinawa

Operation Black

Shield in Okinawa
YF-12 NASA

Flight Research Center

4786th Test

Squadron

World Speed Record

1965
Have a patch to contribute to this page on the Roadrunner web site,
contact me or the Roadrunner webmaster
---
See a broken link or error, have a story or photo to add - please email the webmaster - - Page last modified 08/08/2008