Click to mute music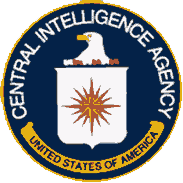 CIA U-2 PILOT CARL OVERSTREET
June 30, 1929 - October 28, 2015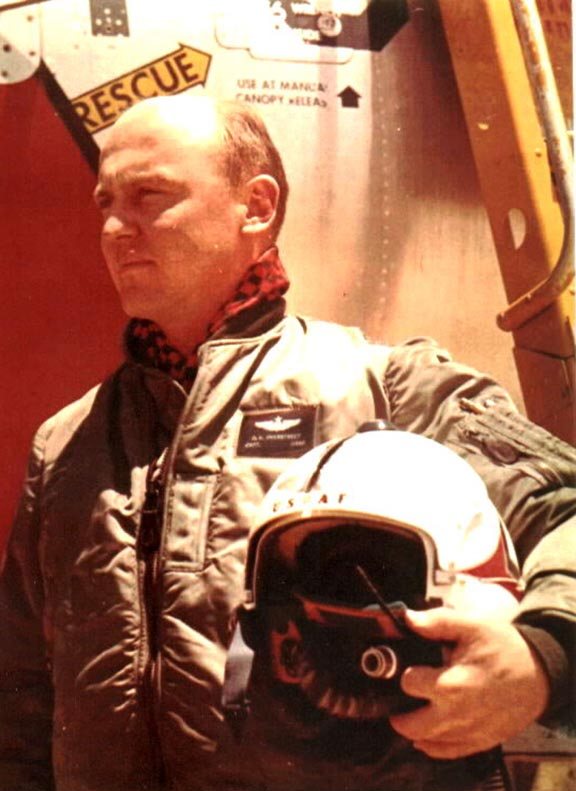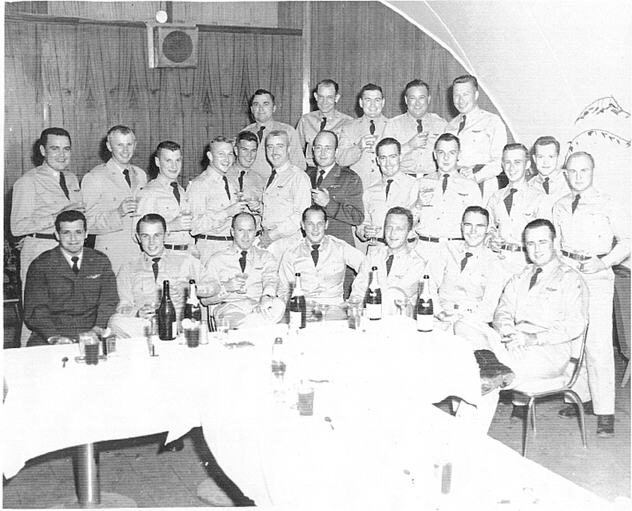 I am standing first row - first on the far right
Back Row L-R: Cy Wilson, Claude Horne, Billy Edens, Vas Wynn, Lyle Rudd
Middle Row L-R: Jim Carson, Tony Kruk, Jim Bachman, Buster Edens, Roy Trice, Floyd Herbert, Herb Stone, Chuck Stratton,William (Bill) Cooper (nickname "Perk"), Ray Haupt, Charlie Inkster, Carl Overstreet
Front row seated L-R: Francis Gary Powers, Richard Nunrley, Jack (Curley) Graves, Robert Schuler, Hank Meierdierck, Joe Kondracki, Don Maggert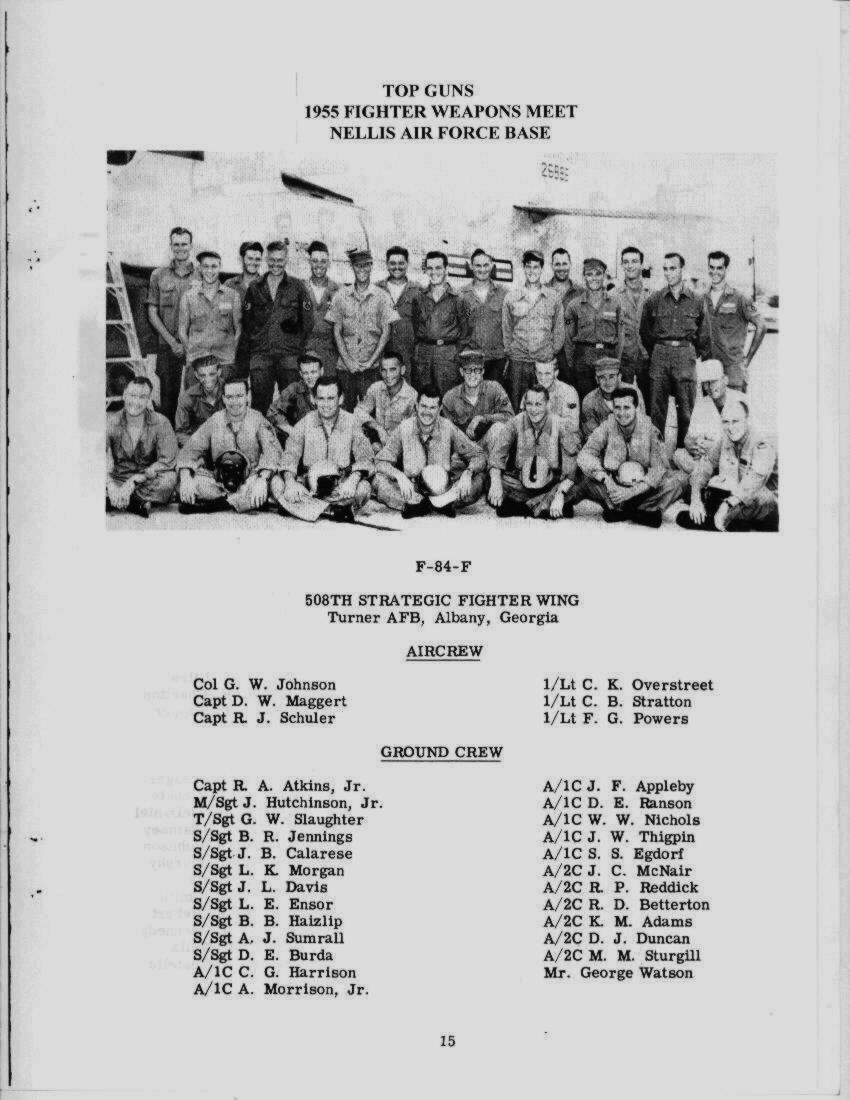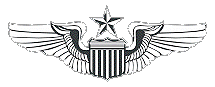 Born in Bedford County, Virginia on June 30, 1929, I went to schools in Bedford and graduated from Bedford High School in 1946.

After being pursued by a civil engineering curriculum for three years at Virginia Polytechnic Institute (V.P.I,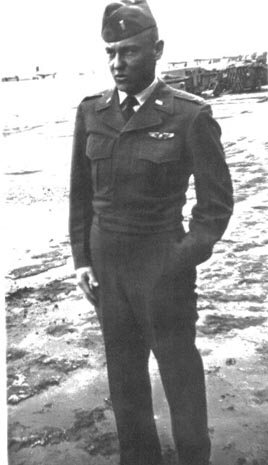 Blacksburg, Va.) I entered the USAF as a cadet in December 1949 (Class of 50 G) at Randolph AFB, Texas. After walking off many demerits and mastering (ha, ha) the T-6 Texan, I was shipped out to Willie Field to fly jet airplanes - T-birds and the F-80 A. Surviving jets (buzzing the Grand Canyon, etc.) I finished up in Arizona and was sent to Vegas. Besides the downtown games, it was a lot of fun shooting machine guns, dropping dummy bombs and rat racing in mock dog fights.

Then it sunk in. There was a war going on in Korea.

Early Spring 1951 finds me at Itazuke, Japan, shooting more machine guns. We were now in F-80 C models which I thought pretty neat, not knowing that MiG pilots called them "Fools".

My parent unit in the FE was the 9th Sq., 49th FBG based at Taegu (K-2) Korea. The 49th transitioned to F-84 E in 1951 and I finished my 100 missions around December. Then I was assigned to the 308th Sq., 31st SFW at Turner AFB, Georgia, flying F-84 G's.

At Turner we were supposedly learning to drop nukes on the evil empire so I got lots of flying time and crossed both oceans in single seat aircraft.

By 1954 I was in the 466 Sql of the 508 SFW at Turner. Along with flying oceans we were also back in the machine gun, bomb and rocket business. In 1954 and 1955 the 508 SFW represented the SAC at the worldwide USAF gunnery meet at Nellis AFB. We had some good pilots and good shooters - Don Maggert, "Lil Willie", Dad McMurray, Gary Powers, Chuck Stratton, Bob Schuler, Cy Wilson and Gerry Johnson, to name a few. Both years ('54 and '55) the 508th came in 2nd place to the whole AF. The winners were always the ATC at Nellis. Funny, eh?!


Out on the ramp one day in Winter 1954 Gerry Johnson, our wing CO, stopped me and asked if I would like to meet some folks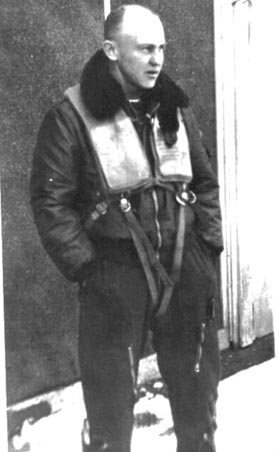 down town and see what they had to offer. My thoughts turned to F-86's and the Flying Tigers, so off I went. When I saw a photo of the article, I was 100% puzzled, but it was different, so I said, "Let's go."

After physical exams, fitting for a pressure suit and a ride in the chamber to 80M feet (scary), I arrived at "The Ranch" in January 1956. This was the perfect setting for a cowboy - wide open spaces, very little humanity, secret stuff, weird airplanes and all kinds of people into aviation.

Unlike most new organizational assignments in the Air Force, the CIA assumed their new U-2 pilots were professionals and thus we were treated accordingly. Before my first U-2 flight I had visions of doing some hot pilot tricks, but I soon learned that accomplishing the mission for which the aircraft was designed was asking enough.

By Summer of 1956 Weather Recon. Sqdn. A was fully trained and sitting ready at Wiesbaden Air Base, West Germany. With events moving rather slow from my point of view, I took a short weekend trip to Vaduz, Lichtenstein, accompanied by Max Conn, a techrep for Westinghouse.

When I returned to Wiesbaden I got the first word about my being scheduled for the first operational flight of the U-2 over Eastern Europe. I don't know how this happened, but it points out the incidental and trusting manner in which we used to function some years back. In the next year and a half, until the end of my CIA contract, I think we pissed Nikita a bit, but I believe Ike was grateful. Besides my flights covering the Soviets and the USSR, I also made photos of the Suez from the Red Sea to the Mediterranean after Nasser had it shut down in 1957.

After termination of my U-2 experience in December 1957 I was eager to fly century series jets. There was talk at that time about an "open skies" policy with Russia, so I foolishly put two and two together and ended up flying TAC Recce at Shaw AFB, South Carolina in RF-101's. I stayed in the AF until 1964, accumulating 1000 hours 101 time. During this time flying was routine, but I did get some of the first pictures of Castro's Cuba in October 1962. It is a very pretty Caribbean island.

During my period of flying for the USAF I picked up 1 Soldier's medal, 2 Distinguished Flying Crosses, 3 Air medals and several unit citations. I left the AF in 1964 as a Captain.

In 1965 I married Elizabeth Ann Schaar. In August 1966 our son, Carl Andrew was born, and in April 1969 another son, Keith Alexander came along.

I operated a fixed-wing STOL aircraft business from my runway, doing charter and other work. After spending a few years away from flying, I needed to again start flying, so I started a commercial helicopter service. I did most of what you could do with a helicopter except fight wars. Business ranged from the eastern shore of Virginia to the Mississippi.

I now reside in Bedford County, Virginia with my wife, Elizabeth.
CIA Archive News & Information: Remembering U-2 Pilot Carl Overstreet
Carl and Liz enjoying the Voodoo Reunion, Hampton, VA, May 30 - Jun 2, 2002
U-2 Diamond Formation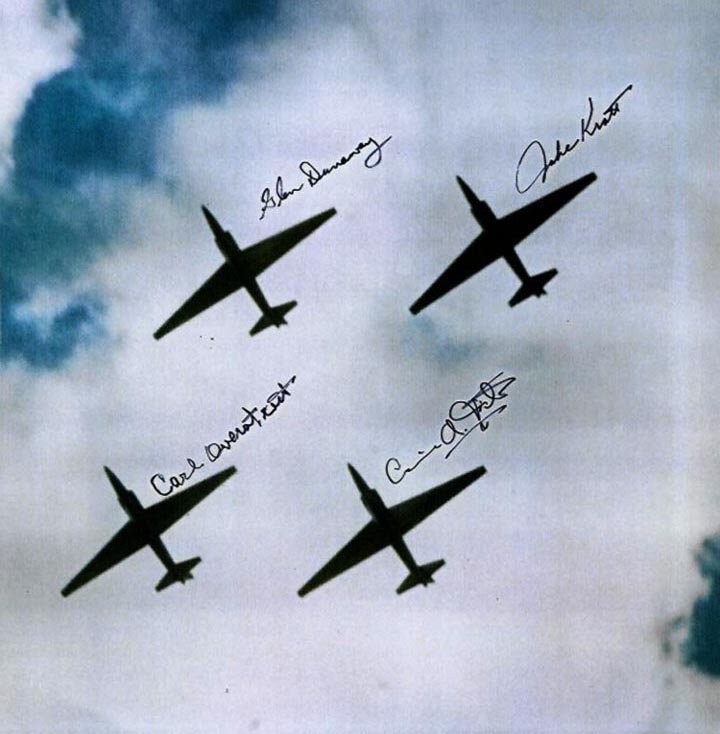 This photograph, made in Europe in 1957, shows aircraft of the first U-2 detachment to be deployed for operational use in intelligence gathering. On this particular day four aircraft were flown on shakedown flights, with take-off and landing times that resulted in their being airborne at the same time. The pilots, experienced fighter pilots, took this opportunity to exhibit the U-2 to ground personnel in a fighter show formation - the Diamond.
Lead aircraft, Glendon (Glen) Dunaway; right wing, Jacob (Jake) Kratt; left wing, Carl Overstreet; slot, Carmine Vito. This undoubtedly is the first - - and only - - four aircraft formation flown in U-2 airplanes.
Photo taken by Hervey Stockman

Miscellaneous orders from the ole footlocker
Carl and his U-2 from the 2005 Roadrunner Reunion. Model of the U-2 I flew carved by P. I., James Crossley, an ex-U-2 pilot who has a model-maker shop in the Philippines.
Cold War Conference 14 October 2006 Carl and I were able to attend this interesting event at Gary Powers, Jr.'s invitation. Gary had been working on this for over a year. I think he should be very happy with the way things evolved. The highlight were videos of the Polish and the Hungarian revolutions of 1996. There were graphic films and talks by those who survived and those who were students of them (now Professors). The high light of the day was discussions by David Eisenhower (grandson of Dwight Eisenhower), and Dr. Sergei Krushchev (son of Nikita). Carl had a chance to meet Sergei, tell him that he was the first U-2 that flew over Soviet territory in Eastern Europe, talked briefly with him, had him sign his book, then we took pictures. This Conference was held at a school adjacent to the old Nikki Missle Base, which will soon become the physical location of the Cold War Museum. Gary Powers, Jr. has been working on this for ten years.
That evening we were guests at the Polish Embassy in Washington, DC. Wow! We were impressed! The Polish and Hungarian Ambassadors to D.C. hosted the gathering.
We stayed at a very nice Marriott hotel in Fairfax, VA. At 12:15 a.m. on Sat. someone tried to get into our room. They left and returned at 12:30. That's when I called the front desk. The guy who worked for the hotel assured me that he would take care of it. For the intrusion he gave us complimentary tickets to the breakfast buffet ($27.50). Someone at the desk goofed by renting our room to someone else!! We got up at 5:45 a.m. on Sat. to be ready to go to the Conference, and we didn't appreciate our sleep being interrupted!
The guys enjoyed talking flying and spying, since they were all in this in different capacities. We met some very interesting people and thoroughly enjoyed the weekend.
Liz
These photos were forwarded to us by Dr. and Mrs. Imre L. Toth. He was one of the panelists, and a survivor of the 1956 Hungarian uprising.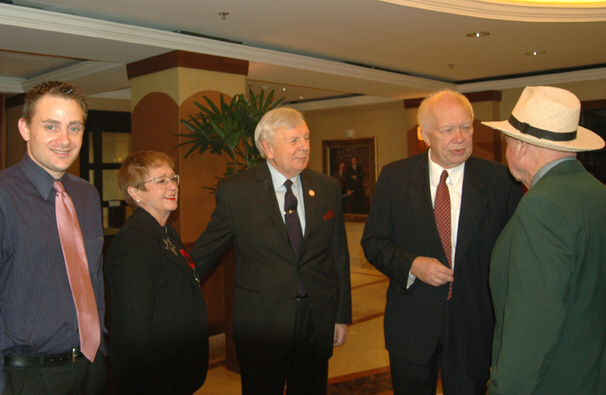 Chris Sturdevant, Chairman, Midwest Chapter of The Cold War Museum (not a panelist), me, Dr. Toth, Dr. Khrushchev, and Carl.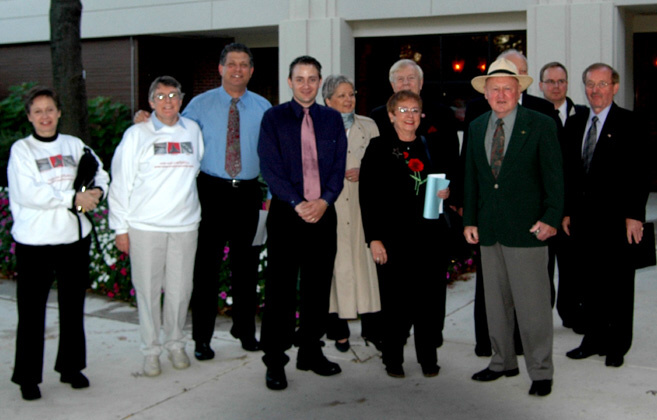 I believe the two ladies on the left work for the Cold War Museum in Lorton, Va. next is Gary Powers, Jr., then Chris Sturdevant, Ms. Vasarhelyl, me, Dr. Toth (behind), Carl, with Dr. Khrushchev behind him, Dr. Krzysztof Persak, panelist, and Werner Juretzko (not a panelist, but in charge of European Affairs for The Cold War Museum).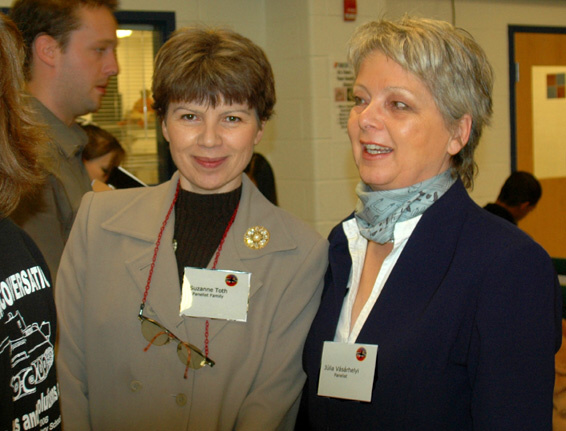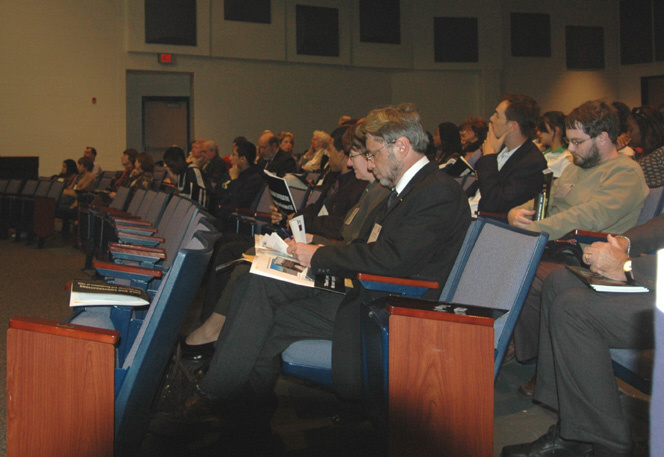 The conference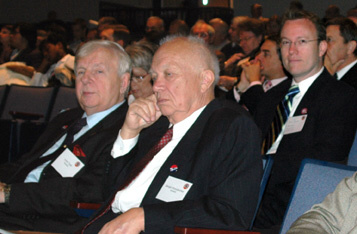 Dr. Toth and Dr. Sergei Khrushchev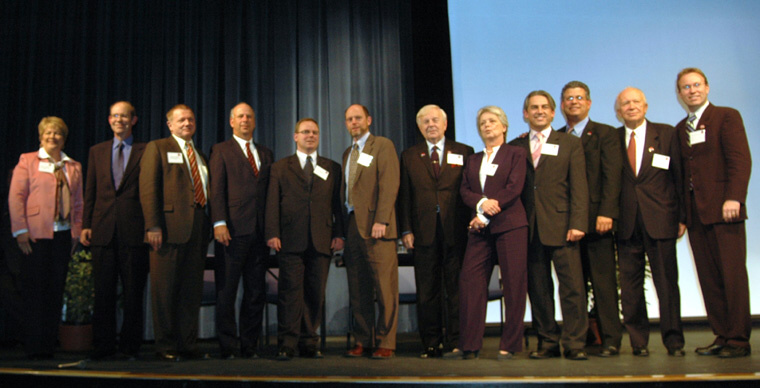 Group of panelists, plus a couple of others. Second from left is David Eisenhower, second from right is Sergei Khrushchev, third from right, Francis Gary Powers, Jr., fifth from right is Julia Vasarthelyl, a panelist, and survivor of the 1956 Hungarian uprising, sixth from right is Dr. Toth.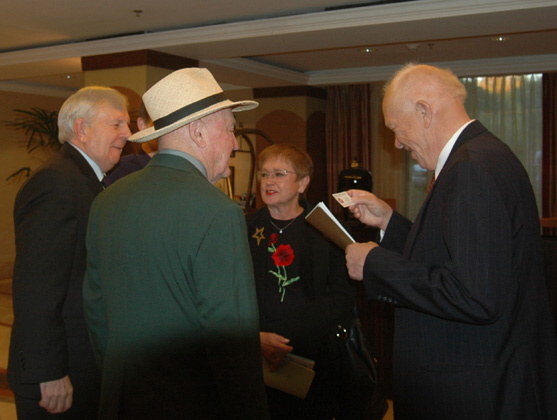 Dr. Toth, Carl (in hat), me and Dr. Krushchev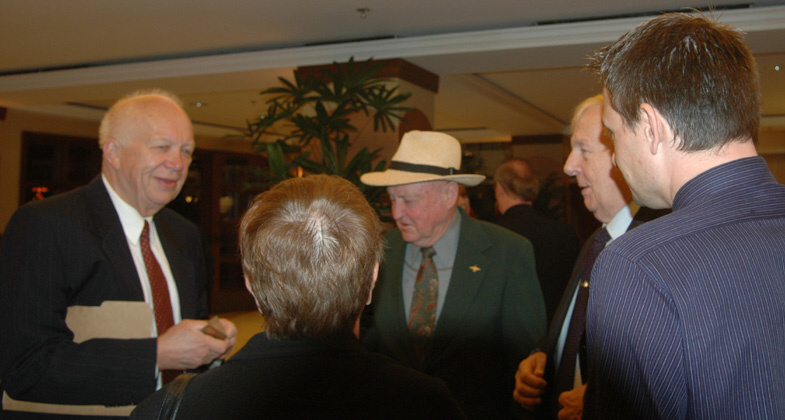 Dr. Krushchev, the back of my head, Carl and Dr. Toth in profile.
---
Once again the Roadrunners and the aviation community have lost an icon. I regret to inform you that Carl Overstreet took his final flight last night, Wednesday, October 28 at 11:15 PM. Carl took a fall while at the Roadrunners Reunion earlier this month in Las Vegas, breaking his pelvis from which he did not recover. Liz Overstreet informs us that Carl will be interred at Arlington National Cemetery at a date yet to be determined. The family plans a local service in Bedford, Virginia November 1st.
Carl Overstreet, a CIA pilot soloed the U-2 in January 1956 at Area 51 in Nevada and is the first U-2 pilot to overfly the Soviet Bloc in Eastern Europe.
Carl Overstreet will be buried at Arlington National Cemetery on Wed., June 1st 2016 at 9:00 a.m. in the Columbarium. Guests are expected to be at the Adm. Bldg. by 8:15 a.m.
---
See a broken link or error, have a story or photo to add - please email the webmaster - - Page last modified 06/09/2016