Click to mute music


Neil Phillip Yingling, Sr.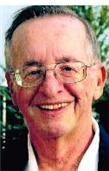 It our sad duty to inform our fellow Roadrunners of the final flight of Neil Phillip Yingling, Sr. who served with the 1128th SAS at Groom Lake during Project OXCART.
Neil Phillip Yingling, Sr., 77, of Amherst, passed away Monday, July 1, 2013 following a long illness. Neil is survived by his wife of 57 years Carolyn Sue (nee Stanislawski); a son, Neil Jr. (Jeannie); four grandchildren, Christina (Jamie) Zilko of Amherst, Sarah (Ryan) McNulty of Amherst, Neil (Jennifer) Yingling III of Sandusky and Rebeccah Yingling of Amherst; great-grandchildren, Zoe Yingling, LillyAnne, Natalya and Stephen-Edward Zilko, Sean McNulty and Nicholas Yingling of Avon Lake.
He was preceded in death by his father Cornelius "Pete" Yingling and mother, Phyllis (nee Ashbolt) Yingling and a brother, Jack Yingling.
Neil was a graduate of Lorain High School Class of 1953-B and was twice Master Councilor of the Lorain City Steel Chapter, Order of DeMolay; was the first President of the Lorain Youth Center. Neil had an illustrious career in the U.S. Air Force and twice was named Airman of the Year by the Strategic Air Command receiving a Presidential award for his efforts locating Soviet missiles in Cuba during the Cuban Missile Crisis of October, 1962. He has cameo appearances in several Air Force and CIA declassified documentary films on the Discover, History and Military cable channels. He received several decorations during his Air Force service and follow-on work with the government. Neil was specialized in reconnaissance and surveillance systems management. Neil was a member of the Old Crows electronic warfare association and was a member of Roadrunners International signifying his pioneering activity with Lockheed and the CIA in both the U-2, YF-12-A and A-12 aircraft high-altitude reconnaissance programs in California and Nevada's Area 51. For that effort, in 2008 he was awarded a medal for his contribution in the Cuban U-2 and follow-on A-12 program activities. He also was a member of the Association of Former Intelligence Officers. He was a member of the original U.S. Naval Reserve unit 4-104 of Lorain and was a bugler in its drum and bugle corps.
In 1973, Neil received the Society for Imaging Science and Technology Service Award in recognition for his outstanding service. He remained active with numerous advanced technology and manufacturing companies worldwide, with an emphasis on those involving advanced technologies. he was a former member of the national board of directors of the Society of Photographic Scientists and Engineers, and the American Society of Photogrammetry and Remote Sensing.
In the late 1980's Neil was active in the Lorain County Republican party. Neil ran in 1988 and 1990 for Lorain County Commissioner and in 1992 in the Republican Congressional Primary. Neil was a life member of AMVETS (Lorain Post No. 47), and a member of the American Legion (Post 118), and a member of St. Peters Catholic Church, Lorain.
A Memorial Mass will be Saturday, July 6, 2013 at 11:00 a.m. at St. Peters Catholic Church, 3655 Oberlin Road, Lorain, where the family will receive friends from 10:30 a.m. until the time of Mass. The Rev. Robert Glepko will be the Celebrant. Private burial will follow.
In lieu of flowers, Memorial Contributions can be made to the Church.
Arrangements are under the direction of the Garland-Misencik Funeral Home, 851 Park Avenue, Amherst.
---
See a broken link or error, have a story or photo to add - please email the webmaster - - Page last modified 07/03/2013