ROADRUNNER DARL McCULLOUGH
DARL McCULLOUGH
2/10/2004
Darl Gene McCullough was born December 28, 1931 to the late Mr. And Mrs. Ralph McCullough in Des Moines Iowa. He passed away February 10, 2004 at 12:30 a.m. at the age of 72.
He met, fell in love with and married Edna Ann Arnold August 16, 1954 and then proceeded to become the proud father of 5 children. He graduated from Iowa State University and put himself thru school playing clarinet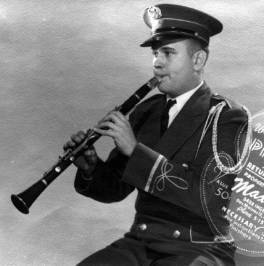 in the Big Band. As an officer in the USAF he toured the country and the world with family in tow. Since 1974 he worked at WSMR as a meteorologist in the civil service and retired in 1994. He lovingly cared for his wife Edna until her death on November 22, 1996. Since then he has been busily involved playing in local symphony bands and at the Bridge center where he made many friends.
He was always there to give a helping hand to his children, grandchildren and great-grandchildren. He loved to sing, especially children songs to any young one that would listen (choo choo peanut butter) even though Edna would always tell Darl to play his clarinet as his voice hurt her ears. They both enjoyed music together and made it a cornerstone in the family with dad playing William Tells overture to our rowdy "Hi Ole Silver" as we prance around the living room with our stick horses. Edna was a music teacher and both of them would join the symphony orchestra wherever we lived.
He is survived by Michael McCullough and his two sons, Corey and Chris in Mishawaka, Indiana; Martin McCullough in Las Cruces, New Mexico; Ann McCullough in Mishawaka, Indiana and her two daughters Amanda Alba in Albuquerque, New Mexico (two great-grandsons Julian and David Alba) and Jacquelyn McCullough in Mishawaka, Indiana; David McCullough and his wife Vanessa with their 4 sons Thomas, Spencer, Alexander, and Mathew, with another on the way in Las Cruces, New Mexico; and Paul McCullough and his wife Jaime (her three children Lara, Lenny, and Lorry) and their son Shane Patrick also with a little girl due in April in Albuquerque New Mexico.
Services will be held at Holy Cross Catholic Church 1327 N. Miranda, Las Cruces NM 88001. A vigil will be held Friday February 13, 2004 at 7:00 p.m. and will be lead by Larry Miller. Services will be Saturday February 14, 2004 at 2:00 p.m. and lead by John Anderson. A gathering will be held at Martin McCullough's residence at 1714 Sumner Ave starting at 4:00 p.m. for friends and family.
For anyone wishing to make a donation, Darl's favorite charity was Muscular Dystrophy Association.
Darl became a Roadrunner in Okinawa where served with the Blackshield detachment from Groom Lake as a meteorologist for their CIA A-12 flights. He retired from the Air Force in 1967 and established residence in New Orleans where he worked as a meteorologist for 9 months with a private contractor before moving to Michigan in 1969. Darl received his Master's degree from Andrew's University, worked in the local school system for about 5 years. He moved the family to Las Curces, NM in 1974 where he worked for the Civil service at White Sands Missle Range as a meterologist. He retired in 1994 with a GS 12 ranking.
Darl will be greatly missed by his family and his fellow Roadrunners of whom many were fortunate to have enjoyed his company and that of his son, Martin, at the Roadrunners Internationale reunion in Las Vegas last October.