Click to mute music


Capt Bobbie G. "BG" Gardiner

06/11/1927 - 02/20/2012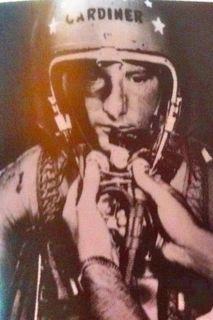 The U-2 brotherhood is saddened to learn of the final flight of "BG" Gardiner who died last night at 8:00 pm PST after several months of medical complications with Ruly at his side. In the aviation world, Capt Bobbie G. "BG" Gardiner is remembered for his daring U-2 reconnaissance missions.: Capt Gardiner's first flight of the U-2 was 28 July 1957. He was one of four pilots from the 4080th to fly "Op Congo Maiden", the photo missions along the Soviet northern Siberian coastline in 1959 to determine the status of recently upgraded World War II Soviet airfields in this frozen region and to evaluate Soviet air defenses in case a pre-exemptive U.S. strike on the Arctic airfields became necessary.
In later years, BG provided the rare footage for the video "The Inquisitive Angel - The True Story of The U-2".

Capt Gardiner was awarded at least one Distinguished Flying Cross.

Additional information will be posted here as it becomes available.
---
From: The LAUGHLIN RECON, Volume 11 No. 27, Front Page, Friday April 10, 1959:
Three Laughlin Pilots Get Praise from Gen. Power
Three Laughlin pilots received recognition from Gen Thomas S. Power, Commander-in-Chief of SAC in a message received this week by Wing Commander Col. A. J. Bratton.
The message read: "Congratulations on the splendid job performed by your crews and personnel during the recent "CONGO MAIDEN" Project.
Although the operational phase of this project was of short duration, extensive coordination and planning was required. The entire operation was performed without incident and in such a manner as to bring recognition to the personnel of your command who were responsible for the planning and maintenance on this project.
The crews, in particular, performed in an outstanding manner. Certain individuals made contributions of such exceptional value as to warrant personal mention. They are Lt. Col. Hayden C. Curry; Maj. Rudolf Anderson, Jr.; and Maj. Bobbie G. Gardiner.
The high standards maintained, as well as the operational proficiency displayed in this important undertaking were paramount to the success attained."
Researched by:
Laughlin Heritage Foundation, Inc.
James S. Long
22 Feb 2012
Citation listed above
---
See a broken link or error, have a story or photo to add - please email the webmaster - - Page last modified 02/22/2012