| | | |
| --- | --- | --- |
| | ROADRUNNERS INTERNATIONALE | |
BOB MURPHY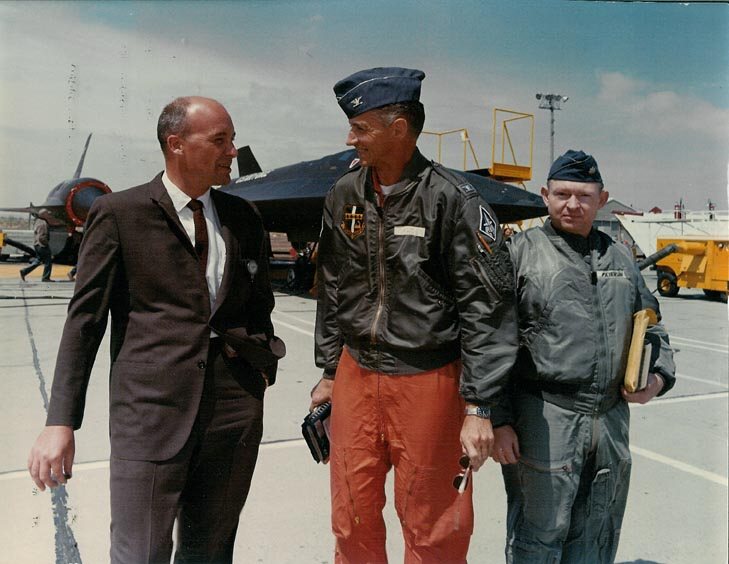 Bob Murphy and Col. Doug Nelson at Palmdale - 1966
I was born in 1930 in Hoosick Falls, a small town in upstate New York not far from the city of Bennington, Vermont. I had a very patriotic bank of friends and when I was young, I spent a lot of time reading stories of World War I aviators and Charles Lindberg. The growth of aviation during World War II inspired me with the feats of heroes like Bong, Joe Faust and others. I made up my mind to enlist in the Air Force as soon as I could. I graduated from St. Mary's Academy High School in May of 1947 and enlisted in the Air Force 8 months later, in January 1948. After receiving specialized training in C-54's, I was assigned to the 333rd troop carrier heavy squadron and participated in the Berlin Airlift as a flight mechanic technician and aerial engineer. Before leaving the Air Force, I was also stationed at Kessler AFB in Biloxi, MS as a Crew Chief and Flight Engineer on B-25's. After my discharge from the Air Force, I bought a ticket to California (the best place to find and work on airplanes!) and I got a job with Lockheed Aircraft on the first day I arrived in Los Angeles, April 15, 1952.

Lockheed hired me as production flight mechanic working on the P-2V5, F-94C and T-33 in Burbank, CA. In 1954 I was transferred to the Skunk Works Division as a Flight Test Mechanic on the XF-104 and the YC-140 programs. After a year on the X104 and C-130, I was selected to be part of the crew where the small number of people assigned to the program were encouraged to use personal initiative - the U-2 Flight Test program. A year later I was promoted to the position of flight test supervisor in charge of training Detachment C maintenance crews and managing pilot training support operations. This was a job that I was made for - where

resourcefulness, ingenuity and a can-do attitude were critical to the success of the program. In February 1957, I was off to Japan to set up Detachment C and by November of the same year I became the Foreign Service Manager for the group. In November of 1958 I assumed the same post for Detachment B in Turkey.

Fortunately, being a Foreign Service manager wasn't an "all work and no play" kind of job. I had my eye on this lovely lady that ate in the same dining room in Japan where I did. (Unless you have a need to know, I can't tell you why this gorgeous Slovakian blond from Pennsylvania was living in Japan in 1957, but I'm just glad she was!) Finally, I got to meet her on New Years Eve, 1957, found out her name was Mary Jane, she was Catholic and found my receding hairline to be cute. I knew she was the one! When I left for Turkey in December 1958, she remained in Japan for another year. We were married in her hometown of Uniontown, PA in November 1959.

In my position as a Foreign Service Manager in Japan and Turkey, I was responsible for getting the aircraft off on their dangerous missions as safely and efficiently as possible. Short notice deployments and limited resources were the norm, but the tremendous responsibility and everyday challenges are what made the job so rewarding. Ina meeting in the fall of 1961, Kelly was having a meeting with senior management people in manufacturing operations. All of the managers present except for me had been a part of the original founding members of the Skunk Works team that built Lulu Bell. Kelly started asking about the roll out date for the first A-12, which he wanted in April. All the other managers expressed serious reservations about the ability to meet that date. I was the last manager questioned by Kelly. Kelly was looking discouraged and asked me what I thought of that date. Always the optimist and buoyed by years of experience working on airplanes, I said, "no sweat" on that date, Kelly." Kelly looked up and said "When are you going to have power on?" I pulled an educated guess out of thin air and told him "December 26th at 9 a.m."> Sure enough, on December 26th at 9:00 o'clock in the morning, Kelly peered into the cockpit of aircraft #1___ and was treated to the light show he expected to see. Years later, the Director of Operations told me when I had made that statement, he said to himself, "Fire him - he doesn't know what the ____ he is talking about." Be we made that date and after that I was on my way and I had earned the title of "No Sweat Murphy".

In 1962, I was promoted to superintendent for the D-21 development program and also assumed responsibility for the manufacturing of non-metallic fabrication for all ADP programs. In August 1964, I was promoted to plant manager of Site 2 in Palmdale, assuming responsibility for production, final assembly, flight test, and delivery of all SR-71 aircraft. The new position came with a directive from Kelly that the first flight of the SR-71 be on December 22nd of the same year. Some of my other memorable experiences in Skunks Works include the development and manufacturing of the "Have Blue" demonstrator that led to the successful production of the F-117 Stealth Fighter, and recognition by the Secretary of Defense and the Joint Chiefs of Staff for my contributions to the stealth demonstrator for making the first flight on schedule in spite of a 4 month strike by the machinist union.

Lockheed provided me with many opportunities for professional growth. In addition to training through the Lockheed Business Institute, I was able to participate in business courses at Harvard University, the Wharton School, the University of Southern California, the University of Utah, and the Lockheed Executive Institute. I continued to assume more responsibility as I was promoted to Deputy Director of Operations, the Director of Operations for all ADP programs, the position I held until my retirement from Lockheed Skunk Works in July 1986. Retirement has allowed me to travel and visit aircraft and history museums all over the world in addition to some time spent working as an aviation operations consultant on various programs, including the F-22 Fighter.

All of this time spent in aviation had a significant influence on my four children. My oldest son, Bob, is currently a pilot for American Airlines, and in his younger days flew the A-4 and F-14 for the U.S. Navy. My daughter Diane worked as flight test engineer on the B-1B production and flight test program during the 1980's and currently teaches a Flight Science elective as part of her job as a middle school science teacher. Daughter Michelle worked as a computer engineer for Lockheed and my youngest son, Neal, was recently promoted to Lt. Col. in the Air Force, assigned full time to the Idaho Air National Guard. Too soon to tell if any of the 12 grandkids will pursue careers in aviation, but they have all enjoyed many unique opportunities including glider rides at Crystalaire (courtesy of granddaddy), flights in small planes with their dads at the controls, cross-country flights on commercial airlines and numerous air shows.

To this day, I love everything about aviation and relive the tales of the past. Being an Irishman makes it very easy.

Some of the awards I received: Kelly Johnson Award, Honors Award, President's Award for Lifetime Dedication to the Skunk Works.
Click on images to enlarge
CIA 60TH ANNIVERSARY - 19 September 2007
Roadrunner Bob Murphy Honoree at the A-12 Article 128 Dedication
---
See a broken link or error, have a story or photo to add - please email the webmaster - - Page last modified 05/03/2009