On 26 June 1968, the CIA Intelligence Star for Valor was awarded to CIA Oxcart and Black Shield mission Pilots (L to R): Mel Vojvodich, Dennis Sullivan, Jack Layton, Ken Collins, and Frank Murray by Deputy Director of the CIA VAdm Rufus Taylor. The posthumous award to Jack Weeks was accepted by his widow.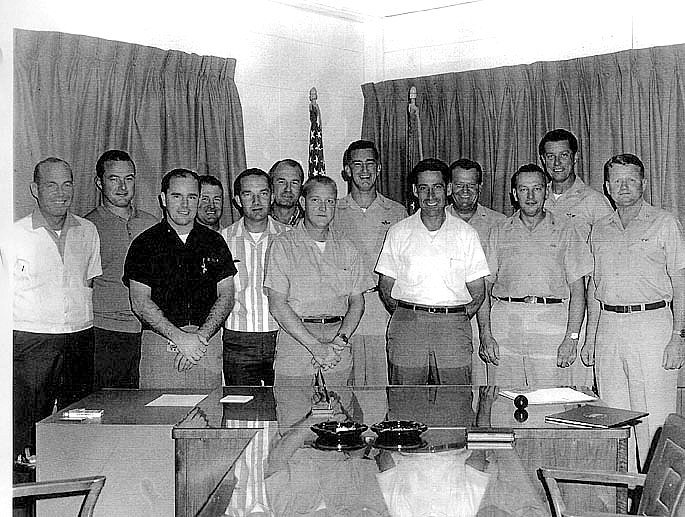 Agency Pilots and Groom Lake Brass Ronald J. Layton, Dennis Sullivan, Mele Vojvodich Jr., Burton S. Barrett, Jack Weeks, Kenneth Collins, Walter Ray, B. Gen. Jack Ledford (CIA Hq) William Skliar, Cy Perkins, Robert Holbury, John Kelly, Hugh (Slip) Slater
Col. Ronald "Jack" Layton, USAF ret., of Rexburg, Idaho. has the unique distinction of seeing the sunset twice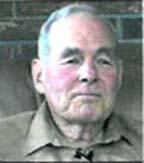 in the same day and the sun rise out of the west.
Jack was born and raised in the White Mountains region of Arizona. His interest in aviation began at a very young age. "I grew up in a wilderness area of the White Mountains, and back when I was young I would see an airplane fly over once or twice a month at very high altitude, and it just fascinated me, and that feeling never left. About age eight I had my first ride in a low wing Fairchild in a town called Eager, Arizona. I don't recall the exact designation, but that started an itch that I just had to scratch."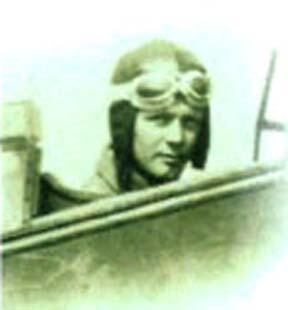 Born in 1927 and too young for military service during WWII, Jack enlisted in the U.S. Air Force Aviation Cadets program in 1950 in order to learn to fly. "It always intrigued me and it was something I wanted to do in the worst way, and I did it and fortunately made it. In my basic training we graduated only 46 out of 142, so I felt like I had one leg in and one leg out all the way through."

After earning his silver wings, Jack was assigned to the 79th Fighter Squadron of the 20th Tactical Fighter Wing, and it was not long before Jack was forced to bail out of an airplane, the first of three emergency bailouts over his career. Just a few months after graduation the C-47 Jack was riding in caught fire while flying over the Everglades of Florida. "I had to jump out the back door. It was one o'clock in the morning and we went into the Everglade swamps. I was from Arizona and I didn't know a thing about swamps - I thought for sure I'd be up to my armpits in cottonmouths and alligators. We got picked up the next afternoon, so I was in there for about twelve hours. I saw one alligator and no snakes, but I kept a big stick handy to beat the water and the grass there just in case."

After his "adventure" in the swamp, Jack spent the next eight years or so flying Republic F-84s at Shaw AFB in South Carolina, Langley AFB in Virginia, and Woodbridge AFB in England. He then flew North American F-89s and McDonnell F-101s at Hamilton AFB in California. It was during this time that Jack had his second bailout. "I had to eject from an F-101B out over the Gulf of Mexico flying out from Panama City. I spent the night in the water out there and was picked up by the Coast Guard."

For some military pilots, two emergency bailouts over a career would be exciting enough, but for Jack the excitement was just beginning. In the early 1960s, he was selected for screening to join a top secret CIA program called Project Oxcart. Project Oxcart was developed after a perceived need to replace the Lockheed U-2 reconnaissance airplane. The U-2 dated from as far back as 1952, when development on the aircraft began under the direction of a CIA initiative headed by Richard M. Bissell. Within just a few years of U-2 operational flights over the Soviet Union, CIA officials found that a replacement was needed, one that could fly higher and much faster. A very competitive race between Convair and Lockheed erupted to design the U-2's replacement. By 1960 Lockheed was given the green light to produce Kelly Johnson's radical new design, designated the Archangel 11, or A-11. This was later changed to A-12 when the aircraft underwent structural changes to decrease its radar signature. The A-12 was highly advanced for its time, designed to cruise at three times the speed of sound at over 90,000 feet.

Pilots for the Oxcart Project had to meet a very demanding set of CIA and Air Force specifications. Air Force files were screened for possible candidates that were qualified in the newest high performance jet fighters, emotionally stable, and extremely well motivated. They had to be between 25 and 40 years of age, less than six feet tall, and weigh no more than 175 pounds. By November of 1961 the initial five pilots were selected, and by February 1963 another eleven were picked by the Agency. Jack was in the second group. He was sent to Groom Lake, Nevada, better known as Area 51, for intensive flight-testing of the new airplane.

"I was brought in very early on the A-12 program," Jack explains, "the A-12 being the forerunner of the SR-71 Blackbird. We tested it for a little over four years before we were operationally ready. In the early days one of the biggest problems we had to overcome was the inlet control system - you had the big spikes that stuck out of the front of the engine nacelles and as you got up to near Mach 2.5 they start modulating back into the nacelle along with about 10,000 other little things going on with it to keep the supersonic shockwaves within the nacelle. In the early days we would as we called it, 'pop the shock.' The technical term is to unstart the inlet. It was like six sticks of dynamite going off and all of a sudden you're flying half sideways and it would get a little hairy at times. I've had some flights where that happened as many as fifteen or sixteen times, and others where it didn't happen at all. That was always an exciting period of time, flying that fast and that high. It cruised at Mach 3.2, but it took us the better part of a year before we got it out to 3.2, mainly because of the inlet system. Going so fast was one heck of a big thrill!"

Flying over three times the speed of sound presented some unique opportunities to the Oxcart pilots. "I was flying a mission out of Groom Lake in an A-12, and I flew to a point about 380 miles east of St. Louis, Missouri and made a 180 degree turn and flew back. We got off to quite a late start due to some maintenance delays; the sun was already low in the sky. On the way out just before I made the turn it started getting dark very rapidly because I was outrunning the sun by quite a bit. Before I completed the turn it was pitch black. On the way back at about Denver, Colorado the sun popped back up in the sky on the western horizon. As you know, the sun normally rises in the east. It didn't take me very long to get back to Groom Lake and before long the sun had set again."

"At the time the significance of it didn't even really enter my mind until we were talking about it late that evening. I was doing pretty close to 2,200 mph, and I figure I was outrunning the sun by about 1,200 mph. At the time it was shining right straight in on my face and the faceplate on my pressure suit and I got a horrendous reflection. The effect was like a mirror, all I could see was my own face looking back at me and each whisker looked like a tree stump as I was trying to see through to the instrument panel. It was really quite an irritation, but later on we decided it was really quite a significant event."

By 1966 the A-12 was ready for operations, but it would be some time before actual missions were flown. During those same years the A-12 was being test flown, development of the SR-71 reconnaissance plane and YF-12 interceptor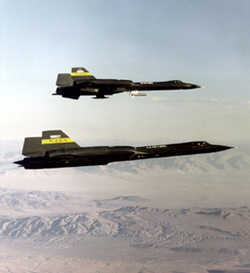 were well underway. While the A-12 was a CIA aircraft flown by Air Force pilots under contract with the CIA, the SR-71 was a less sophisticated airplane than the A-12, but with the same reconnaissance mission, only under Air Force control. The YF-12 was developed as a missile-carrying interceptor for the Air Defense Command of the Air Force, but only two prototypes were completed and no orders were made. Jack had the opportunity to fly all three aircraft over his career.

"The SR-71 was a reconnaissance aircraft, as was the A-12. The YF-12 interceptor had a more rounded nose to house a large radar. It had better instrumentation than the SR-71, which unfortunately most of the pilots voted down in the beginning. We had a chance to have the same instrumentation in the SR-71, but that was voted down. It was a mistake, but that was because of ignorance. The vertical style instruments are much superior in my opinion than the round gages, but the majority ruled."

In May 1967 Jack was selected to fly one of three of the twelve A-12s manufactured by Lockheed to Kadena airfield at Okinawa for Project Black Shield. Project Black Shield had a number of purposes, foremost being reconnaissance flights over Southeast Asia, North Korea, and the Soviet Union. A secondary purpose was the permanent establishment of an Air Force base on Okinawa. The rest of that year was spent flying missions over North Vietnam. A year later, Jack flew the last known mission ever flown by an A-12 on May 8, 1968. "We were flying out of Kadena. The last mission of the A-12 was flying over Wonsan Harbor looking for the Navy ship USS Pueblo that the North Koreans had captured earlier that year. That was the last operational mission of the A-12."

Jack returned to the U.S. and on June 26, 1968 was awarded the CIA "Intelligence Star for Valor" for his service during the Black Shield project. Jack spent the next three years flight-testing SR-71s and the two YF-12s, which had been turned over to NASA for testing at Edwards AFB. Jack spent six months flying the NASA planes, and it was during this time that he experienced his third emergency bailout. "In June of 1971 while flying a regular mission for NASA I had a bad explosion in the right engine nacelle. The right engine caught fire and burned fiercely, and I couldn't get the fire out. In just a few minutes I lost my hydraulic pressure, which I needed to control the airplane, so my radar operator Billy Curtis and I had to eject out of there."

Both Jack and Billy escaped the incident with minor injuries. He kept flying for the next couple of years, but by December of 1974 Jack had had enough excitement and decided it was time to retire from the Air Force. "I told my wife, 'Sweetie, no matter what happens from here on out it will be anticlimactic.' And it was."

Under its research agreement with NASA, the Air Force provided the agency with two YF-12A aircraft in 1969. On June 24,

1971, one of the planes (serial no. 60-6936) experienced an inflight fuel line failure and engine fire. Unable to save the smoking aircraft, Air Force pilot Lt. Col. Ronald Layton and systems engineer Major Billy A. Curtis ejected and were not injured, but the YF-12A was lost in a fiery explosion in the desert. About this time, Dryden acquired a so-called YF-12C, which was in fact a then-secret SR-71A (serial no. 61-7951) given the NASA tail no. 60-6937. The reason for this bit for subterfuge lay in the fact that NASA, while flying the YF-12A interceptor version of the aircraft, was not allowed to possess the strategic reconnaissance version for some time. The bogus tail number actually belonged to a Lockheed A-12 (serial no. 60-6937), but the existence of the A-12 remained classified until 1982. The tail number 06937 was selected because it followed in the sequence of tail numbers assigned to the three existing YF-12A aircraft: 06934, 06935, and 06936.

The SR-71 differed from the YF-12A in that the YF-12A had a round nose while the SR-71 had its chine carried forward to the nose of the airplane. There were other differences in internal and external configuration, but the two aircraft shared common inlet designs, structural concepts, and subsystems.