THE K-9 HANDLERS OF GROOM LAKE
By: Alva E. McMillion

The OXCART legacy at the Groom Lake facilities includes the K-9 handlers and their dogs securing the area and patrolling the perimeter. Security forbade our taking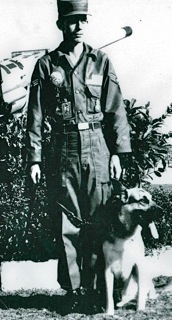 photo at Groom Lake, so the photo depicts my dog, Caesar and I taken during the Cuban Crisis at Homestead AFB. We actively patrolled the air base with about 20 K-9's in 1963 while pending deployment of our group to Vietnam for securing our bases there. Our entire group was in training at that time.

A special letter sent to our group under the l9th bomb wing of the Strategic Air Command requested one K-9 handler be selected with certain qualifications to be assigned for a highly classified project and to report to Washington, D.C. for an interview. I was the second one selected due to the first individual not being able to clear a background investigation.

At the news of being selected and given an arrival date to bring my K-9, Caesar, to Nellis AFB Nev. I turned Caesar aver to my new Flight Sgt. Ira C. Crowder for transport to my new station at the Area while I prepared my family and our mobile home for the nearly 2,000 mile trip. Upon arrival in Las Vegas, Sgt Crowder and I proceeded to Mercury Nevada and on to the Area. I felt awe struck by what I would be responsible for patrolling to keep the area secure. I felt privileged with the Air Force and CIA selecting me from such a large number of candidates for the assignment.

Sgt. Crowder, Starcher, Koopman, Hopper, Stump and McMillion made up the K-9 group. We took our responsibilities seriously. We confronted many obstacles just to get to work as we lived in Las Vegas and commuted across the desert via the Widow Maker as the highway was known, and through deserts full of craters left after tests of nuclear bomb tests.

We were a group of airmen very dedicated to the cause to keep our country free from intruders as well as security of our test grounds for the Blackbirds. It was quiet around our area of patrol except for coyotes, jackrabbits, badgers, and snakes. The loneliest post was a guard shack in the middle of nowhere.

Occasionally an explorer of the deserts wondered into our area, which caused a little excitement and dispatch of us to check out and search the area for other individuals. We patrolled in a Dodge pickup with a secured cage for our K-9. It did not have an AM/FM radio visible, but we kept one hidden behind the glove box that kept us aware of the latest songs and happenings around the world. We a1so had a kennel area with six kennels for our K-9s almost a mile away from the base. The kennel houses kept our dogs out of the elements, and served as a brewery out of sight in the houses. We made our own home brew and Moon Shine for those who drank hard liquor. Very few felt the desire or possessed the bravery to try it. Big Luke, one of the maintenance men was brave enough to try it. This may sound as if we were there just for the excitement of being there.

Our honor shined through when we found ourselves face to face with an A-12 Blackbird crash just past the end of our runway during was take off. The Pilot managed to eject just a spit second before the craft crashed and burst into flames. We lost another flight several miles away from the air base where another pilot only married a few months lost his life when he ejected and the chute failed to deploy. Our Job was to search for the pilot over a vast area.

Even though we had tragedies, one of the highlights was to see one of our pilots, Sanders, show his talents for flying his C-l30 around the desert chasing coyotes and giving us a tour of the Mt Rushmore's Presidents while on a courier trip. My fellow airmen were proud to have been a part of developing one of the greatest aircraft ever built for its time, All the men we worked with were proud to have served.