AREA 51 AND ITS (K-9 UNIT) SENTRY DOGS by Walt Koopman
By: Walt Koopman - AF K-9 handler, 1964 -1966
The CIA interviewed and selected the mostly Air Force K-9 handlers in Washington for Project OXCART at Groom Lake. In June of 1964, the Agency invited me to take the standard battery of tests, telling me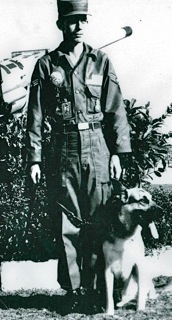 that if selected I would be going somewhere, but they could not be told where. I was then asked if I wanted to go, but before I could answer, I was told that it did not matter as I would go where the AF wanted me. The area turned out to be a great assignment that we felt privileged and proud that the Air Force and CIA selected us.
Area 51 had five K-9 handlers with their dogs along with an AF supervisor. After dark, one handler and his dog used an AF pickup truck equipped with a cap and locked grate for the dog. We would patrol the perimeter from dusk until midnight. The second handler then relieved us and his dog would work until daylight. We worked three days on and three days off. This was much better duty than any of our previous assignments. The dog kennel was located in a remote area away from civilization; as a result, I believe some of the residents were not aware that we existed.
We would stop occasionally for coffee and a quick snack at the 24 hr food shop. (In two years, I gained 35 lbs.) We parked our truck near by, where our dogs barked, growled and snapped their teeth at any unsuspecting persons walking near the truck. Not everyone appreciated this.
In 1966, the CIA made a determination to phase the K-9 unit out of the area. I often suspected that one of those unsuspecting persons that had walked behind our parked truck might have influenced this decision.
One other handler and I finishing our second tour of duty, elected to leave the AF rather than to reenlist. After our discharge from the Air Force, we crossed over to the government contract guard force at the area. The other handlers and supervisor requested their next assignments. What are the odds that anyone, let alone four would get their choice? Against all odds I believe all four went where they wanted to go. This organization was and I am sure still is number one. Everyone always looked out for its team members be it the dog handlers or those drivers doing the flying.
In the two years I worked with the dogs at the area I patrolled many hours. I saw coyotes, bobcats, swift fox, rabbits, mice, bats, and a saucer sized scorpion. One coyote distinguished by a saddle shaped marking, would often wait for our patrol truck on its way to the engine test area. We would shine our spotlight in the field, he would use our light to hunt mice, and other edible treats. During my two-year assignment, I never did apprehend or turn my dog loose on any human intruder. The other handlers I spoke with would or could not talk about their experiences. I will mention that our dogs did not like strangers and can only leave the reader to his or her own conclusions.
Security disallowed cameras in the area, thus the attached picture supplied by Alva McMillion of his dog, was taken before being transferred to the area.
The names of the other K-9 handlers as I remember them.
Handlers:
Ronald Stump
Cecil W. Hopper,
Alva E. McMillion
Cyrus W. Newton
Walt K. Koopman
Supervisor: T/SGT Ira Crowder
*Jack Starcher
*There was one other handler, Jack Starcher that lost his eye while watching someone press a bearing in the machine shop at the area. The bearing exploded, he did not have safety glasses on and another piece of the bearing hit him between the eyes.