HIGHLIGHTS OF MY MILITARY CAREER
I graduated from pilot training, Class 49-C, in the F-80 at Williams AFB, Arizona in September 1949. From there I was assigned to the 307th F.E.S. 31st Fighter Wing at Albany, Georgia from October 1949 to January 1952.
During the Korean War I served with the 154 and 310th F.B.S., K-2 from January to December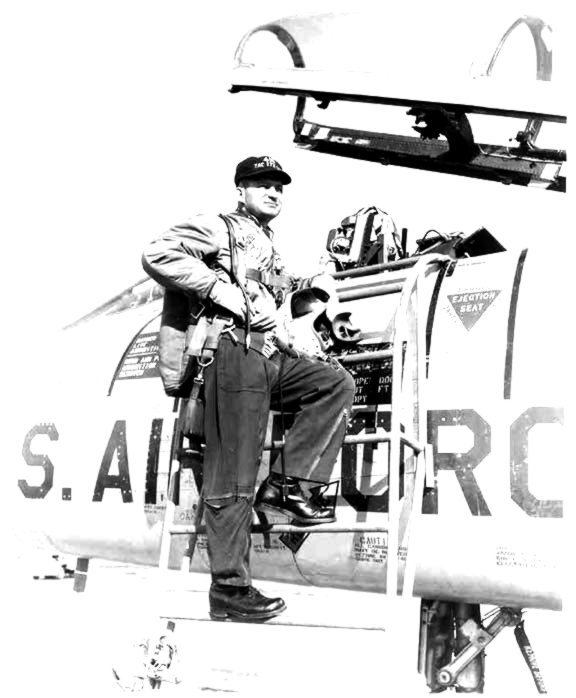 1952. I flew 100 missions in the F-84.
From January 1953 to December 1961, served at Luke AFB, Arizona as Flight Commander and Assist Squadron Ops Officer for the F-84E & F, and F-100.
COMBAT CREW TRAINING:
December 1958 to December 1961, 416th TFS, Misawa, Japan and Headquarters 5th Air Force TAC Eval & Training in F-100's.
January 1962 to October 1963 - USAF FS TR&D.
December 63 to August 1965 - F-84F and F-100 Advisor to Turkish Air Force.
August 1965 to February 1968 - Headquarters TRS TAC - DORQ Fighter Test Branch
A-1 (SPAD) Checkout at Hurlbert.
April - August 1968 - 6th S.O.S. Pleiku. After 75 missions, was Air Evac'd to Walter Reed.
October 1968 to July 1971 I was assigned to Headquarters, TAC at Langley.
July 1971 to May 1972 - Headquarters 7th Air Force: Assistant Director - War Plans (Frag Shop)
June 1972 to August 1977, Headquarters, USAFE
August to December 1977 - Headquarters TAC: Inspector General Office
Retired: December 1977.
Click on images to enlarge