DON JOHNSON
I was born in Valparaiso, Indiana on April 12 1938, the son of a Deputy Sheriff of Porter County that was latter elected Sheriff from 1940 to 1944 and died in 1945. My mother, younger brother and myself moved to Mishawaka, Indiana were I graduated from high school.
I joined the Air Force in 1957 with basic training at Lackland and Firefighting training at Lowery. My first assignment was to Elmendorf in Alaska. I received overseas pay until Alaska became a state in 1958.
My last base was to Nellis where the last year of service I was one of two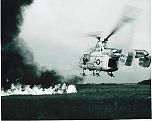 firemen assigned to an H43B for response to off base incidents. Upon discharge I joined the LV Fire Dept. for about one year until I was offered the position as Captain of a crash/rescue crew at Area 51.
The department consisted on 21 men on each of two shifts that worked 4 days on duty and 4 days off.
We spent many hours a shift in full turnout gear while on standby during all tests of the birds fuel tanks, engine tests and the twin Buick starter unit which was all fun for a kid in his 20's.
There was always a truck and crew with the bird any time it moved and all crews were on the flight line during all takeoffs and landings.
I was on duty the day Kennedy was shot and the day the "Sudan" shot broke through sending a cloud about 30,000 ft. up and sending us evacuating out the back road as a precaution.
When we left Area 51 in 1965, I was assigned to Project Rover at the Nuclear Rocket Development Station for a short time. I spent 10 years at the test site during that time I earned a BA degree from UNLV and obtained a Commercial pilots license with Instrument rating. This was useful when I was assigned to the airstrip outside the gates at Mercury and living in Boulder City. I could fly my Cessna 150 from home to work and tie it down in front of the trailer used as the fire station whenever the weather would allow.
My minor degree was in Archeology and I was able to do a site survey of Indian rock shelters and chipping grounds for the university due to my security clearance.
After receiving my degree I joined the Clark County Sheriff's Department which became the Las Vegas Metropolitan Police Department the next year. Three years later I went back to Indiana to work for my step-brother in the tower manufacturing business and later moved to Fort Worth, Tx and still work in that industry.