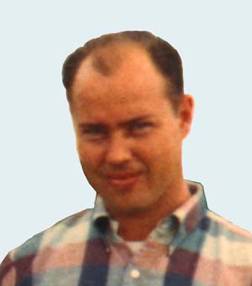 John C. Evans 1968
I was born in the small town of Clawson Michigan, just six miles North of Detroit, in 1935. I lived with my grandparents, younger brother James & sister Lillian, and attended Clawson High School. I dropped out of High School in the 10th grade and worked several jobs for short periods of time, including construction, Ford Motor Company (as a Transmission mainshaft inspector) and Western Electric (installing coast-to-coast direct-dialing switchboards for Bell Telephone Co. in Birmingham Michigan).
USAF Strategic Air Command
In February 1954 I enlisted in the United States Air Force, took an aptitude test that indicated that I had good mechanical skills, and was sent to basic training at Sampson AFB NY, Flight 3166, and after graduation attended Medium Jet Bomber Mechanic's School in Amarillo, Texas finishing 2nd in my class just behind another Michigan resident. After finishing Tech School I had my choice of bases, and chose Pine Castle AFB (later renamed McCoy AFB) just South of Orlando, Florida where I was assigned to the 2nd Air Force (training command), 19th Bombardment Wing, 93rd Bomb Squadron as an assistant Crew Chief on a Boeing B-47 Stratojet SN 51-2312, similar to the photo below. I was assigned to Boeing B-47 Stratojet SN 51-2312 for the remainder of my active duty in the USAF. As it turned out the USAF would be a turning point in my life. I loved my flight line job.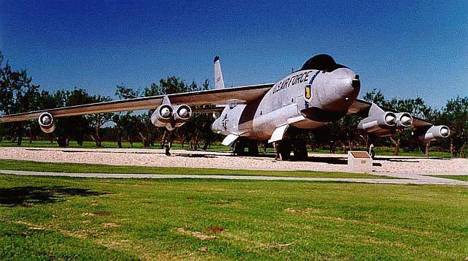 While I was stationed at Pine Castle AFB I was deployed TDY (Temporary Duty Assignment) to French Morocco twice for a total of 5 months and 9 days, returning to Homestead AFB Florida after completing the second French Morocco deployment. While stationed at Homestead AFB Florida I completed my High School GED. I received an Honorable discharge on October 29th 1957.
In October 1957 the Detroit Automobile industry was in a slump so I elected to stay in Florida and moved to Orlando where I had met a Michigan Nurses Aid named Dorothy, later to become my wife. I took a job as a Helper/Apprentice with Newsome and Holmes Ceramic Tile Co. in Conway Florida just East of Orlando Florida (non-aviation related). It didn't pay much but kept "grits" on the table and the wolves at bay. I worked with a very creative and hard working Tile Mechanic that made the job interesting.
Pratt & Whitney Aircraft Development Center WPB, FL
In 1958 a friend told me that Pratt & Whitney Aircraft was hiring in West Palm Beach, Florida. We both decided to make the 290 mile trip to WPB and apply for the job not knowing at the time what kind of products I would be working on. During my interview I was asked if I knew how to read a micrometer and replied yes knowing that I had used one about eight years prior in High School Machine Shop. He took a micrometer out of his drawer, passed it to me, and asked me to read it, and I drew a complete blank. As I was looking at and studying the micrometer for what seemed an eternity I finally remembered how to read it and passed it back to him. He studied the micrometer for what seemed another eternity, I am sure wondering if I had known how to read it or learned as we were sitting in front of him. At any rate, I was hired as a Jet Assembler and given two weeks to move to WPB and start work. I guess they needed Jet Assemblers really bad, and wasn't willing to look a gift horse in the mouth.
I started work as the Pratt & Whitney Aircraft Research and Development Center 16 miles Northwest of WPB Florida on August 26th 1958 in the assembly floor. I was a Jet Assembler at Pratt & Whitney Aircraft Research & Development Center from August 26, 1958 through November 15, 1968. My contributions to the CIA-OXCART Program were limited to working on the JT11D (J58) Engines at P&WA R&D, WPB Florida. My first assignment was building 304 Hydrogen fueled jet engine gearboxes while waiting for my security clearance. After my clearance was accepted I was assigned to build JT11 (J-58) Compressors. During my 10-year 3-months at P&WA I would work every section of the J-58 engine with the exception of controls and components internal hardware. My primary assignment was on the assembly floor in the main building, however I did spend a lot of time supporting the Sea Level Engine Test Stands (A1 thru A7), the Altitude Engine Test Stands (C4 & C5 Stands), the Combustor Rigs (C1 & C2 Stands), and The Compressor Test Rig (C3 Stand). I worked on almost every part of the J58 engine including the Plumbing Research area. I often worked on the J-58 engines at the Sea Level Test Area and Altitude Test areas. That was a real experience. Until you have been near a J-58 engine running a max power you haven't lived. These beasts will turn 80,000 pounds of JP-7 fuel an hour into massive amounts of heat, noise, and vibrations. The sound is ear shattering, and the vibrations will shake your internal organs and the ground so hard that it tickles your feet in your shoes. I was at the Sea Level Test Area in the early 1960's when we were putting on a show for the customer and had half a dozen J-58's running at max power. No one got out of the limo's that day, and I didn't see any of them crack a window for more than a second or two. They just drove through and got to a safe distance before one of these beasts ate them. The picture below is a J-58 engine at maximum power in a P&WA Florida Sea Level test Area A, cell 3.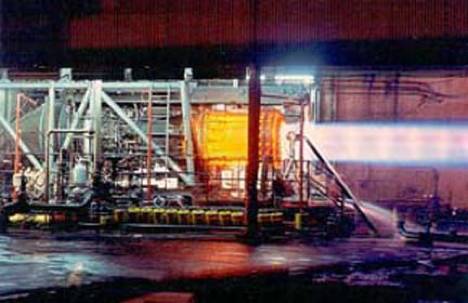 While at P&WA R&D Center in WPB FL I also worked on the Hydrogen fueled 304 Engine (for the Lockheed CL-400 general agreement), the RL-10 Hydrogen fueled Rocket Engine, and the P&WA SST Engine.
Unfortunately I never had the opportunity to visit the Ranch or even see a Blackbird takeoff or in flight. I did however train several "Stealth Mechanics" on J58 maintenance at the P&WA R&D Center in Florida that I suspect were either from Lockheed Burbank or Area 51. I will never forget my time at P&WA, working on the J58 engine, or the great people that I worked with. It was truly a great engine program and working environment.
While at Pratt & Whitney Aircraft Research & Development Center in West Palm Beach Florida I was a member of the Pratt & Whitney Gun Club. Here is a photo taken just after a pistol match. Mr. Davis is John Davis' father, a high power rifle match shooter.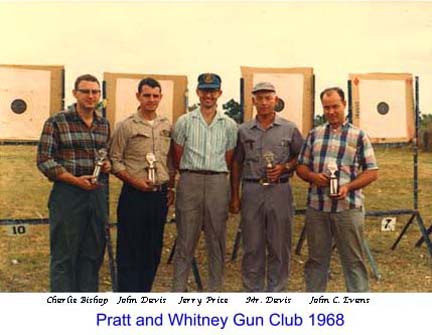 I was also fond of going up in the mountains in Southern Orange County for a little hiking and shooting. Sorry about the coply sun glasses. I like to think of them as "Pilots RayBans."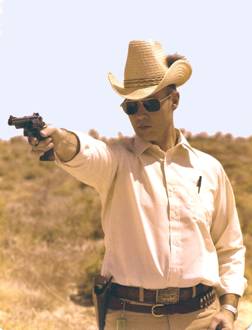 John on Ortega Hwy in Southern CA.
Additional Educational Opportunities
While working at P&WA I took the opportunity to gain some additional education and skills. In 1960-1961 I attended Bell Isles Business College for business related courses. In August 1966 I took and passed the FAA Airframe & Powerplant Mechanics tests using USAF experience to qualify, and received my A&P Mechanics Rating. During August 1966 through November 1968 I worked as an A&P Mechanic maintaining general aviation aircraft at Palm Beach Gardens Airport for flying time, and got my Private Pilots license and 146 hours of flying time.
AiResearch Mfg. Co. California, Torrance CA.
After leaving P&WA on November 15th 1968 I hired in at Airesearch Manufacturing Company in Torrance CA on the ATF3 3-spool turbofan development engine program. It was at the AiResearch Torrance CA Site B facility that I first met James D. Eastham, and talked with about his WWII flying experiences. At that time I had no idea who he was or his flight test experiences with the B-58 Hustler or the A-11, YF-12A, CIA-OXCART aircraft.
From December 1968 through March 31, 1984 I worked numerous assignments at the Torrance Site B Facility. These included but were not limited to Lab Technician/Lab Tech Writer/Lab Engineering Aid/ Lab Tooling Engineer/Lab Test Engineer. I created first Assembly Instructions and Measurements Sheets for F104-GA-100 (ATF3) engine powering the Teledyne-Ryan Compass Cope R-Tern RPV/UAV (Remote Piloted Vehicle/Unmanned Aerial Vehicle).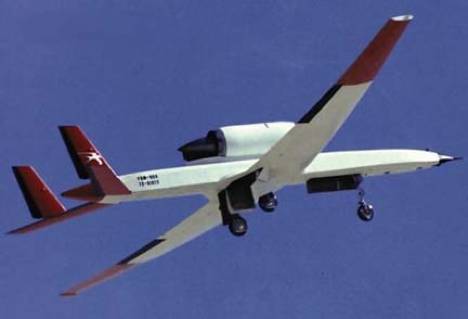 The ATF3 engine would go on to power five aircraft including the Teledyne-Ryan YQM-98A, the USCG HU-25 Guardian, the French Navy Gardian, the Falcon Jet 200 Corporate Jet, and the Northrop Tacit Blue aircraft. See Links at;
http://www.uscg.mil/hq/atcmobil/Aveng/HU-25%20Prime.asp
http://en.wikipedia.org/wiki/Aviation_navale
http://web.me.com/jcefamily/ATF3/Falcon_Jet_F200.html
http://web.me.com/jcefamily/ATF3/Tacit_Blue_Article.html
http://web.me.com/jcefamily/ATF3/DOD_News.html
Flight Safety Institute, Long Beach California.
From March 1970 through December 1972 while working at AiResearch Torrance CA I enrolled in Flight Safety Institute, Long Beach CA Airport, for training to obtain additional flying ratings. While at Flight Safety I received a Commercial Pilots License, Multi-Engine Rating, instrument Rating, Flight Instructors Rating, Instrument Flight Instructors Rating, and Advanced and Instrument Ground Instructors Ratings.
Newport Air Associates, Orange County Airport CA.
From March 1970 through December 1972 while working at AiResearch approved Flight School aircraft on a part time basis at Orange County Airport (John Wayne) CA.
Some of the aircraft I have flown Pilot in command are; Ercoupe's, Aronca Champions and Citabria's, Cessna's 150, 172, 177 Cardinal, 182, Turbo U206, 210, 310, Turbo 310, 320, and 411. Other aircraft I have flown are Piper Cherokee 140, 180, Piper RG, Comanche, Twin Comanche, and Aztec C aircraft. I have also flown Beachcraft Bonanza's and Bellanca Super Vikings. The largest aircraft I have flown is an Aero Commander 680F.
At one time I was rebuilding aircraft engines in my garage, installing them on aircraft, and running them in with flight tests until the rings seated, usually noticeable by a drop in oil and/or cylinder head temperatures.
Garrett Turbine Engine Company (GTEC), Phoenix AZ.
On April 1, 1984 I transferred to the Garrett/AlliedSignal/Honeywell Aerospace Facility as a Field Liaison Engineer assigned to AMD Dassault Aviation in Bordeaux France. Shortly thereafter I was reassigned to the Phoenix Repair & Overhaul facility as an Overhaul Liaison Engineer to recover performance on the ATF3 family of engines. This was an assignment that I would continue to work on and off throughout the remainder of my career at Garrett. In 1985 Operators of ATF3 engines were experiencing maintenance problems and Garrett created a four-member team of "experts" to resolve these problems and enhance customer acceptance of the ATF3 Turbofan engines. A member of the FAST Team (Falcon 200 Aircraft Support Team) would dispatch to any facility that was experiencing maintenance problems and aid in returning the aircraft to service in a short a time as possible. In addition an expanded team would hold quarterly meetings with operators to discuss operator/pilot concerns and present Garrett solutions and time schedules for engine modifications to address their concerns. This team concept of supporting field engine trouble-shooting & repair was well received by Garrett Hangar Facilities, Falcon Jet 200 Commercial operators, and the USCG. I continued to take on additional engineering assignments with the Garrett Technical Training Facility, and expanded into TFE731 And AFT3 engine mechanical fuel pumps and controls, pneumatics, surge bleed valves, and the ATF3 electronic fuel controls. Throughout the balance of my career with Garrett I would continue to take on additional assignments as personnel either retired or were reassigned finally being assigned to the engine controls group. I continued to work for Garrett under several different company names until retiring from Honeywell Aerospace on February 1, 2001. I consider myself very fortunate to have had a very rewarding and uninterrupted 47-year career in development aviation engine programs.
Additional Interests.
Over the years I have taken numerous college level courses on business, aviation, and law enforcement subjects. These included Air Traffic Control courses and FAA Instructors re-certifications in the mid 1970's. I applied for an Air Traffic Control position and passed the Civil Service Exam with a score of 95.1 plus a 5-point veterans adder giving me a total score of 100.1. After several years on a waiting list I was informed that the government was no longer accepting applicants that had passed their 33rd birthday. This was a total surprise to me.
I Joined the Maricopa County Sheriff's Posse in 1994, and after much training became a volunteer Firearms Instructor and Weapons Inspector. I was qualified to teach revolvers, semi-automatic pistols, shotguns, .223 caliber rifles, and yearly firearms qualifications to other Posse members, and assist in firearms yearly qualifications of Deputy Sheriff's. I was one of five posse members that formed the firearms instructors' posse, a 503C corporation. I worked on other specialties detains as necessary to control criminal activities, such as mall patrols, Tagger (graffiti) details, Etc.
In July 1994 I was certified as a Concealed Carry Weapons (CCW) Instructor for the State of Arizona, and later the State of Utah. I was also successful in getting my lesson plan approved by the State of Florida and taught for these three states for many years. I am still an active CCW instructor for Arizona.
In 2009 I Volunteered to the Joe Foss Institute. The institute was created by WWII Medal of Honor Marine Pilot Joe Foss, to give presentations to school age children and young adults on the importance of patriotism and our constitution. Joe was disturbed by the lack of these subjects in our schools, and being Joe decided to do something about it. You can discover more about the Joe Foss Institute and Medal or Honor Joe Foss at his web site http://www.jfiweb.org/foss/ or obtain a copy of Joe's Autobiography "A Proud American" at http://www.amazon.com/Proud-American-Autobiography-Joe-Foss/dp/0671757350?tag=dogpile-20 or http://product.half.ebay.com/_W0QQprZ585007
Hobbies.
Over the years I have delved into numerous hobbies, as my resources would permit. There include firearms maintenance repair and training, fast cars, motorcycles, maintaining an aircraft associated domain, and authoring articles for my blog. My blog articles tend to be conservative and political in nature, many being on the constitutionality of current events.
Current Photo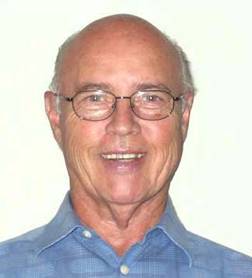 John C. Evans 2008
I do not have too many degrees, but I haven't let too much grass grow under my feet either. I am long on technical issues, but short on formal engineering education, and my memory is still fairly functional.
You can see an additional bio and photos of me at my domain; <http://www.atf3.org>
---
See a broken link or error, have a story or photo to add - please email the webmaster - - Page last modified 02/18/2012