COL VERNON J. HENDERSON
USAF/Ret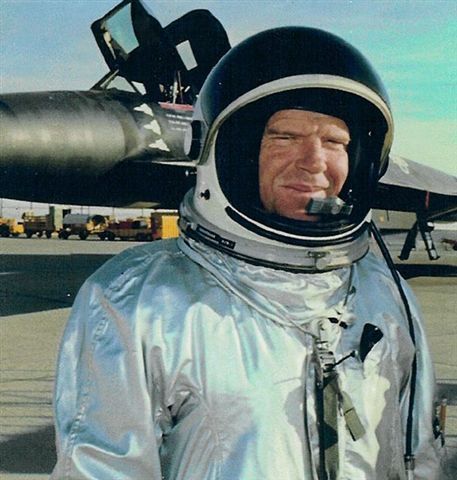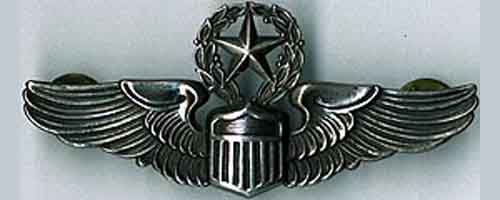 USAAF Flight Schools: King City, CA (primary), Moffett Field, CA (basic), Luke Field, AZ (advanced and graduation 26 July 1942). Aircraft: PT-17, BT-13, AT-6 + one flight each in P-36A and P-64A.
September 1942-July 1944 flying P-40's in Panama, Peru, China and India. Returned to US to teach gunnery in P-47's.
1946 -1951. 1st Fighter Group, 27 Sq, March AFB, CA. P-80's and F-86. 1949 Thompson Trophy Race in F-86A1. Flying F-86 for Hughes film 'Jet Pilot' which was overtaken by events (Korean War). RAF Central Fighter Establishment during fall of 1950 flying F-86, Hunter, Vampire and Meteor.
1952-1954. Commanded 330th FIS, Stewart AFB, NY. F-86A, F-86F.
1954-1955. Fighter operations, Iceland. T-33, F-94, F-89.
1955-1958. Hq. USAF (Fighter Operations). DCS Operations project officer for (and flying) F-101, F-102, F-104, and F-106 in conjunction with various flight test activities.
1958-1962. Commanded 437th FIS then, later, 414th Ftr Gp, Oxnard AFB, CA. As an additional duty: Air Defense Command project officer in the YF-12A Oxcart program. Initially worked closely with LAC on cockpit design/development.
1962-1963. Assigned as DC/M, 78th Ftr Wg, Hamilton AFB, CA but spent most of my time TDY working on the YF-12 project. This activity highly classified and unknown to the wing commander and to our two star division commander. Some innovative toe dancing required in trying to explain the many locally unauthorized absences!
1963-1967. Activated and directed ADFTO, (Air Defense Flight Test Office) at Edwards AFB, CA, when the existence of the YF became public knowledge. T-33, NF-104, YF-12A.
1967-1970. Commander 475th TFW, Misawa AB, Japan, (Kunsan and Taegu, ROK). F-100, F-4.
July 1970 to retirement on 1 September 1971; Director of Operations, PACAF. T-33, F-4.
Things that drive one to drink:
Lights out night approach to flare pots lighting runway at Luke. For unknown reason, turn on landing lights just short of the airfield and find a concrete stand pipe immediately ahead. Full power, jump pipe, land.
Stop swearing, get double bourbon.
Land at Talara, Peru, with 500# bomb hung up by front shackle. Bounce it along runway until stopped. Depart P-40C in great haste. Stop swearing, get double bourbon.
Land P-40 at Old France Field, Panama, in violent thunderstorm. On rollout am amazed to see another P-40 pass just off my left wingtip on a reciprocal heading. Stop swearing, get double bourbon.
Leading a flight of four P-40s strafing boat loads of Japanese troops trying to sneak across Tung Ting Lake under a low overcast. Six 50's blasting away at target about five hundred feet away. Oh s...! Damned boat has two masts and both extend above my altitude. Hard left aileron, roll ninety degrees, pass between masts collecting communications antenna as a souvenir. Stop cursing. Get double Jing Bao Juice.
On takeoff in F-86 at March Field, Mormon clamp fails and tail pipe goes south. Chop throttle, minor fire, evacuate ASAP. Stop swearing, get double bourbon.
Performing F-86 demonstration at Burtonwood, England. All vertical maneuvers were in and out of cloud cover. Broke clear to find I had misjudged and runway intersection was at 12 o'clock. Additional auto 3 G's with speed brakes saves the day (and old Dad). Stop swearing, get double bourbon.
Initiate decel at mach 3.2, 75,000 feet in YF-12A. Out of AB and left engine fails. Ensuing yaw and right engine won't play either. Lots of vibration and zilch emergency power transfer. Peanut standby instruments almost unreadable. 'Dutch' directs spiral down over Edwards and is unhappy when I decline due to no horizon to the east and fear of overstressing the bird. Mono Lake is a known target so put it on the nose and ride the glider. No luck on air start attempts to 30,000 feet. Dive to into San Joaquin Valley to increase CIP. Level at 15,000 and attempt final air start and the right engine responds. That 12,000 foot strip of concrete at Castle AFB is most welcome. Stop swearing, get double bourbon.
Using excess fuel by shooting IFR touch and goes at Misawa AB, Japan upon return from Korea. In cloud turning to enter a new downwind and there is a flash of color at my 10 o'clock. Great banging impact as Japanese airplane hits left wing. Hit burners, get on top and assess damage. Drop tanks and centerline save the day. Penetrate, land. Stop swearing, get double bourbon.
And that's thirty years in a very small nutshell!
Vern.


---
See a broken link or error, have a story or photo to add - please email the webmaster - - Page last modified 05/08/2009