| | | |
| --- | --- | --- |
| | ROADRUNNERS INTERNATIONALE | |
GERALD HAVENER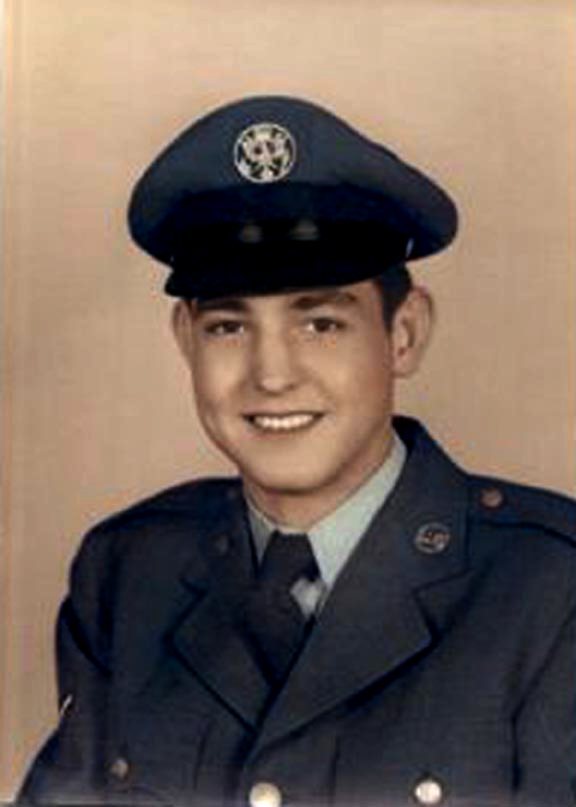 I was born Wardell, Missouri, May 12, 1933. My parents moved North of Sikeston, Missouri in 1934. I attended a one room country school through 6th grade and Morley High school until graduation in 1951.
I joined the Air Force in July 1951 and attended basic training at Lackland AFB, and Wichita Falls, Texas. Upon completion of basic training I was assigned SAC Hq, Offutt AFB, Nebraska for Training in computer maintenance. I was reassigned to the base after third day because I am color blind. I pulled KP at the base until Jan I. 1952.
From September 1952 to May 1953 I was assigned to Oklahoma A&M, Stillwater, Oklahoma.
July 1953,I was assigned to 30th Comm Sq, Offutt AFB, Nebraska in the personnel department. In Sep 1953 I met my wife Patricia in Omaha and we were married 31 Dec 1953. (We celebrated our 50th anniversary this year).
August 1955 our daughter was born, the day she checked out of hospital, passport pictures were taken and we departed for Upper Heyford, England. I was assigned to the director of operations but after an interview by the director I was told I would be reassigned to RAF Bruntingthorpe Leicester, England. Bruntingthorpe was under construction and was being readied to receive B-47s. The director was going to be the commander and I was to consolidate weekly reports from the British Air Ministry and contract Engineering firm on a weekly basis. I reported to Bruntingthorpe in February 1956. The Commander and his staff showed up in Spring of 1957 and I was assigned to work for the director of civil engineering. The base was ready to receive aircraft in 1958 and I was assigned additional duty in the command post. The first B-47 wing we received was commanded by a Colonel I knew very well (Colonel Gray) my previous wing commander at Offutt. During this assignment with the British Air Ministry, my son, Jerry W. Havener, was born October 6, 1957.
Oct 1958 I was reassigned back to Offutt AFB. I was assigned to help write lesson plans and establish NCO leadership school for the base pending a special clearance. The first class graduated from leadership school and I was assigned to SAC HQ where I was briefed on project IDEALIST and told my office would be the central focal point for AF U-2 security and IDEALIST. I was to provide administrative support for the reconnaissance branch who provided mission planning for U-2, RB-47 and RC-135 aircraft. Colonel Holbury was branch Chief, LTC Joe Jackson U-2 section, LTC Leighty RB47 & RC-135 section and LTC Keel was in charge of Recon Command Post. All of us were part of SAC Command Post but because of security we operated separate from the war room. Col Holbury and I were both assigned duty in the war room. He was on battle staff and I was assigned to computer section.
Col Holbury departed for Area-51 in 1962 but not before he had trained us well. The CIA photographed soviet Missiles in Cuba and all hell broke loose. The 4080th and 55th had been trained to their peak for years accomplishing their missions silently and with little publicity (because of security). The 544th Recon Sq was highly trained and completed their task in a professional manner. I attended the University of Omaha for three years but never graduated.

In September 1963 I was assigned to the Director of Operations and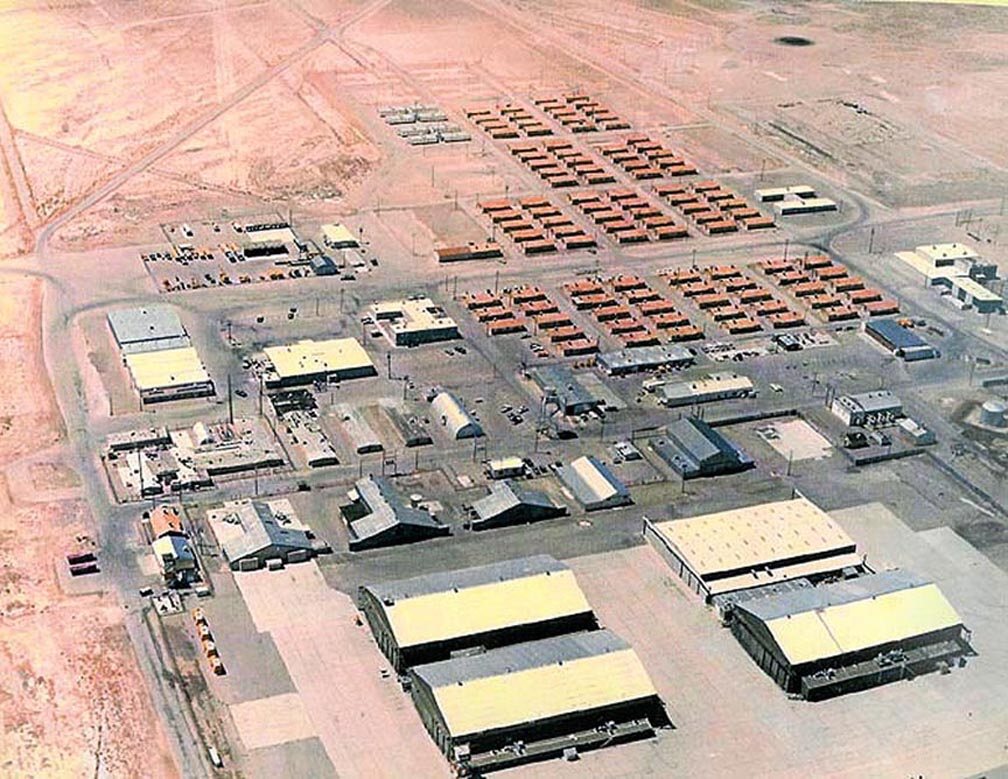 Testing at Area-51. My Immediate supervisor was CMSGT Pryor. We provided administrative support for Colonel Nelson, LTC Perkins, Major Haupt and LTC Barrett. Their job was to fly test aircraft and train agency pilots (where else in the world could you be exposed to and surrounded by that many professional aviators with the combat and aviation experience they possessed.

In 1964 I was assigned to Headquarters. My immediate supervisors were Colonel Holbury, Werner Weiss with the CIA, and Major Archer. I provided administrative support

for headquarters staff, our First Sergeant, Norm Nelson with the CIA, and 2 SAC officers on the D-21 project.

Norm was a very interesting person to work with. Representing the CIA, he presented briefs to Lockheed and the CIA. A lot of people sought his advice, expertise, and comments because of his articles for aviation week, his studies on the VTOL with the Navy, Air Force, and aviation companies. I was the accident recorder for Bill Park's accident, Norm and Mr Kelly solved the problem to Air Force Inspector Generals satisfaction on the third day. Within a week we were flying again. Colonel Holbury assigned me as recorder but Major Pizzo was the expert. Colonel Holbury had once told me to call Major Pizzo if you are in over your head. I called Major Pizzo quite often.
Colonel Slater was my supervisor. he acted as commander, and director of operations while Colonel Holbury was away at Harvard for 6 months. We had the greatest Maintenance and Materiel Director ( LTC Kelly), later Lt Gen Kelly, who always took time to explain things to you if you were having problems.

In September 1966 I was assigned to the Director of Operations, Base Level, Elmendorf Alaska. My job was Administrative supervisor for the Director of Operations and supervisor for special projects. In special projects I was liaison between lower 48 Air Guard units, Alaskan Command, and base support facilities. This consisted of making them happy with two vehicles when they needed six, etc.
In 1968 I conducted a tour of duty as first sergeant at a early warning radar site where I worked both lower and upper camps.

After completion of remote tour I returned to Elmendorf and was assigned Director of Services supporting MAC Medical air evac and logistical supplies. My duties with Mr. Weiss had well trained me for my assignment in Alaska.

In 1970 I was assigned SAC Hq, Command post, Computer Branch.
In 1971 I was assigned to B-1 SPO Wright Patterson Ohio.

Major General Nelson was director of the B-1 Program. On my way to report into ASD I had to drive by the Air Force Museum. I noted Joe Jackson's name as Medal of Honor Winner posted at the entry to the museum. Joe was a fellow roadrunner in the early U-2 program at Groom Lake. At the B-1 SPO I was assigned supervisor of the Management Information Systems. These systems were located at North American Rockwell (LA) Boeing (Seattle) GE in Ohio and at B-1 SPO. Gen Nelson had faith in the future and procured funds for the development of FAX machines that were installed in each of the management info systems.
I spent a lot of time in Sunnyville, California and at various contractors until the systems became operational. This allowed us instantly to change contracts, transmit engineering drawing, financial data etc and post to wall panels for use by management. This also eliminated errors in transmission. If we had only had the chip and today?s computers, it would have been a management dream. We thought it was great at the time.

In Nov 1972 I failed re-enlistment physical (Heart) and was forced to retire in Jan 1973. During my military career I was awarded 3 Air Force Commendation Medals (AFCM) w/2 OLC, Four Outstanding Unit Awards (AFOUA) w/4 OLC, Air Force Good Conduct Medal w/2OLC, AFLSA w/4OLC, 2 outstanding NCO of the year awards: Bruntingthorpe England (1957) and SAC Hqs 1961.
Since retirement I have worked for Eaton Corporation, Earl May Seed and Nursery,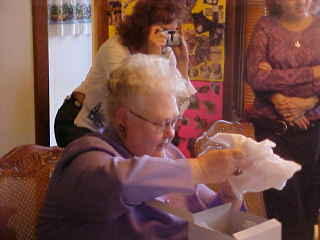 Pat celebrating our 50th wedding anniversary
Owned my own business. In 2002, Pat and I sold the Iowa farm she owned with her brother and sister and we retired. We have two children. Michelle R (Tuck) Havener, husband Doug Tuck, and one granddaughter, Gabrielle Tuck (age12) live in Essex Iowa. Our Son Jerry W. Havener, his wife Angela Esias), and our three grandsons, Jeremy (age 19), Jared (age 14) and Jordon (age12) live in Clarinda Iowa. Grandson Jeremy attends Dana College, Blair Nebraska.

Ancestors on my father's side come to this country in 1752. My grandmother was a Clark, a descendent of Daniel Clark of the famous Lewis and Clark expedition.
| | | | |
| --- | --- | --- | --- |
| | | | |
| Gabrielle | Jeremy | Jered | Jordon |
Pat and I enjoyed our years in the Air Force. I still ask my self this question. How could a country boy from Missouri raised a few miles down the road from B/G Haupt have been so lucky to work with so many great individuals, officers, NCOs and Civilians, both Government and contractors? I personally consider Gen Blanchard, (Deceased) a roadrunner, He visited the area before we become operational and spoke to all the officers, senior NCOs, agency people, including the project pilots. He personally signed all requests to the OSI and FBI for additional background checks, he allowed no one to be briefed unless approved by him or the Recon Branch Chief. The weekend Gary Powers was shot down, he spend the whole weekend in his office or in the Recon Command Post. He always insisted on being briefed on IDEALIST flights and asked who the pilot would be.

We roadrunners could have had no finer bosses then Dr Wheelon and B/G Ledford and both should be remembered in aviation history. All of us looked forward to their frequent visits to the area.

Jerry Havener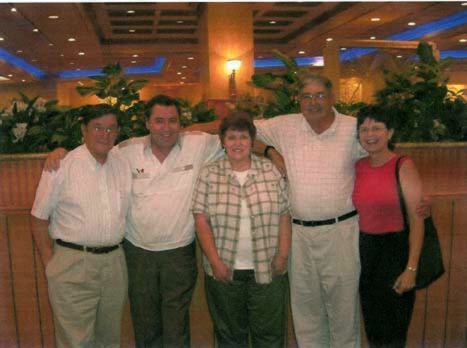 Me and my cousins in Las Vegas during the 2003 Roadrunner Reunion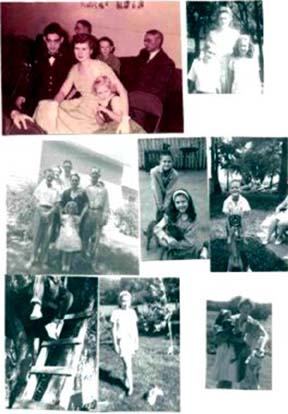 Family photos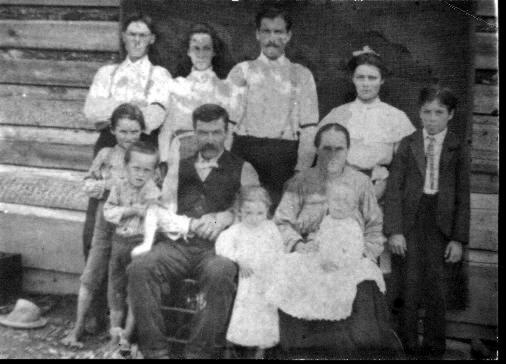 My grandmother and her family Daniel Clark, decedents of the explorers of North America.
---
See a broken link or error, have a story or photo to add - please email the webmaster - - Page last modified 10/24/2013