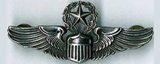 COLONEL WILLIAM "PAT" GUGIN
Pat Gugin was born 3 May 1932 at Pendleton, Oregon to Pierce and Maude Campbell Gugin. He attended school in Pendleton, then graduated from high school at Helix in 1950. Pat grew up on the family ranch in Juniper where he first volunteered to rope people at Round-Up and Happy Canyon festivals.

In 1947, Pat enlisted in the Oregon National Guard, serving with the National Guard until his enlistment in the Air Force. Prior to enlisting in the Air Force, he was enrolled at Oregon State College for two years.

Pat served with the Air Force for 32 years, retiring with the rank of colonel, a rank he held for 12 years. Pat and his wife, Joy, traveled all over the world before retiring at Pendleton. They had one daughter, Shawn Marie Bonnie.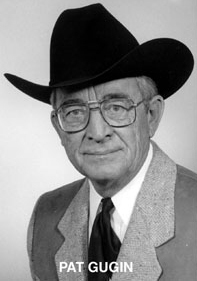 Pat was an aviator, flying numerous jet fighters. During his career he served at 17 different bases in the United States and the Far East. He served one tour in Korea at the end of the Korean War and two tours during the Vietnam War.

One of the accomplishments he was most proud of was the mechanization of Phantom fighter force. While stationed at Edwards Air Force Base, Pat was involved in the clandestine serial surveillance program now known as the SR-71 Blackbird.

Pat retired in 1984 and returned to Pendleton with his family where he resumed his childhood volunteer work with the Pendleton Round-Up. Restoration and repair of the Round-Up Association's horse drawn vehicle collection was his primary activity. In 2002, he received the Director's Appreciation Award, and in 2003 will be inducted into the Round-Up and Happy Canyon Hall of Fame.

Pat is remembered by his fellow Roadrunners for his role as Assistant Maintenance Officer while a Major assigned to the 1129th Special Activities Squadron at Groom Lake, Nevada during Project Oxcart. Pat and some of his fellow officers are depicted in the Groom Lake photo below as they celebrated the 500th training flight of the A-12 trainer fondly known as the Titanium Goose.

L to R
Ken Culp (Maint. Off), Murphy Greene (RECCO), Glenn Fulkerson (Lockheed Flight Ops Manager), Pat Gugin (Asst. Maint. Off), Maynard Amundson (Deputy Commander, 1129th SAS)

---
See a broken link or error, have a story or photo to add - please email the webmaster - - Page last modified 12/02/2008