| | | |
| --- | --- | --- |
| | ROADRUNNERS INTERNATIONALE | |
RON GIRARD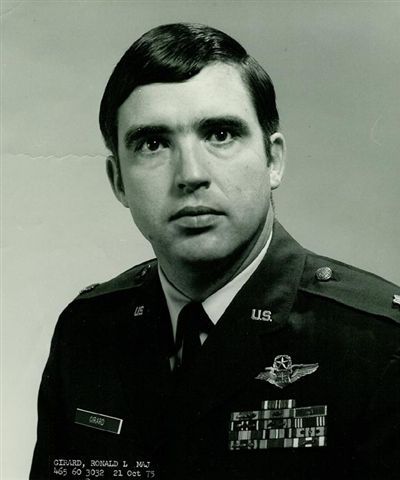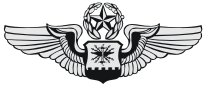 I am a Roadrunner because I was a proud member of the 1129th USAF Special Activities Squadron at Area 51 from November 1966 until the project basically closed in January 1969. It was easily the most rewarding job I had while in the Service.
Because family or interested friends may read this later, I would like to include some biographical data before telling about my Roadrunner experiences.
People who live in Texas almost always have to tell others about how long they or their families have been there. I am no exception. My great-great-great grandfather, Black Adam Zumwalt, was in Texas before it was a republic. His half brother, Andrew Kent, was a member of the Gonzales relief force and died at the battle of the Alamo.
My great grandfather moved to the Texas Hill Country about 1860 and homesteaded. The family ranched there for the next 90 or so years.
In the 1920's my father, who was from Illinois, joined the Army Air Service, which became the Army Air Corps, then the Army Air Force, and, finally, the Air Force. While stationed in San Antonio, he and his squadron came to Kerrville on maneuvers in the mid 1930s and that is where he met my mother, who was a Zumwalt. They married and I was born in 1939 at Clark Field in the Philippines. As a result, I have a dubious claim of being a Texan.
In 1947, we lived at Brooks AFB. The Air Force came into being, mach 1 speed was broken, the AT-6 (later the T-6) still flew at Brooks, and the first P-80 (later the F-80) landed and I became hooked on flying when I sat in the cockpit. Because of force cuts, my father was RIF'd to Master Sergeant.
We spent the next two years in Wiesbaden, Germany. There, I learned who the Russians and Soviets were. The Cold War began for me. The Berlin Airlift began and an endless flight of C-54s flew over our home on their way to resupply the beleaguered people of Berlin. Joseph Stalin now replaced Hitler and Hirohito as someone to fear and hate.
In 1950, my father was transferred to Nellis AFB, Nevada. Las Vegas was different then. The Golden Nugget still had wooden floors and about the only thing on the Strip was the El Rancho Vegas.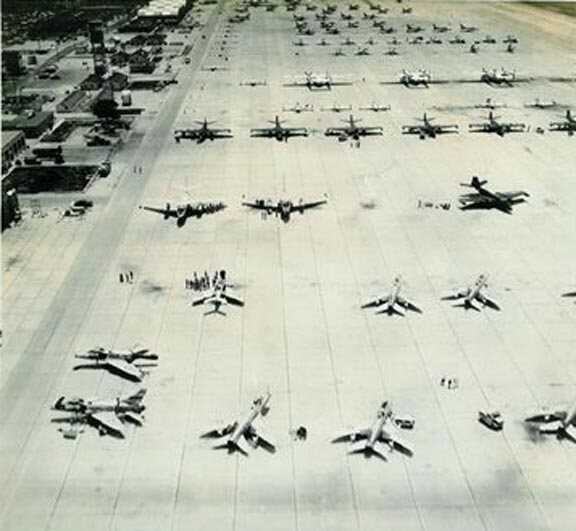 From Nellis, you could peer across 7 or 8 miles of almost open desert and see North Las Vegas. My father sometimes took me dove hunting in Paradise Valley. Today, all that remains of that is the Paradise Road. The F-80, F-84, F-86, F-89, and F-100 were on the ramp at Nellis.
The Cold War progressed. Soon, we began to hear of Frenchman Flats and we would awaken early in the mornings to a brilliant flash of light across the mountain to the west. Moments later, the old converted barracks we lived in for family housing would begin to rock back and forth and we would feel a wind from the blast. Atomic testing began in Nevada. Later, we were to hear of the Rosenbergs.
My father retired in 1952 with 30 years service in the Air Force and we moved back to the Texas Hill Country. My brother was appointed to the second class at the Air Force Academy in the mid-50s by then Senator Lyndon Johnson. I tried to go to the Academy, but failed the vision tests. My dreams of being a pilot were dashed, but my love of the Air Force and flying remained. I found I could become a navigator and receive a commission through the Aviation Cadet program.
After receiving my navigator wings and gold bars at Harlingen AFB, I completed navigator/bombardier training schools at Mather AFB and Castle AFB, CA. At the time, China began testing hydrogen bombs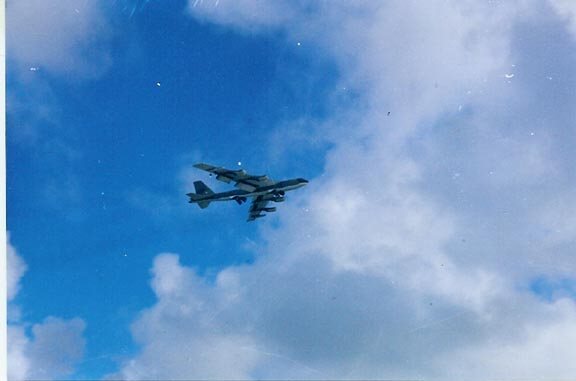 and I flew as navigator of several Seafish missions in a B-52 near the Hudson Bay region gathering airborne particles from the explosions. It was an odd feeling having the aircraft and crew tested for radiation with Geiger counters upon arrival back at Castle AFB.
Shortly, I learned what the life of a SAC crewmember was like. I began pulling Alert and was also introduced to Chrome Dome 24 hour airborne alerts.
Both called for our B-52 to be loaded with H-bombs. We were on Alert and stayed on Alert in October of 1962 during the Cuban Missile Crisis. During the Crisis, we had over 40 B-52s at Castle AFB loaded with weapons and ready to execute the war plan. Fortunately, Khrushchev blinked first.
In 1963, our unit, the 330th Bomb Squadron, was deactivated and we moved men and B-52s to March AFB and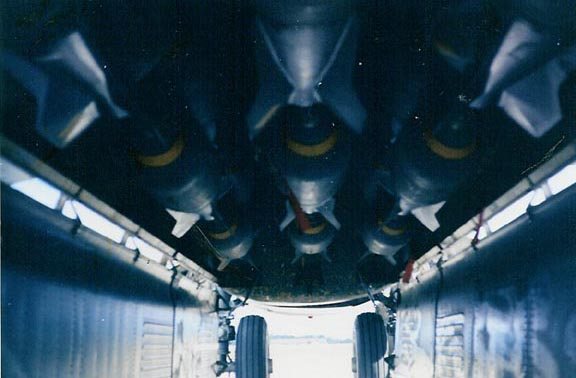 became the 2nd Bomb Squadron. Soon, we began Reflex missions to Guam to pull Alert. Also, I received a very intriguing message while at March AFB. I was asked if I would be interested in working on a highly classified project in the western United States. Without hesitation, I said I was interested. Soon, TDY orders came sending me to Washington D.C. for an interview.
Upon arrival in D.C., I went to the Pentagon as ordered. From there, I was sent to another building where I received my first interview. There, I was asked if I would consider working for the CIA. Again, I gave a prompt answer in the affirmative. The next day, I caught an unmarked bus at the Pentagon and went to CIA Headquarters in Langley, VA. There, the interview began in earnest. I spent hours each day for the next several days being asked the most personal questions you can imagine by a very skilled specialist. Upon completion of the interview, I felt rather strongly that I had failed the interview and that I had better resolve myself to being a B-52 crew dog for the rest of my time in the Air Force.
A month or so later back at March AFB, I was delighted to receive my orders. I found I was going to Las Vegas. Further, I was assigned to P.O. Box 882 at The Main Post Office. I was told to contact Walt Smith when I got into town. All this was about the most exciting thing that had ever happened to this semi-Texas boy.
On 20 Nov 1966, I called Walt Smith at his home and he told me he would pick me up in his car early the next morning and that we would go to an unspecified location for several days and he would further brief me the next morning on the way. I was relieved that the work had nothing to do with Post Office Box 882. I did not sleep well that night because of my burning curiosity and just a little anxiety.
After leaving my apartment the next morning very early, Walt drove out the Tonopah Highway from Las Vegas about an hour until we arrived at Mercury, NV. I thought this wouldn't be too far to drive, but Walt went through the checkpoint at Mercury and kept on driving northward through the darkness. At that point, I became less curious and more anxious. Sixty miles later, we had passed by the above ground atomic test locations and we arrived at a guard shack. Walt told me we were about to enter Area-51. "Area-51" meant nothing to me or the average American in 1966 so I had to wait a few more minutes until I was able to make out a group of buildings and then some hangars before I became aware of what it was.
Walt had us dump our suitcases in our rooms and then took me out on the ramp to see what it was he was being so darn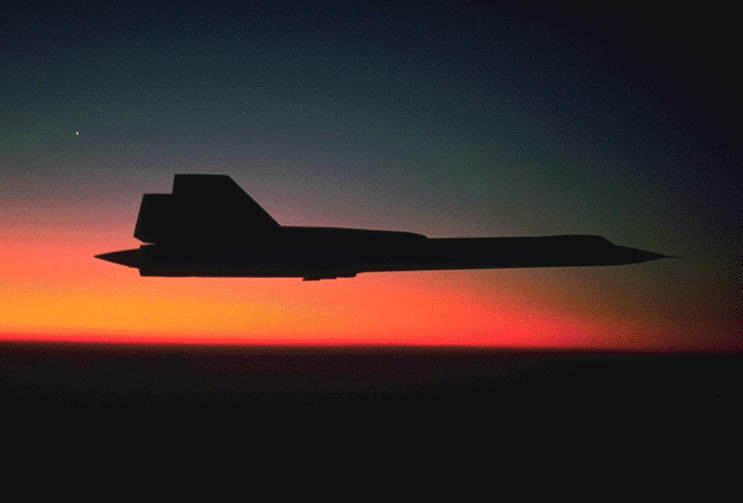 secretive about. I cannot fully describe the feelings I had seeing the A-12 the first time. To me, the aircraft was incredibly beautiful, but a little sinister looking, too. Walt told me I would be planning missions for the aircraft, holding briefings, doing debriefings, and flying primarily on our C-130 (Boxer-30). He went on to say that we would also be able to fly in the backseat of the F-101's from time to time. Then, he took me into the chow hall where Murph served up a great breakfast. At that point, I dismissed any possible regrets I had about being there and never looked back.
I was further impressed by the security. We had roving patrols our in the desert, miles of isolation, then a guard shack. Then we arrived at the building where I was to help in mission planning. The building was surrounded by chain link fencing topped with barbed wire. There was a guard on the gate going into the building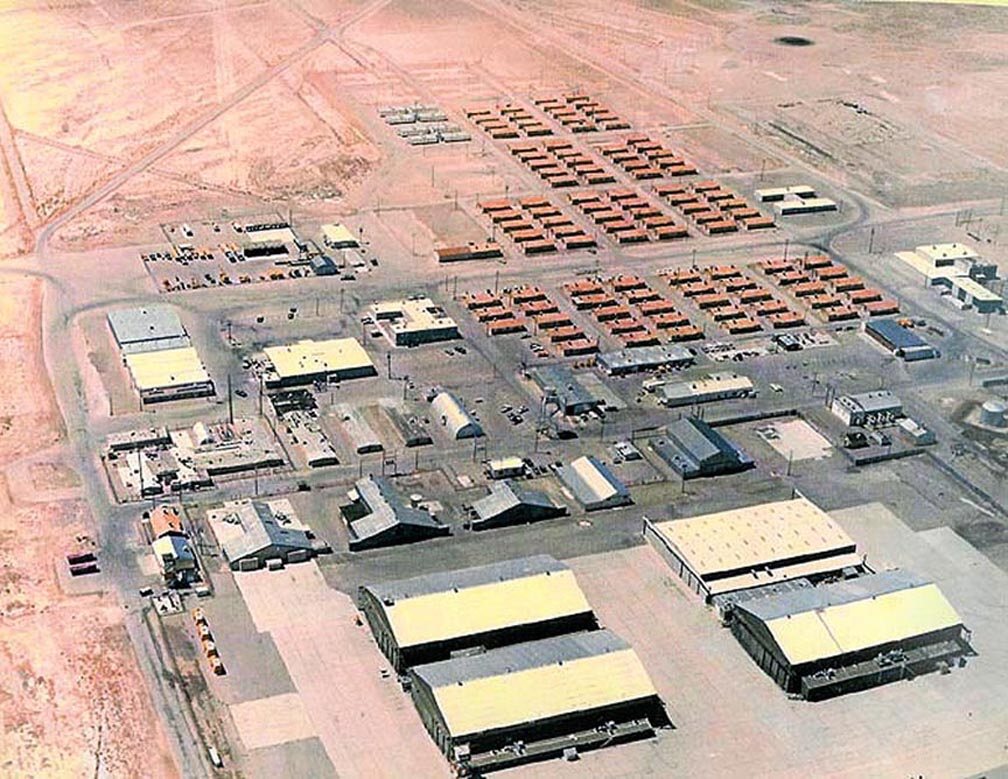 and our two mission planning rooms had cipher locks on each door. Also, each room had plenty of safes to store mission materials in.
I quickly learned the drill for mission planning. There was a lot of cutting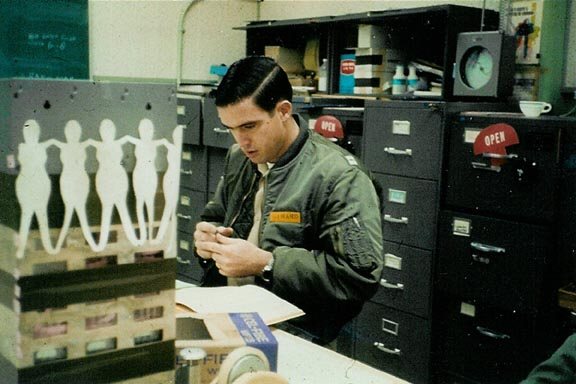 and pasting and a great deal of technical planning. We got our share of flying. As previously stated, our aircraft we flew in was mostly the C-130. We used it often to haul our A-12 engines and Beale's SR-71 engines to and from depot. That was mostly out of West Palm Beach, Fl. We also went into Rochester, NY to pick up or deliver film for the A-12 cameras. We often got into Edwards AFB and North Base, too.
Flying backseat in the F-101 was a lot of fun, but we also performed a function by having an extra set of eyeballs looking out of the aircraft. We would follow the A-12 until top-off refueling. At that point, the A-12 would leave us behind as it rapidly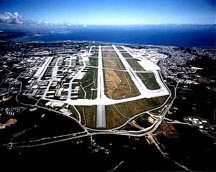 climbed and increased airspeed.
The next several years were very memorable. I spent my time between Area-51 and Kadena AB. We had remarkable successes and terrible setbacks. Our operational missions over Vietnam and Korea provided our country with extremely productive information. Our loss of Walt Ray, Jack Weeks, Lt Col Simon. and Lt Col King was tragic.
Then came June 21, 1968. Frank Murray climbed into 131 and took off climbing to the north. Moments later, he overflew Area-51 on the way to Palmdale for the final disposition of the A-12 fleet. Several seconds later, his sonic boom reached us at the Area. As the sounds diminished to a faint rumble, we knew it was over.
I stayed on at Area-51 another six months, mostly acting as navigator for the C-130 that still operated carrying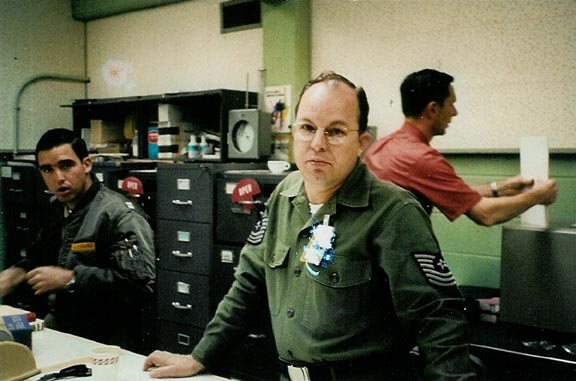 jet engines or classified cargo for the CIA. As they say, life must go on and I received orders to be a C-130 navigator at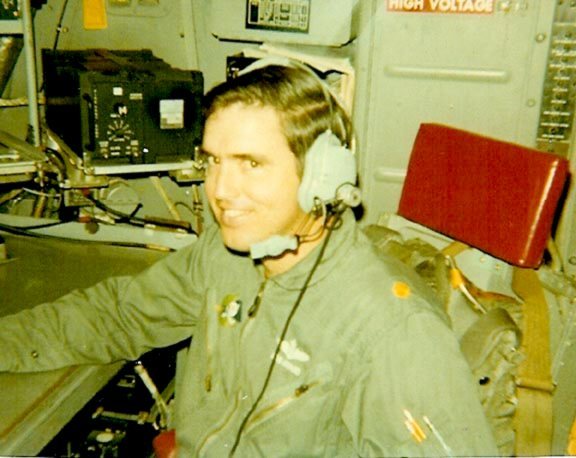 Sewart AFB and then on to Little Rock AFB in the 62 TAS. We provided airlift and made troop and cargo drops in many places during the next two years. Then, I received notice I was on the list to make Major. Not by coincidence, I received orders a week later for AC-130 Spectre Gunships in Vietnam. The Cold War had become a Hot War and was up close and personal to me.
I arrived at the 16th Special Operations Squadron at Ubon, Thailand in July of 1971. Our primary mission was to destroy trucks and equipment on the Ho Chi Minh Trail. We often found ourselves helping friendly troops in contact with the enemy, too. We quickly learned what it was like to get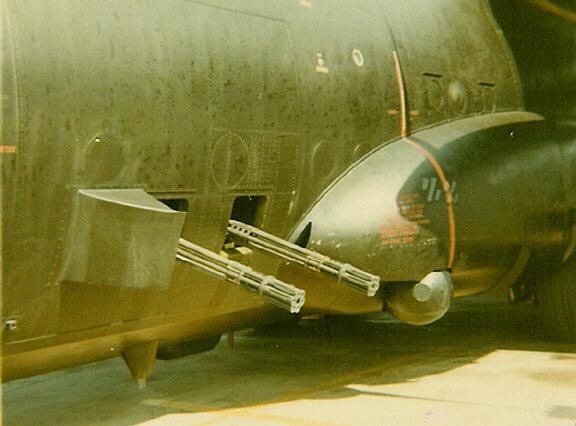 "hosed" by 23, 37, and 57MM AAA fire. A SA-2 SAM can ruin your whole night when fired at you and you realize that the AC-130 has no ejection seat and the plane doesn't 'jink' very well.
Returning home, I was assigned to SAC B-52s at Griffiss AFB and later at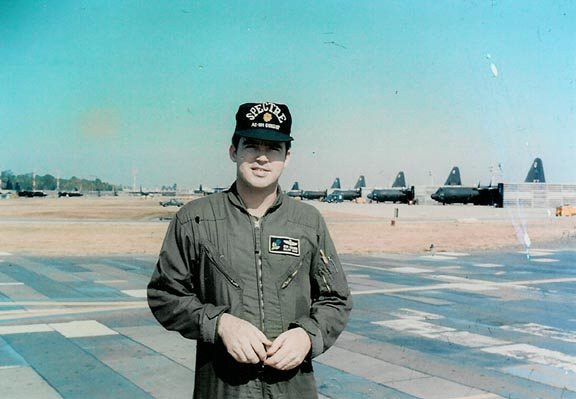 Dyess AFB. SAC did manage to get me checked out and returned TDY to Anderson AFB, Guam before hostilities in Vietnam ended. I flew my final 10 combat missions from there. Sending the greater part of a hundred 750 pound bombs hurtling earthward from 8 miles up served to fill any primordial needs I had. Afterwards, I spent most of my remaining eight years as the Wing Navigator or working in Current Operations. My final job was working primarily as Red Flag Project Officer at Dyess. Las Vegas seems to be a reoccurring theme in my life.
Military awards include the Distinguished Flying Cross, the Meritorious Service Medal, the Air Medal with 10 OLC, and the AFOUA with OLC.
Education includes Squadron Officer School at Maxwell AFB, AL and a BAAS from Southwest Texas State University in San Marcos, TX.
I live with my wife and best friend, Karen, near Kerrville, TX on old family land. Karen and I enjoy my two daughters, Stephanie and Melissa, and her daughter and son, Tamara and Chad.
A few of my footlocker goodies
Links to more good stuff out of Ron's Footlocker in Texas
---
See a broken link or error, have a story or photo to add - please email the webmaster - - Page last modified 12/02/2008