CIA 60TH ANNIVERSARY - 19 September 2007
Roadrunner Bill Fox honoree at A-12 Article 128 Dedication at CIA Headquarters
.
Bill was born on August 28, 1933, in Osage, Iowa. He grew up on a farm near Orchard and was the fifth of seven siblings. He attended Orchard Consolidated Schools for 12 years graduating from high school in 1951. After graduation he immediately enlisted in the U.S. Navy and was placed in the Naval Aviation Branch. After a year of special training he was assigned to

a squadron which was on orders to Korea aboard the aircraft carrier USS Oriskany. After one year he returned to the States and was assigned to a service squadron until his honorable discharge in June of 1954.

He started school that Fall at Iowa State College of Engineering and later attended the University of Minnesota. He then went to work for Honeywell in the Engineering Flight Test Division developing requirements and testing programs for auto pilots and control systems for the most advanced military aircraft. This work soon took him to St. Louis, White Sands, and California for various ongoing aircraft test programs. While in California he was assigned to the highly classified Blackbird program which was still in the concept phase. Bill was responsible for developing the Flight Control Simulator. He was then assigned to Area 51 to take part in the development flight test program. His primary responsibility was the Autopilot and Stability Augmentation System but he soon became involved with nearly every system on the aircraft, including the Inlet Control System, Instrumentation, Fuel Quantity and CG System, and pilot survival equipment.

This aircraft was designed as a spy plane that could fly safely over Russia by flying extremely fast and very high. Though it is now out of service it is still the fastest aircraft ever built and considered the greatest Aviation Achievement of the Twentieth Century.

Following that program he became Engineering and Program Manager for the Lockheed/NASA/Airforce YF-12 Blackbird Research Program. Then as stealth programs began in the late 1970's it was back to Area 51 as Lockheed's Site Manager and Engineering Flight Test Manager for various stealth programs, some just now being released to the public. Following these programs Bill was assigned as Test Manager for the Blackbird and U2 aircraft follow on development programs in Palmdale, CA.

When Lockheed started a division in Texas, Bill transferred to that division as Engineering Flight Test Manager for the Aquila, an unmanned aircraft used as a battlefield overhead target designator for the U. S. Army.

Bill retired in December 1988 and moved back to Osage. He moved to Charles City in 1999. He spends much of his time giving presentations about the Blackbird to various school and youth groups , Rotary, Lions, and Kiwanis Clubs through out Iowa, ROTCs, Experimental Aircraft organizations, speaking to well over 10,000 people in all.

Bill was selected in 2002 as one of 20 charter members of the Blackbird Laurels Society which was organized to honor those deemed most responsible for the success of the Blackbird. In April of 2005 Bill received the Distinguished Alumni Award from the Osage Educational Foundation for outstanding achievements and contributions to society following graduation.

Bill is a member of the VFW, American Legion, Amvets, Moose, Elks, Knights of Columbus, Experimental Aircraft Association, Roadrunners Internationale (Past President), and the Blackbird Association.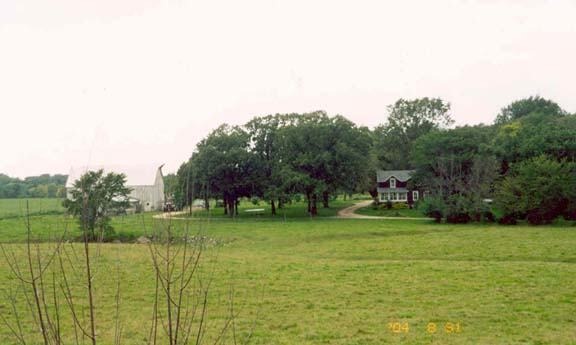 This is where we moved to when I was 3 years old (1936). We sold it in 1991. We had a trout stream on the south edge of it and a large river (Big Cedar) on the west edge. When I was too small to help in the farm operations I usually went fishing every day. It was a wonderful place to grow up and the memories from there are endless.
Click on images to enlarge
| | | |
| --- | --- | --- |
| | | |
| Driver's License signed by CIA | Area 51 ID Badge | Area51 Rad Handbook |