Flying the Firecracker by Pat Halloran
In 1938, a young Tony LeVier, who was destined to later become one of Lockheed's most famous test pilots, was invited by an aircraft owner to participate in the national air races flying a tiny little Golden Age of Air Racing plane called the Schoenfeldt Firecracker. Tony was very successful in the 1938/39 race season bringing fame and recognition to both himself and the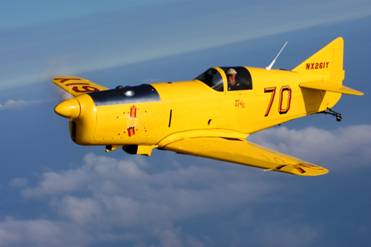 Pat Halloran flying the Firecracker
Firecracker. Most of those race planes disappeared during the war years and only a few were revived as replicas or restoration projects for museum purposes. Such was the case for the Firecracker when Tom Wathen, owner of Flabob Airport in California and builder of Golden Age replicas, decided to add this beautiful little plane to his stable. It was started at Flabob but the bulk of the project was finished in Colorado Springs , CO . I was the project guy to get it built in CO and was the primary pilot who flew off the required 40 hours for FAA

The original plane, built as the Keith Rider R-4 in 1934, was upgraded several time to reach the configuration of the 1938 racer. Those 70 year old racing design features make the plane about as dynamically unstable as anything I've ever flown. My little Loving's Love racer comes in a close second. It is a real challenge to fly, particularly on cross country flights, as the original only flew in relatively short, "go fast, turn left", races. We have 40 gallons of fuel and the inverted 6 cyl 200 hp Ranger burns about 9-10 gph, so a 400+ mile leg kind of matched my tolerance for the tiny cockpit while still leaving an adequate fuel reserve. We flew it to Oshkosh for the 2007 show and left it there as a good jumping off place for going to the next showing, the Sun & Fun EAA show in Lakeland, FL in April of 2008.

On 29 March I flew commercial to Oshkosh to pick up the plane and head south. It took 3 days of waiting around for weather before I could get airborne. Since the plane had been sitting in a hangar for almost 8 months my first job was to check all the fluids, charge the battery, put air in the tires, repack the chute (damned right I wore a chute) and do a 30 minute ground run check. It was with a bit of trepidation that I then set my GPS for Terra Haute, IN as a test leg. The weather cooperated and the plane behaved within the expected tolerances. The next leg was to Tullahoma , TN , home of the famous Stagger Wing Beech Museum , which was a delight to visit. Another delight was the discovery that the FBO was a former classmate of mine from AF pilot training. . .class 50-E. Since the wx south of there was impassible I had an enjoyable 3 day visit with my old buddy and his wife. The airport maintenance team also performed some repair work on a damaged oil cooler intake. My next leg was to Eufaula , AL where weather across the northern neck of FL dictated an overnighter. Another of my old AF buddies, Bob Spencer, who had flown both the U-2 and the SR-71 with me in years past, lived there so another pleasant evening was spent without darkening the door of a motel. The next day I flew into Lakeland after climbing to 11,000 feet to circumnavigate building Florida thunderstorms. Weather had blocked Sun & Fun arrivals for several days so when I came into the pattern I was by myself instead of the normal white knuckle nose-to-tail stream of diverse airprlanes. That allowed me to ask for and receive permission to use the main (read wide) runway, my preference since visibility from the F/C is very limited.

After a week on the ground I headed out on the real test. . . Florida to California , where I was to deliver the plane to it's owner, Tom Wathen, at Flabob Airport . I headed for Appalachicola , FL for my first stop and spent the night with another old U-2 buddy, Steve Heyser, the guy who discovered the medium range missiles in Cuba .

From there I headed for Hattiesburg , MS but had to make a diversionary landing at Mobile when a rather exciting and demanding emergency developed. The local FBO maintenance guys removed some "distressed" components which we shipped to California via FedEx, and I continued on my way, heading for College Station , TX and a motel. The next leg took me to Ft Stockton for fuel and then on to Santa Theresa Airport just west of El Paso . This was the worst leg of the whole trip as turbulence was extreme at every flight level and small, light planes aren't much fun in such conditions. It was also the location of the toughest landing as winds were 30, gusts to 45 and 30 degrees cross. It's the gusts that get you in a light weight, 20 foot wing span tail-dragger! The next day I flew a comfortable flight to Tucson where I spent the night with my old SR-71 instructor pilot, Gray Sowers, and then on into Riverside , CA for the delivery.

Shortly after finishing the plane I modified it by putting a small "lipstick" camera under the nose and a small video screen in the cockpit to help me see where I was going during takeoff and landing, or in an emergency. It's also great for taxiing. The main reason I did that was because I was concerned about eventually having to land on that 50' wide runway at Flabob, in California . Even a 100' wide runway was a bit of a challenge. I would never have been able to make the Flabo approach with any confidence without the camera. The long nose, aft cockpit, high angle of attack and tiny cockpit canopy make for VERY limited visibility. . .even at cruise. You can't slip this plane with that tiny tail or it will snap on you. I discovered that at 10,000' one day, so a straight in approach is pretty much dictated. A low turning, navy approach on a wide runway also works fine but be careful with the rudder. When I turned final at Flabob I had a perfect video picture of the runway directly ahead with all the markings and center line in perfect view. There was a big turnout of Flabobians to greet this beautiful little plane as they had been waiting and talking about this return for 10 years. Even all the students from the Wathen Aviation Charter High School were there for an event they probably didn't understand.

The plane basically flew as predicted. . .unstable, bouncy, noisy, cold, high oil consumption, and very demanding of attention. You NEVER let go of the stick so unfolding a map or changing frequencies/squawks (radios are near the floor of course) tends to be an exciting time with "unusual position" recoveries to follow.

It was a challenging but very rewarding 3000 mile flight in the replica of a plane that Tony LeVier said was the best and fastest racer in the Golden Age era. Tony pushed 300 mph out of the original and I've nudged 200 in the replica. We don't have Tony's big Super Buccaneer Menasco engine under the hood, but that six banger Ranger does just fine for our purposes.

I'm sure Tom Wathen will want to display the plane at future west coast shows, but I think the marathon flights are history. They certainly are as far as I'm concerned. At my advanced age, maybe I'll turn the reins over to someone else. I said maybe.
---