Click to mute music


JACK DUPUIS

April 24, 1934 - January 1, 2017

At Area 51 Jack Dupuis was a P&WA Field Engineer/Service Rep with the JT-11 D20 (J-58 engines)
In July 1952 Jack began employment with Pratt & Whitney Aircraft. He completed their apprentice program and joined the Air Force in 1957. He spent 4 years in SAC assigned to B-52's.

Upon his discharge he returned to P&WA and was assigned to Florida for in-house support of the J-58 engines. In mid 1965 he was transferred to Area 51 where he provided flight test support for the engines installed in the A-12.

He attended flight de-briefs, supervised during engine installations and removals, and engine ground trim runs. He also provided transient flight test support runs for TDY aircraft.
At the completion of the program he was transferred to San Bernardino, California to assist the Air Force in transitioning the A-12 to the SR-71. After which he returned to P&WA in Fl. to continue support of flight test programs until his retirement in 1992 after 40 years with P&WA.
---
The Roadrunners are sadden to report that 2017 began with the final flight of Jack Wayne Dupuis, 82, of Jupiter, FL.
Jack passed away peacefully on January 1, 2017. Born in Meriden, CT on April 24, 1934 to the late Royal and Dorothy (Crowley) Dupuis, he graduated Glastonbury High School and entered an apprenticeship with Pratt & Whitney. He then enlisted in the Air Force Strategic Air Command. Upon honorable discharge he pursued his career with Pratt & Whitney until his fulfilled retirement 40 years later.
Jack was a member of the Road Runners Internationale and had worked at Area 51 during his career providing flight test support for all engines installed in the CIA Skunk Works project A-12 Oxcart and then transferred to San Bernardino to assist in the transitioning of the A-12 Oxcart to the SR71 Blackbird in Ram Jet Technical Development. He then moved to Florida and continued support of flight test programs until his retirement in 1992. Jack was extremely proud of his accomplishments and his loving family.
After Retirement, Jack went on to create stunning high-end nautical and aeronautical custom, scale, replica yachts and aircraft for many celebrities and major corporations. His love for the ocean, fishing, and innovative flight technology inspiring many of his pieces.
Jack is survived by his three children, Brett H. Dupuis, Danielle D. Benica (Andrew Benica), Royal H. Dupuis (Jody Dupuis) and his three grandchildren Taylor, Holly and Daphne. He is preceded in death by his loving wife of over 52 years, Rachel, his eldest daughter Monique, his sister Mildred Dupuis Howe and brother George E. Howe.
A service celebrating Jack's life will be held On January 6, 2017 at 7:00 pm with a viewing for family and friends beginning at 4:00 pm at the Taylor Modeen Funeral Home, 250 Center Street, Jupiter, FL 33458
In lieu of flowers donation can be made to Hospice of Martin County Florida.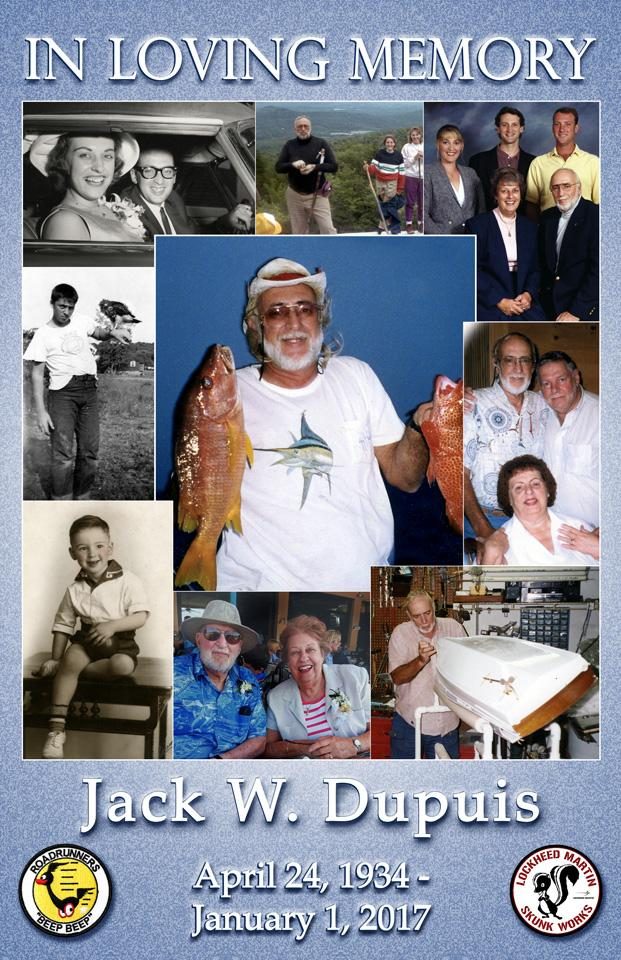 On the board, clockwise from top left are Jack and his wife Rachel on their wedding night (Rachel passed February 24, 2016). Pic 2; Jack teaching his daughters Danielle and Monique a lesson in proper dressing for the cold of a New Hampshire hike (Monique, far right, passed June 6, 1990). Pic 3; Jack and Rachel with their surviving children, Danielle, Brett, and Royal. Pic 4; Jack with his brother George and sister Mildred (Jean). Pic 5; Jack in his shop, working on one of his Custom Yacht Replica's. Pic 6; Jack and his wife Rachel enjoying their 50th Anniversary. Pic 7; Jack as a little nipper, all dressed in Sunday attire. Pic 8; Jack's first love of flight, being a Falconer.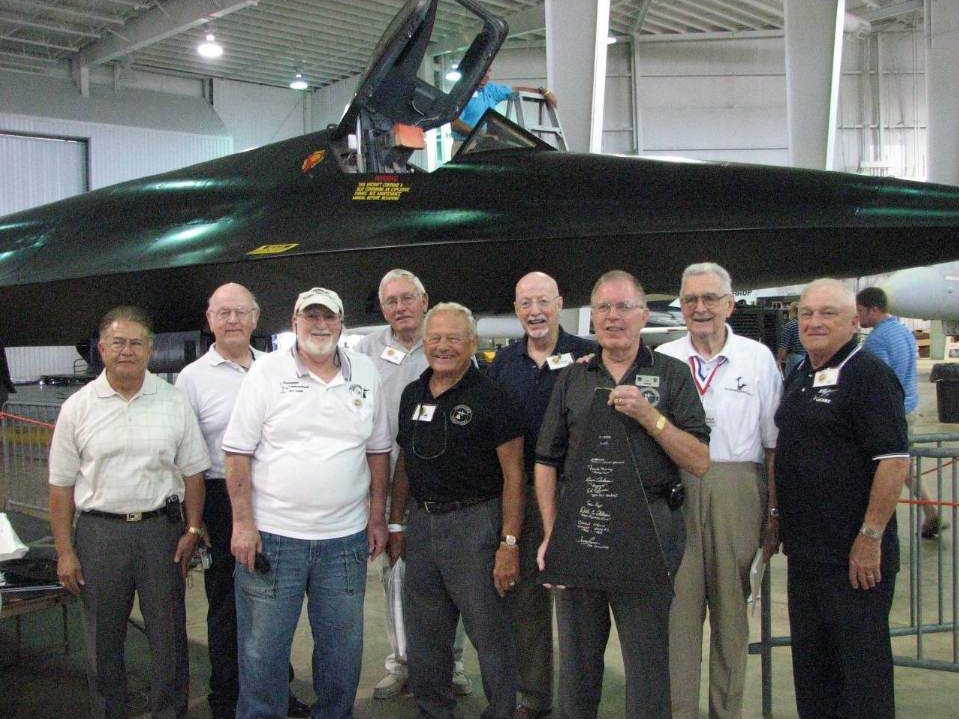 During June 2008, Jack joined the CIA and his fellow Roadrunners at the USS Alabama Battleship Commission to pay tribute to Jack Weeks, lost in the Pacific during Operation BLACK SHIELD.
http://roadrunnersinternationale.com/mobile_welcome.html
---
See a broken link or error, have a story or photo to add - please email the webmaster - - Page last modified 01/02/2017