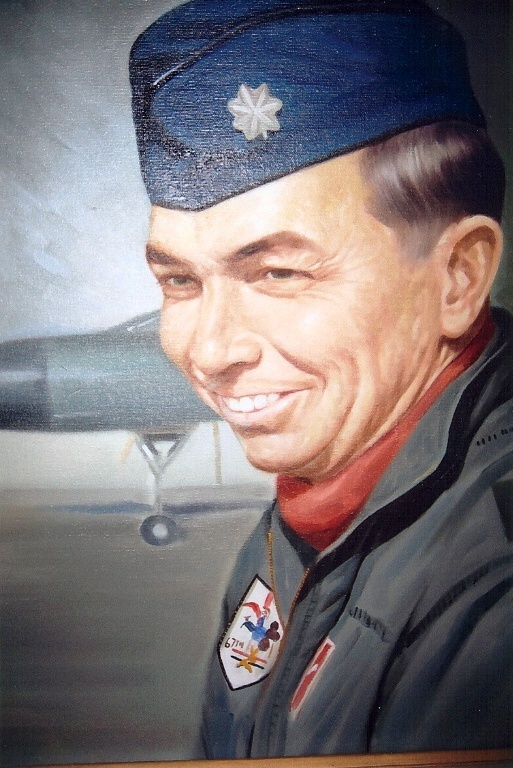 I arrived @ the Ranch in Feb 62 as maintenance officer and part of the support fleet consisting of 2 F101B's modified for Boom Refueling , one T33 , one H-43 and one C180 used in the Bay of Pigs. The maintenance techs had no F-101 experience.

I was the only one w/F-101 experience (Maintenance & Flying). Colonel Bob Holbury, Doug Nelson & Ray Haupt went to SC for 25 hrs of F-101 time. They brought Harold Burgeson, their instructor back w/them. I reviewed ejection procedures before the FCF.

I set up major maintenance support at Ogden for the F101's, T-33 and H-43. Warner Robins was used for the C-130. The F-101's had flown 192 straight sorties when Doug Nelson aborted the day (30-40) Congressman was in to see a flight. JFK flew into Indian Springs & then to the Area to see the A-12.

Nellis did not have a rescue copter so we brought ours to Indian Springs for support. We saw him deplane from Air Force One. Gen Lemay flew in on a C-135 to see an Article during a short stop on his way to Alaska for Fishing. I boomed the Base the 1st time they were working w/Ski. Scared the fuel folks - ask Harry.

One day the fellow who ran the Snack Bar broke down on the back road from Alamo. I was flying a T-33 & it took 2 passes to get him out from under the hood to wave. I called Security & monitored him until they arrived. That was good for a 6 Pak.

A B-58 from Carswell flew thru the Area when I was on a 101 flight. The Tower, the A/C, & I intercepted, identified, and got his attention with a burner pull-up from underneath across his nose. He was met by Security when he landed in Texas.

Two National Guard F-100's made low pass when the Article was out. The Tower identified, coordinated tracking, and had them met when they landed at Luke. Col Holbury & Charlie Whire landed about 30 minutes behind the 100's. After being locked up on landing and then debriefed by a Full Colonel & a Spook, they almost forgot their names.

Early on we were scheduled for a Saturday AM flight. We were told to stay inside until a Russian Sputnik, scheduled to launch at 0730 hours, was established in orbit so we could have a window. At 0700 we were cleared to go outside because the Sputnik aborted. Not bad Intel!!

I was first chase on Ken Collins flight when he ejected from Article 123. We flew a lot of flights w/an empty back seat. I always had an open Invitation 4 Pax. George, our Fire Chief, kept saying he wanted to fly.

One day I was going on a chase mission and had one engine started when he dove up, jumped out of his truck w/a parachute and helmet, and said he wanted to go. The Ground Crew got him strapped in & then I had to hurry 4 TO. As we taxied out, I asked if he was checked out on the Seat. He answered, " We weren't planning on using it, were weG€¯. I briefed him on the Pins & seat operation on the way to TO. He enjoyed a 21/2 hr Chase, Refueling Mission.

- On the Lighter side , I believe Tues was the REECO day for watering down the Dust.. We were in the middle of a Rain Storm when our ADF went off the Air. The Driver of the Water Truck hit the station because he could not see in the Rain.

- Early on, we had a movie for entertainment. Capt Courages w/ Freddy Bartholomew contributed to the Build-up of House 6.

-Some Poles, on top of Baldy, were set up by our H43. The H43 would hold the Pole upright while the people on the ground dropped the Bolts in place --@ 10,000ft.

- The day JFK was assassinated, I was on the Lake digging out a sunken 101. (No comment on cause of Burial) I do not remember who came out to tell us of the assassination. We were told to go home & we would be called "if" we were going to continue the Program. Lyndon B was not briefed on the Program & had to approve the continuation.

- A lot of interesting Chase Flights;

!st Flt of Lou

1st Flt of Bill Park

Flt w/1xJ58 & then w/2x J58's

Due to lack of Instruments, early on weather set in & it was necessary to Escort Lou in from Alamo & drops him off for landing. I went around, landed, & flamed out on the Roll out. That is when Lou said you Chase Guys have the Dangerous Jobs.

Another item I forgot was the T-33 Tanker Flight to Wright-Patterson. Back Seat removed, (#) 5 gal cans of SK-1 strapped in, & a Flight where I was not allowed to leave the Aircraft until I delivered the Fuel to WP. That is not a non-stopper.

- Ops came up w/a 101 Profile @ 50,000 ft. Another Let Don try it .To keep from going Supersonic or Stalling was about a 5kt difference. I kept lowering the Altitude. It was comfortable @ 41,000ft so even SAC Pilots could handle it.

- At lunch 1 day, Cols Holbury & Nelson told me about a Movie they saw on a X/C to DC. I said that confirms what Bomber Pilots do X/C. I had to leave the Mess Hall to keep from discussing my comment.

- Col Holbury liked to fly Formation. I would always fly his Wing. 1 day he said he would like to fly my Wing .I told him I could not do it. In answer to Y, I told him my mother told me to fly low, slow, keep the nose hi in the turns & don't let Cols get behind you. Our last Formation Flt.

- When Underground Test "SUDAN" vented, we were required to Evacuate & commute thru Alamo for a couple of weeks. When we were permitted to go thru the Test Site, w were checked before entering, require to drive closed up no air or open Windows. When we got to the other side, we were again checked, washed down, & checked again before continuing w/air.

When we 1st arrived, our Wives had only a DC no. to call to get in touch . Shortly, they were briefed on location & given Ph Nos.

- It was hard for my Wife who had four sons 4 Company because she never knew where I was located. Nellis has an accident, 123, & I do not get home for 4+ wks. Every time Nellis had an Accident, She wandered until I checked in.