Click to mute music


FLORENIO (Flo) DELUNA

March 25, 1933 - July 16, 2012


Flo DeLuna was born March 25 1933 in Albuquerque New Mexico. Flo's father died when he was 6 years old and he was raised with his 5 brothers and sisters by his mother. Flo left school when he was in 10th grade to go to work to help his mother provide for the family.
In 1951 at age 18 Flo went to work for Carco Air Service as an aircraft refueler. Carco Air Service was a contractor for the Atomic Energy Commission. His goal was to become an Aircraft Mechanic/Flight Engineer. He worked diligently and attended Aviation Electronics and Welding classes at the University of New Mexico. He also attended F-27 Maintenance/Flight Engineer School in San Francisco CA. He did his apprenticeship as an aircraft mechanic and in 1955 obtained his A & P license. Flo worked hard and soon became Aircraft Mechanic/Flight Engineer on the C-54, F-27 and C-47 aircraft.
In 1961 after 10 years of working for Carco Air Service Flo was recruited to CIA Project Oxcart at Groom Lake/Area 51. His group consisted of Tom Losh, Roy Kemp, Hugh Starcher, Flo DeLuna, Cecil McMains and Chuck Heydran. Their group was under the direction of Jim Freedman and Col. Slater.
This group was responsible for shuttling employees to and from Las Vegas and Area 51; shuttling YF12 crews to and from Beale AFB for their flights to Chadian, Okinawa. They also shuttled Project Oxcart pilots to and from survival training. They were also involved in search and rescue of missing aircraft and pilots.
Flo's group was at Area 51 until 1971 and they were very instrumental in helping with the closure of the facility.
In November 1971 Flo went to work for the Environmental Protection Agency as an Aircraft Mechanic/Flight Engineer on the C-123, T-34 Volpar, C-45, the B-26 and various helicopters. In 1975 he attended a two week training course in Phoenix AZ on Turbine engines. Flo worked at EPA until 1979 and then transferred to China Lake Naval Weapons Center in Ridgecrest CA. He worked in the test and evaluation branch as a model maker. As a model maker he fabricated various prototypes for the F-18 Hornet, the Harrier, the A-6 and the A-7. In 1982 he attended a two week course in San Diego, CA for repair on airframes of the F-18 Hornet using titanium/graphite.
In 1988 he transferred back to the Environmental Protection Agency as an Environmental Assistant and Radiation Monitor and worked there until he retired in January of 2004.
His time at the Area was the most memorable of his life and he made many friends of whom he now looks forward to seeing at the Roadrunners Reunion every two years.
---
It is with great sadness that today we must report the loss a great friend and Roadrunner, Florenio "Flo" DeLuna. We Roadrunners local to Las Vegas are happy to report that we recently enjoyed Flo's presence at a dinner at a local restaurant. We extend our deepest condolences to his widow and our dear friend, Patty.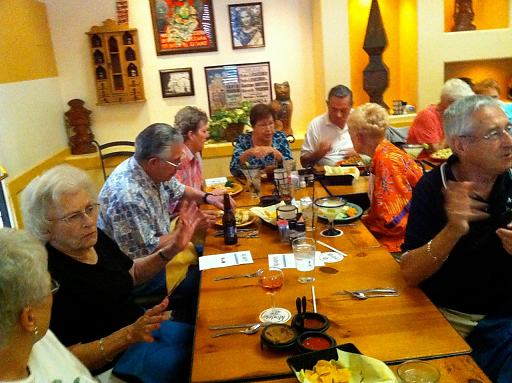 Flo, third from left.
9-29-2012 CELEBRATION OF FLO'S LIFE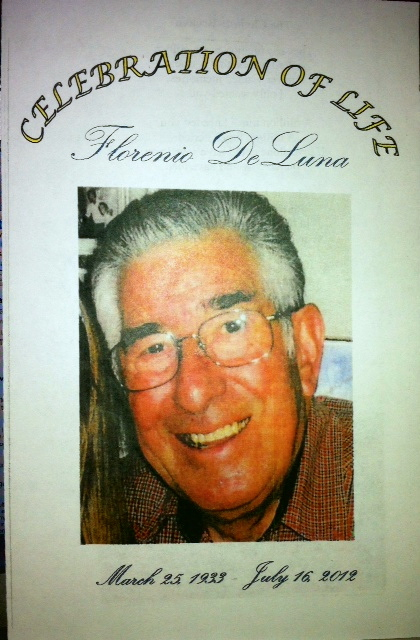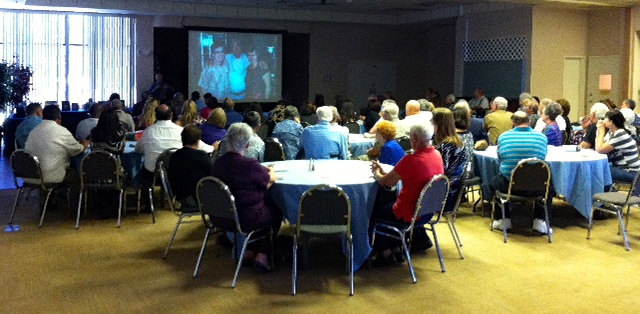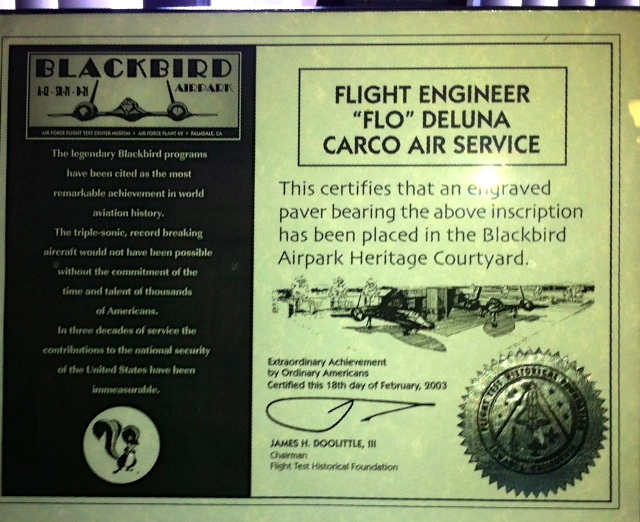 ---
See a broken link or error, have a story or photo to add - please email the webmaster - - Page last modified 10/01/2012