TOM BOLICH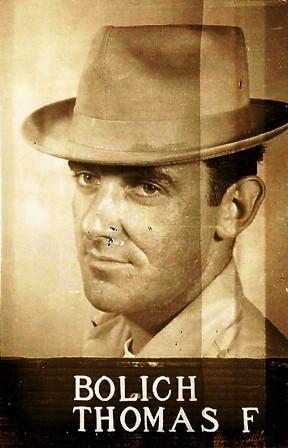 MEMORIES OF TOM BOLICH
A GREAT FRIEND AND TRUE AMERICAN
If you are or were a Roadrunner, you knew and loved Tom Bolich, affectionately referred to as "Mr. Warmth." Tom and his brother, Bob, both worked for the CIA providing security for Area 51 during Project OXCART. The small display of individuals below represent the very early Security Staff along with some of the Agency Admin, Finance and Commo personnel.

They came from various backgrounds and were the first 30 guards assigned to the area. The government recruiter had the pleasant task of traveling thru the Northeast section of PA. where he recruited about 25 of the 30 officers. You can see from the various last names that they are not of a third world power, just good sound people who liked a shot an beer after work.

The restaurant pictures are of the Blue Danube located at the time on East Charleston in Las Vegas. If you could eat their 18 oz steak you got the second one free. There are pictures of Mr and Mrs Harry Shultz's wedding in which a few of the girls from the local ranch attended. There is a photo of Charlie White and his wife Betty who attended. He was the first Security Officer assigned to the area by the agency.

The various vehicles along the road show that we often overheated going out the Back Way (Caliente Road) when the main road to the test site was closed due to testing. Bear in mine this was the time when the A-12 Articles were made of wood and we just started bringing them up from Burbank in the very early sixties. These security personnel were known sometimes as the forgotten cadre. But the base was built around them and through them we had great success in keeping the area UNKNOWN for almost 50 years. A real tribute to each and every person that ever associated with Area 51.
Tom Bolich deployed on his final flight on May 5, 2007 at the Sunrise Hospital in Las Vegas, Nevada. Tom's son, Tom Jr., and daughter, Chris conducted a memorial service for their Dad in Las Vegas on Saturday, July 28th. The burial will be in Ashland, PA on Saturday, August 25th. There will be a Catholic Mass at 10 am followed by burial and a gathering to celebrate his life. If you have any questions or wish to contact Tom, Jr. or Chris, you may do so at: bolicht@saic.com
Place mouse pointer over photo to stop slide show