JAMES F. (JIM) BARD, JR.
Captain, USAF, Retired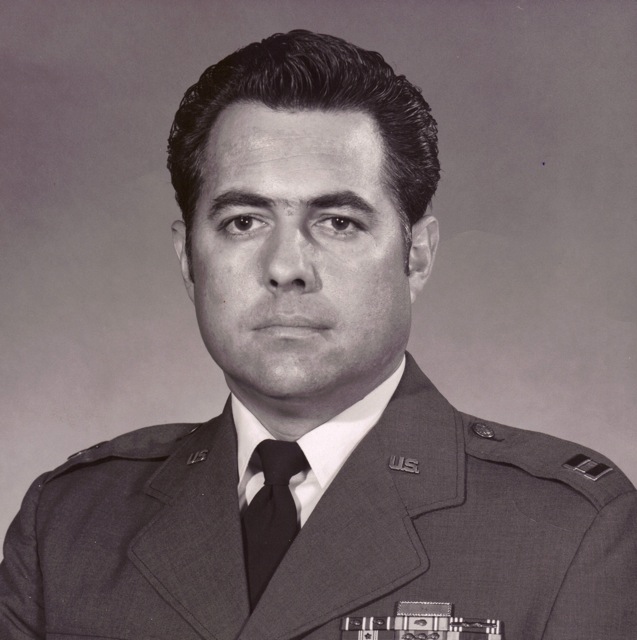 Served With Two Strategic Reconnaissance Wings
1954-57 91st SRW / 1965-69 9th SRW
Many of the personnel stationed at Beale AFB in California, including then-29-year-old TSGT James F. (Jim) Bard Jr., went to the runway to see the bird coming in for a landing. They lined the tarmac and waited patiently.
Then out of the blue, a glint appeared. Slowly, it began to develop a shape that became recognizable. It began its approach and landed quietly. Jim never saw anything so beautiful in his life. The Lockheed SR-71 long-range strategic reconnaissance aircraft, unofficially named "Blackbird," rolled to a stop from its birthplace in Sunnyvale, Calif. He could not stop looking at it. It was a moment he would never forget.
Jim was born Feb. 19, 1937, to Mary Catherine and James Bard Sr., of Hagerstown, where he lived with his brother and sister. In 1942, the family moved to Baltimore so James Sr. could begin work at Maryland Drydock. Jim attended high school at Thomas Edison, but quit at age 16. He went to work for Maryland Casualty Insurance Company for a year as an IBM machine operator.
Duty called, and Bard enlisted in the U.S. Air Force at age 17 on March 29, 1954.
The young recruit wound up at Amarillo Air Force Base in Texas to be trained as a multi-engine jet aircraft mechanic for the B-47.
In November 1954, he received his first permanent assignment to the 323rd SR Squadron of the 91st Strategic Reconnaissance Wing at Lockbourne AFB in Ohio as an RB-47E mechanic. While there, he met his first wife at a USO dance, married her in 1957 and had three children before divorcing.
Jim didn't like the harsh cold winter weather in Ohio and began looking for an inside job. Because of his experience in IBM machines, he began working in the office of the Chief of Maintenance on the new time accounting system recently instituted throughout the Strategic Air Command.
In 1958, Bard's enlistment ended and he left the Air Force for 85 days. He soon realized he made more money in the service as a Staff Sergeant, so he re-enlisted.
With the new Maintenance Data Collection System instituted, he found himself implementing the new system for the 376th Bomb Wing. He attended specialized training at Chanute AFB in Illinois and then went to Oklahoma City AMA to assist in writing the system codebook for the B-47s.
In 1962, he changed career paths to get out of maintenance. He was reassigned from aircraft maintenance to the Management Analysis Office in Wing Headquarters. Jim studied for and passed his GED and enrolled in evening college classes and, in December 1963, was promoted to Technical Sergeant and sent to Goose AB in Labrador, Canada. Fifteen months later, he was assigned to Beale AFB in California with the SR-71 Blackbird Program; later designed the 9th Strategic Reconnaissance Wing.
Jim was the NCOIC, Management Analysis, which reported study results directly to the Wing Commander. He received a promotion to Master Sergeant in 1966 and was selected for Senior Master Sergeant in 1968.
While at Beale, he took more college courses and graduated from Yuba Community College; then, under Operation Bootstrap, attended the University of Nebraska at Omaha in 1968-69. While there, he was accepted into Officers Training School. In May 1969, he received his bachelor's degree and headed off to Officer Training School at Lackland AFB in Texas, graduating as a Second Lieutenant on Sept. 5, 1969. Jim was then assigned to the Air Force Office of Special Investigations in Washington, D.C., where he received his next two promotions. In 1971 he married Ruth, his second wife.
In August 1973, Bard found himself assigned to Hahn, Germany, for the next four years as Chief of Management and Budget for the 50th Tactical Fighter Wing. In 1977, assignment came to the 347th Tactical Fighter Wing at Moody AFB in Georgia where he would be Base Comptroller for three months while his boss was TDY. But Jim had set his sights on retirement, and did so Oct. 1, 1980,.
Jim is proud of rising in the ranks from Basic Airman to Captain. He talks about how proud he is to have served his country and improve his own life over and over.
Jim and his family settled down in Carroll County Maryland in 1981. He loves to tell tales of his service to his country so much that he has co-authored a book with Linda Rios Bromley and Frank T. Hayes titled "We Served With Honor: Memories of the Men Who Served the 91st Strategic Reconnaissance Wing," published by McDowell Publishing in 2009. He has three children and four stepchildren, six grandchildren and two great grandchildren. Today, he is the Secretary of the 91st Strategic Reconnaissance Wing Association.
---
See a broken link or error, have a story or photo to add - please email the webmaster - - Page last modified 12/02/2010