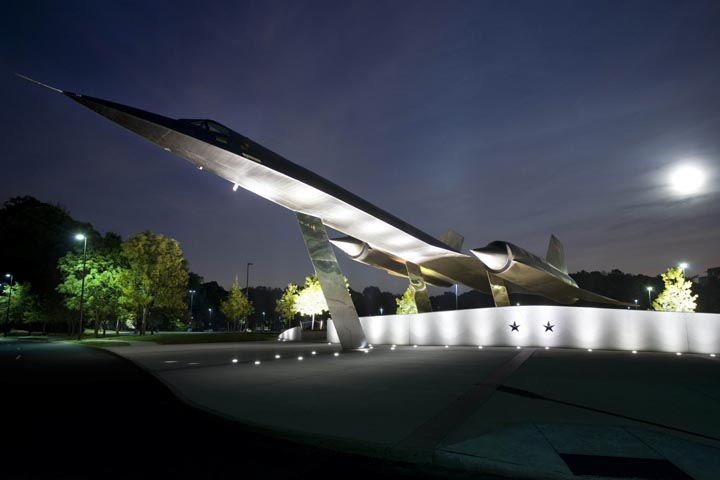 Article 128 being proudly displayed at CIA Hqs. in Langley. With the installation of 12 informative plaques the finishing touches were put on the A-12 OXCART display in December 2008. Aloft on three stainless steel pylons - in an operational flight attitude at 80,000 feet, nose up 8 degrees and in a 9 degree roll - Article 128 is an impressive sight and a favorite museum tour destination for visitors and employees.

Dedication ceremony at CIA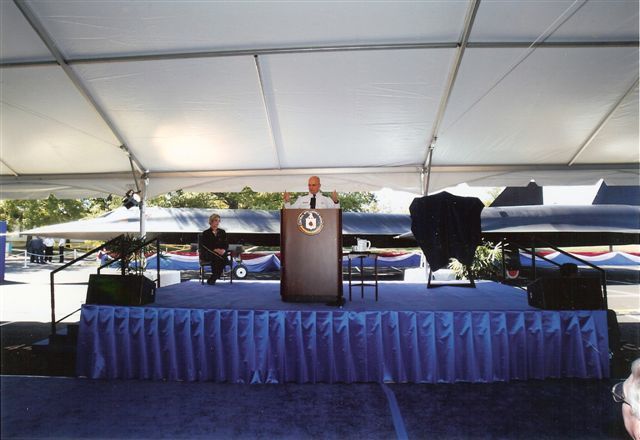 19 September 2007
CIA Headquarters, McLean, VA.
A-12 ARTICLE #128 (Serial #60-06931)
It was with great honor that members of Roadrunners Internationale were included in the dedication ceremony during the 60th anniversary of the Central Intelligence Agency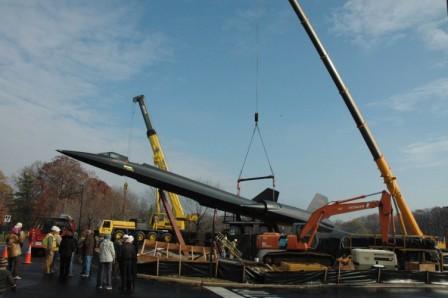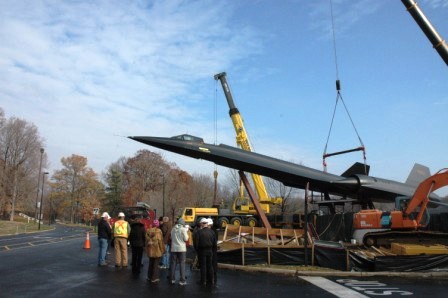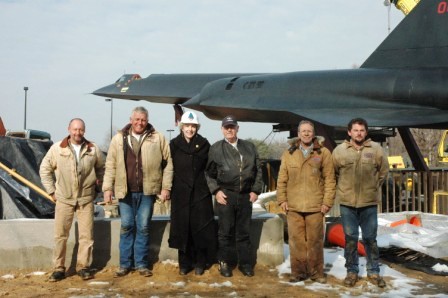 December 7, 2007 Installation at CIA Headquarters
Installation Team: World Wide Aircraft Recovery Team, Roadrunner Torrey Larsen, and Toni Hiley, Director CIA Museum
CIA Article #128 (Serial #60-06931) never achieved the operational experiences of the rest of the A-12 Articles. It was the first operationally outfitted A-12 (as opposed to one of the test aircraft) to reach Mach 3, but it did not participate in BLACK SHIELD. It apparently was deployed as a back-up for the NICE GIRL flyoff against the SR-71 in October-November 1968 but was not used in the competition. There are no known photos of this plane taken while in service.
Follow this link to read the monograph "Archangel, CIA's Supersonic A-12 Reconnaissance Aircraft" by Dr. David Robarge, Ph.D., Chief Historian at CIA Link to Archangel
| | |
| --- | --- |
| Cockpit when received by Minnesota National Guard in 1992 | Cockpit when rescued from Minnesota National Guard by CIA and Air Force in 2007 |
---
See a broken link or error, have a story or photo to add - please email the webmaster - - Page last modified 12/02/2009