Click to mute music


| | | |
| --- | --- | --- |
| | CHIEF MASTER SERGEANT ROBERT "ARMO" ARMENTROUT | |
U.S. Air Force (Ret)
February 23, 1928 - April 22, 2013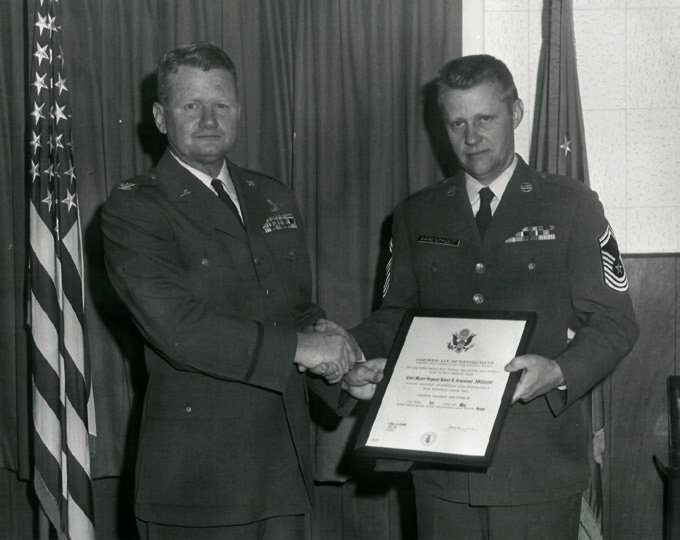 Colonel Slip Slater at Area 51 accepting my retirement from the Air Force
Click on images to enlarge
In September 1946 I joined the Air Force with four classmates at Columbus, Ohio. I attended basic training at San Antonio, Texas where I contracted tonsillitis in my third week and ended up in the hospital for 3 days. Upon release from the hospital I was assigned to a new flight and lost contact with my Ohio classmates.

In November 1946 I completed my basic training. After a short leave to my home I proceeded to Camp Kilmer, New Jersey for overseas processing. I spent New Year's Eve in Times Square.

Along with over 5,000 Air Force personnel I departed Staten Island in January 1947 on the U.S.S. Pope. It was a memorable experience traveling through the Panama Canal, surviving a Pacific typhoon, seeing Pearl harbor, and arriving in Japan after 33 days. In March 1947 I was one of 200 to be randomly selected and flown to Harmon Field, Guam where I began my career in Supply and advanced my rank to Staff Sergeant.

In December 1948 I took the BIG boat ride to San Francisco, and the LONG bus ride to Ohio for assignment to Wright Patterson Air Force Base - only 90 miles from home. The following year, October 1949, I married Joanne Farthing in Findlay, Ohio and moved into base housing at Wright Patterson.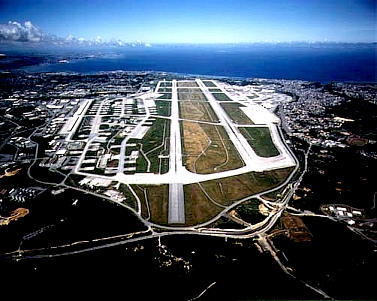 In June 1950 I was on vacation in Michigan when I received a telegram canceling my leave and calling me back to base. After moving Joanne to Arcadia, I flew to the West Coast to catch another BIG boat to Okinawa where I served in the Korean War. In 1952 I was reassigned to Elgin AFB at Fort Walton Beach, Florida. In January the following year our son Douglas was born.

In June 1955 I dropped wife and son off in Arcadia and drove to Seattle to catch another BIG boat to my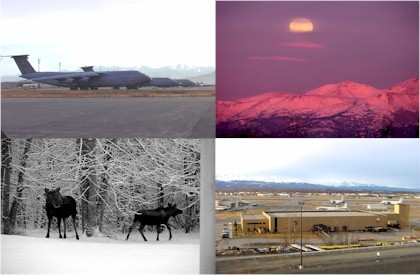 new assignment: Elmendorf AFB in Anchorage, Alaska. OH, THOSE LONG WINTER NIGHTS!!!!! Thirty days after my arrival I obtained off-base quarters so my wife and son could join me.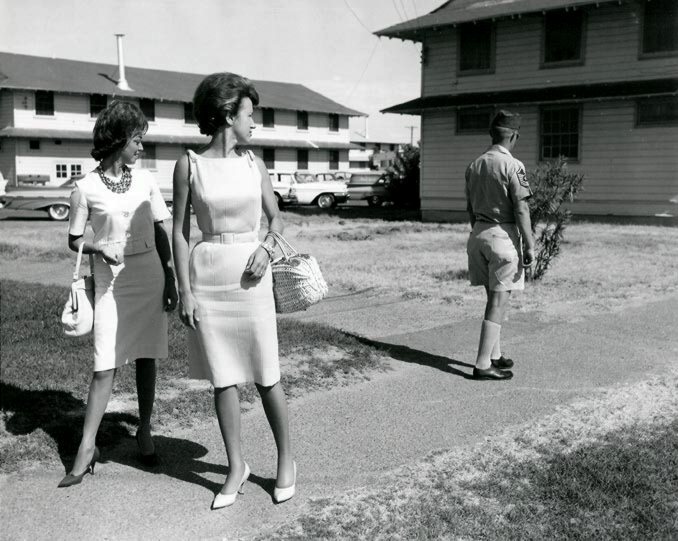 My next assignment was to Luke AFB at Glendale, Arizona in May 1959. How is that for a climatic contrast??? We drove the Alcan Highway, all 300 unpaved miles, to Ohio for a leave and then on to Arizona. It was 112 degrees at midnight the day we arrived.

In January 1964, after a long, drawn out selection process, I was selected for duty at Area 51 near Las Vegas, Nevada. We built our first house in Las Vegas. FOOTNOTE: It wasn't until 20 years later that CIA Project OXCART, to which I was assigned, became declassified, allowing me to now identify is as the testing of the A-12, M-21 and D-21 aircraft and their later flights over China, Russia, North Korea, and North Vietnam during Operation Black Shield.



In May 1967 I retired from the Air Force as a Chief Master Sergeant with 20 years, 7 months, and 14 days of service. Seven days after Colonel Slip Slater accepted my retirement at Area 51, I joined the Lockheed Skunk Works team and continued working at Area 51 as an civilian. A year later the Oxcart program at Area 51 was terminated and I went to work at Burbank, California on various classified programs which included the U-2, A-12, YF-12, SR-71, D-21, HAVE BLUE, F-117 Nighthawk, YF-22 Raptor, and several other programs what were never contracted for production.
HIGHLIGHTS OF MY 47 YEARS OF WORK
My three sons
My three Air Force Commendation Medals: Alaska, Luke AFB, and the Oxcart A-12 program
Working with the Skunk Works professionals on front line programs
Attaining my college degree in 1972 after 20 years of hard work.
EPILOGUE
I have enjoyed my career, my life and my family. It was and continues to be a wonderful life. I have fulfilled my goals and desires and greatly enjoy the fruits of my labor on my 45-acres ranch on the side of a mountain overlooking the Applegate River and the valley it runs through. I now have all the time in the world to:
1. Travel to my sister's home in Charleston, South Carolina, on my birthday each year to gorge on Eastern oysters,
2. Travel to Las Vegas every other year in the fall to meet with all of my former co-workers in those aforementioned classified projects,
3. Hunker down in the winter with a fire, good books, and old movies,
4. Play 'gentleman rancher' in the spring with my tractors, rototiller, and weed whackers,
5. Feed up to 16 deer, 1 Percheron foal, 2 miniature ponies, 2 cats, several fish, and 2 golden retrievers each day (all but the deer and fish, twice),
6. Nourish and enjoy the gardens, ponds, fruit orchard, and wildlife on my ranch, as well as a beautiful home,
7. Frantically race to accomplish everything needing to be done to play host to a family reunion of approximately 45 people in mid-June, 2004, and
8. Sneak in a trip to anywhere I want, whenever I can.
---
It is my sad duty to report that CMS Robert "Armo" Armentrout, USAF (Ret) departed this morning on his final flight. Armo will be greatly missed by the Roadrunners, his many friends, and family. We extend our condolences to the family. Armo joined the Air Force in 1946 and served in Okinawa during the Korean War. In January 1964, he was selected for duty at Area 51 for the testing of the A-12, M-21 aircraft and D-21 drone.
The services for Armo (military and scattering of ashes) will be held on Saturday, August 10 at 10:00 a.m. at the ranch (485 Scott Drive, Grants Pass). Memorial donations can be made to Wildlife Images, and animal rescue and rehabilitation organization in Grants Pass (wildlifeimages.org).
---
See a broken link or error, have a story or photo to add - please email the webmaster - - Page last modified 05/19/2013